One of the most amazing concepts about social media is that as a business, it operates at an unimaginable scale with what is essentially an intangible product. By "intangible product" I mean that a company like Snapchat, Twitter, Instagram or Facebook doesn't actually have a product that uses traditional distribution methods since it's online, and you can't physically touch what arises from it (contrary to Amazon).
Thus, the use of servers end up becoming the company's main cost if the product successfully scales to thousands, or in the best case, millions. 
One of the best examples of the one-of-a-kind scaling nature of social media is the rise of Instagram. It launched in October 2010, and within three months, had 1 million users. In February 2011, the company received $7 million in Series A funding from Benchmark Capital. About a year later in April 2012, Instagram was valued at $500 million after securing an even bigger round of funding, $50 million, from Sequoia Capital.
All Instagram allowed you to do was share photographs with your friends and other people you know. It doesn't sound like anything revolutionary, but when it exists within a instantaneous medium, it ultimately changes how people communicate. So at first, even if the idea doesn't seem world altering, its value is actually greater than one would expect. Similar to how the telephone and telegram revolutionized mass communication, new age companies like Instagram, Twitter and Facebook have certainly restyled the way in which people interact.
The real issue for these businesses is making legitimate revenue. Since their product isn't actually built to sell, the main way they make money is through striking advertising deals. So in the early stages when these companies don't have ads running, investors bet massive sums of money based on user growth. The logic is, once ads sell to a huge user base, the company will then be worth all those dollar bills.
According to TechCrunch, Snap Inc. was projected to amass near $1 billion in revenue in 2017, but through Q1, it notched only $149.6 million, and at the Q2 close, it hit $181.6 million. These numbers have steadily increased over the years, as you can see from the graph below of the 2015 quarterly revenues. From $4 million of revenue in Q1 to $33 million in Q4, the growth of revenue was obvious in 2015 because the user growth was still flying high.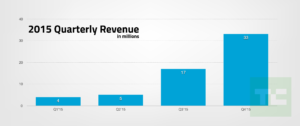 Since user growth has slowed in 2017 for Snap, the revenues haven't been going up at such quick of a rate. With this trend happening, it appears Snap is trying its best to convince advertisers to use the app, releasing an Ad Manager platform in June that helps to optimize ads for appearance on the app.
Fifty years ago, most of what I'm talking about in relation to technology didn't exist. And people would've thought building a billion dollar company, while making little to no revenue, was impossible. But now, the ever increasing use of mobile technology has opened up a market for intangible products, whether or not the actual money being earned measures up to the product's hype.