In July of 1955, the magic of Disneyland began with the first theme park opening in Anaheim, California. Sixty-one years later, Disney parks and resorts dominate the tourism industry inside and out of America. Every movie and TV show is the perfect opportunity to bring children's favorite characters to life right in the park. Disney theme parks would not be nearly as lucrative without cashing out on gift shop souvenirs, as screaming children beg their parents to buy them a plush, pet-sized Olaf. The opening of Disneyworld in Orlando, Florida and its booming success has lead to Disney theme parks crossing borders to Paris, Tokyo, Hong Kong, and Shanghai (and that isn't even including all the resorts.)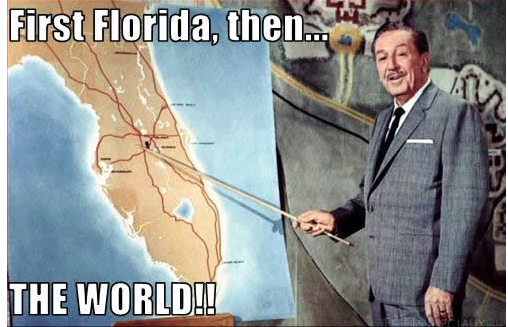 Not only does Disney dominate in tourism (Disney runs the world,) their presence in all things entertainment such as media and cable networking is undeniable.  However, with the subscription and viewing issues at ESPN, the historically stable company is facing unforeseen challenges.
It is no secret that America's patience with cable is slowly dwindling, but no one knows this better than ESPN. Nielsen Cable confirmed the alarming loss of subscribers for November 2016 was 621,000, and a drop in revenue of over $52 million. Don't try to do the math for 2016 as a whole. Long story short, its pretty painful.
The question is will ESPN put Disney at long-term risk? Although shareholders aren't exactly fleeing anytime soon, we have to consider how the future of cable will affect the company as a whole. Disney may be too big to fail in many people's eyes, as the popularity of Disney's parks, resorts, and studio entertainment will not wane anytime soon. Despite this, looking at the impact Disney parks and resorts have on the economy is important to understand how much could be lost if Disney earnings continue to slow down (the thrilling exploration of quarterly earning reports will take place to further understand this.)
Disney's effect on the urban economy in Anaheim and Orlando
The Disneyland Resort in Anaheim has undoubtedly changed the economy of the surrounding city (Disneyland Resort includes Disneyland and Disney California Adventure, Downtown Disney, and three hotels.) In fact, Disneyland is one of the reasons for Southern California's economic success. An economic impact study was conducted by Arduin, Laffer & Moore Econometrics (ALME) which revealed that $5.7 billion is generated annually for Southern California's economy. Additionally, the Disneyland Resort contributes $370 million in state and local taxes. The employment statistics are equally impressive The study was based on fiscal 2013 data, so these numbers may be higher today. Employment is also positively impacted with 28,000 employed and 25,000 jobs created indirectly due to the company. Disneyland Resort's employment rate has grown at 34% which is faster than California's 6.7% rate (from 2009-2013.) As you can see, Disneyland dominates Anaheim, one-third of Orange County's tourism profits being linked to them.
The opening of Disney World Resorts shaped the future of Central Florida. Before Disney, the area was far from a popular destination. As of 2015, there are an estimated 67.8 million visitors to all theme parks combined (which includes Magic Kingdom, EPCOT, Hollywood Studios, Animal Kingdom, Typhoon Lagoon, and Blizzard Beach.) Compared to Disneyland and California Adventures combined 27.7 million visitors, that is a huge difference. It shouldn't be too surprising then that Disney dominates this urban economy as well. According to a study conducted by Fishkind and Associates, Disney World is responsible for generating an estimated $18.2 billion annually and 1 in 50 jobs in the state are linked to the company. The 161,000 jobs linked to Disney World along with $900 million spent paying Florida vendors is equally noteworthy if not more. This study was based on fiscal 2009 data, so its impact since then has surely increased.
If it is not already apparent, Disney has a huge impact on local economies.  Disney pumps money into these areas by attracting so many visitors who end up spending money outside of the parks themselves. Job growth and tax revenue are equally as important if not more to keep the system growing. This economic growth positively impacts the U.S. and makes us more appealing to international travelers. In fact, the multitude of park and resort locations have not dissuaded international Disney fanatics from coming to the states, as it gives the incentive for true fans to accept the challenge of visiting all parks and resorts. According to a fellow anonymous Trojan who works as a performer at Disneyland Anaheim, "true Disney fans will stop at nothing to come to the parks. Some annual pass holders come every day! And a lot of the time I get to meet so many international kids it's crazy."
The fact is cities like Anaheim and Orlando were created by Disney, for Disney. If Disney begins to falter then so do these cities as they are all almost too reliant on each other at this point in time. To show this, it is now time to play the numbers game.
Disney as a whole
As Disney expands, it is unrealistic to expect every quarter to be a slam dunk. Additionally, increase or decrease in attendance, revenue, and profit has a lot to do with the season in tourism. Disney's best profit time of the year is during the most wonderful time of the year: Christmas. Other factors come into play such as unforeseen events. For example, the Charlie Hebdo attacks in 2014 along with the terrorist attacks in 2015 during Bastille Day and in November decreased attendance at Disneyland Paris. No one wants to put their entire family at risk after a tragic event like that. Therefore, there was a 10% drop in guests and 7% drop in revenue this past year.
The fourth quarter for Disney as a whole was a shock compared to past years, and even compared to the third quarter. The third quarter generally had a trend of increased revenue and income, with a 6% increase in revenue for parks and resorts and 8% increase in profit. On the other hand, the fourth quarter resulted in a decrease across the board.
As shown above, revenues were down 3% from $13.5 million to $13.1 million, and operating income was down 10%, from $3.5 million to $3.1 million.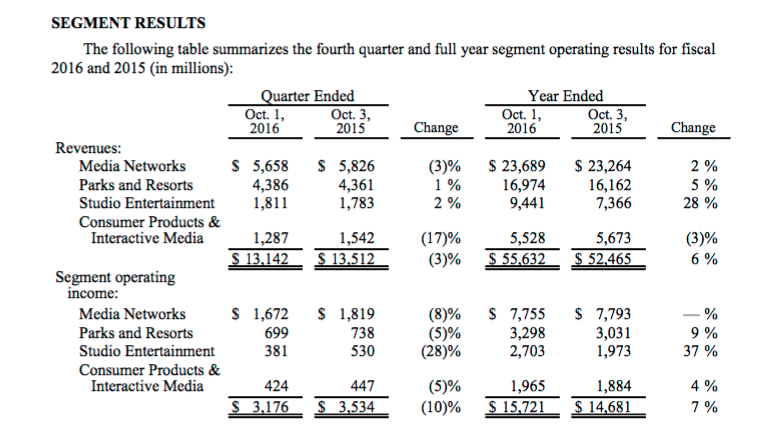 Looking at revenues for parks and resorts, there was only a 1% increase from $4,361 billion to $4,386 billion. Operating income was down 5% from $738 million to $699 million. The report attributes lower operating income to lower turnout at Disneyland Paris and Hong Kong, but this is offset by the opening of Shanghai. Long story short, Disney always has an answer for concerning numbers.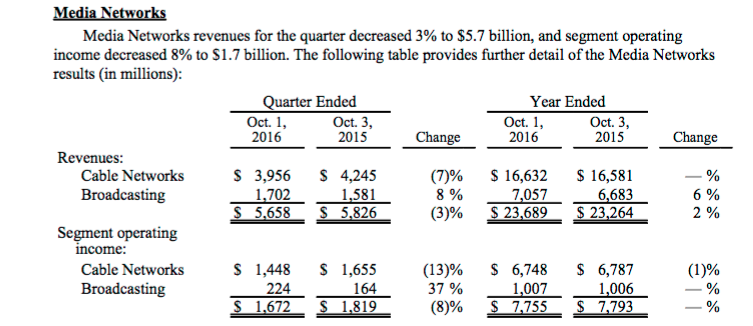 The true reason for decreased revenue and income is largely connected with cable networks. Media networks revenue was down by 3% from $5,826 billion to $5,658 billion, and operating income down by 8% from $1,819 billion to $1,672 billion. Revenue for Cable Networks decreased by 7%, and operating income at Cable Networks decreased by $207 million to $1.4 billion (from $1.6 billion.) This is linked to both ESPN and Disney Channels.
ESPN is bleeding money
Decreased revenue is primarily due to ESPN, as the loss of subscribers in November alone was 621,000. According to Market Realist and Nielsen Cable projections, from 2013 to 2015, 7 million subscribers have been lost.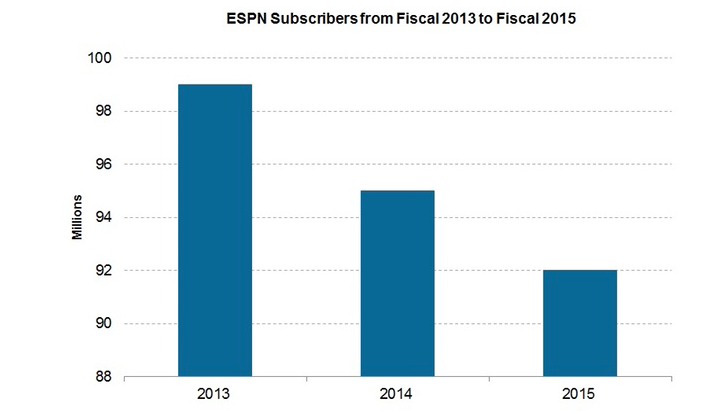 The issue is the expense of ESPN. At roughly $7 a month, you end up paying around $80 a year. However, owning as many sports rights as ESPN has is truly that expensive. But customers don't really care about that they just want their sports!According to Disney, this quarter resulted in lower income from ESPN specifically due to "lower advertising and affiliate revenue and higher programming and production costs" Ironically, during their third quarter press conference, it was the complete opposite wording with
According to Disney, this quarter resulted in lower income from ESPN specifically due to "lower advertising and affiliate revenue and higher programming and production costs" Ironically, during their third quarter press conference, it was the complete opposite wording with "higher advertising and affiliate revenue" to explain the "nice operating income growth" of 1%. I see what you did there Disney, but no one is fooled (but seriously what is that plug-in statement code for/what does it really mean?)
During their press conference back in August, Disney said they are optimistic that subscriptions would slowly trickle back in. To combat loss of subscribers, they are pairing up with BAMTech to allow future streaming. The licensing rights of BAMTech include MLB and NHL which will bring more viewers. Bob Iger claims the goal is to provide a complimentary service to what ESPN already has, by creating streaming access for the sports that are not currently on the channels. This includes college sports, basketball, tennis and so on. Although no cable subscription is necessary to watch this new ESPN streaming service, the catch is the channels already available on ESPN will not be viewable through this service.
To me, this idea may work for in the short term to bring people in, but it will further frustrate customers and be counterproductive to not be able to fully stream all ESPN channels. However, Iger also feels that more subscribers can be brought in through Direct TV's Sling TV, which is only $20 a month and includes all the ESPN channels a sports fan needs. Perhaps this will work, but this would require more incentives to join Direct TV and every region in America has a different cable monopoly (for example Comcast is your only viable option in Marin County in Northern Calfornia.)
How ESPN aka the former cash cow of Disney may affect theme parks
You may be wondering how all of this connects. Logically, every component of business matters but how much impact could the decline of ESPN have on theme parks and resorts? Before streaming programs changed the game, ESPN was the be all and end all of Disney profits. The money has been pouring in ever since being acquired through ABC back in 1995. According to the annual report of 2014, ESPN brought in $6.8 billion in operating profit or 46% of the company's total. Cable networks overall contributed to 34% of Disney's revenue. Wells Fargo Securities analyst Marci Ryvicker estimated back in November 2015 that $700 million in fee revenue and $200 million in earnings would be lost due to the loss of subscribers (3 million at the time.)
All of this is problematic because if there are less corporate funds, then there are fewer funds to open new attractions within existing theme parks, along with taking the possibility away of expanding further (but does anyone really need another Disney theme park, I think not.)
Additionally, if the stock price begins to drop significantly, investors pulling out is never a pretty sight. You can even say ESPN is potentially holding back Disney's stock price from growing as the headlines of "millions of subscribers lost" doesn't help anyone.
Overall, what we've learned here (and probably already knew) is everything within Disney is deeply intertwined. The theme parks and resorts simply cannot succeed without the funds to maintain upkeep and periodically upgrade them. I believe that the current business model for ESPN will not be successful or beneficial past 2020. Streaming is taking over as it is, and although families will continue to buy cable packages for a long time, nothing is permanent in this technological world. It may be time for Disney to sell ESPN to Comcast or AT&T and let someone else face the backlash. In fact, if subscribers do increase as Iger predicts, it would not be a hard sell to another cable company to take on the project. Since Disney theme parks and resorts are such an important part of the domestic economy (if I had discussed the world market as well this would be overwhelming) sacrificing the most traditional and magical component of Disney is not worth it. Disney's history all ties back into the mini economies of Anaheim and Orlando (and the rest of Florida) and therefore prolonging their well-being is not negotiable.
Disney Parks and Resorts Research
https://smartasset.com/credit-cards/the-economics-of-disney-world
https://ditm-twdc-us.storage.googleapis.com/q3_fy16_earnings_transcript.pdf
http://www.usatoday.com/story/money/2016/08/09/disneys-q3-income-up-5-theme-parks-film-studio-gains/88483996/
https://blog.shermanstravel.com/2014/8-major-differences-between-walt-disney-world-and-disneyland/
http://www.ocregister.com/articles/study-665882-resort-disneyland.html
https://publicaffairs.disneyland.com/disneyland-resort-generates-5-7-billion-for-southern-california-economy-2/
http://www.broadcastingcable.com/news/currency/disney-ceo-bullish-espns-future/161076
http://www.broadcastingcable.com/news/currency/disney-earnings-suffer-espn-declines/161072
https://finance.yahoo.com/quote/dis?ltr=1
http://marketrealist.com/2016/03/disney-believes-espn-will-start-gaining-subscribers/
http://www.heritage.org/research/reports/2011/07/what-is-poverty
https://en.wikipedia.org/wiki/List_of_assets_owned_by_Disney#Walt_Disney_Parks_and_Resorts
https://www.bloomberg.com/news/articles/2015-11-27/espn-viewer-losses-add-to-angst-for-disney-s-big-profit-engine
Disney Quarterly Reports
https://thewaltdisneycompany.com/disneys-q3-fy16-earnings-results-webcast/
https://ditm-twdc-us.storage.googleapis.com/q1-fy16-earnings.pdf
https://ditm-twdc-us.storage.googleapis.com/q2_fy16_earnings.pdf
https://ditm-twdc-us.storage.googleapis.com/q3-fy16-earnings.pdf
https://ditm-twdc-us.storage.googleapis.com/q4-fy16-earnings.pdf