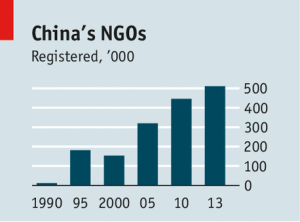 More than 500,000 NGOs have registered over the past 25 years, a figure that some think will double over the next couple of years, as rules are relaxed. Many of these, admittedly, are quasi-state bodies, like an official youth foundation, or businesses in disguise, like private schools, but a growing number are the real deal. And a further 1.5m-odd NGOs operate without being registered, including some that the party suspects of being too independent or confrontational, according to Economist.
The essay from Economist reminds me of my recent experience about charity and NGO in China. I have never connected with any NGO in China before. However, in the past four months, I participated in an everyday philanthropy campaign for helping collect free lunch for poor kids in China villages from the beginning till now, launching online this Saturday (May 10th). We corporate with a Chinese NGO named "Free Lunch", which especially helps with collecting money from companies and buying food for the kids who couldn't eat hot meal for lunch. Our campaign is trying to ask young people overseas contribute simple actions (social media likes/shares, taking a photo/video) in exchange for free lunch (donated by companies) for starving kids in China. We named it "One Way".
It's not easy to communicate with a NGO group in China well, actually it became one of our biggest troubles. More people enter into NGO and help with charity should be a good thing. However, we haven't set up a standard or rules for everyone to operate the group smoothly.
" Working with a Chinese NGO requires being flexible and adapting to sudden personnel or regulatory changes," according to China Development Brief The report shows that we still not in a stable situation or circumstance for the development of NGO in China. I hope we could have more regulations in the near future and make it easier for young people who want to contribute to Chinese charity.