President Trump was elected into office a little over 10 months ago. At which time, his political platform differed vastly from the rest of the conservative candidates, for he was the only one to call for a radical, even extreme, stance against immigration and refugees. The reason for this, in his words, was to "bring jobs back to America", a phrase that hints at the competition immigrant and refugee workers bring with them. However, a recent New York Times article respectfully disagrees, at least partially to the entire idea of that incoming workers may hurt the country's economy.
The truth is, studies have shown that refugees do have a positive side to their hosting country. The article notes that, while the Trump Administration rejects this finding, the refugees will be "paying more in taxes than they consume in public benefits, and filling jobs in service industries that others will not." In other words, the refugees may not create such a burden as widely imagined by the Americans upon the American economy, and will likely not cause tension within the already competitive industries.
Still, the rejection of this finding does not come as surprising, as anti-immigration is a core pillar supporting the Trump political platform. It is not uncommon for politicians to "selectively accept" findings that are convenient to them and deny the rest. The climate change debate that has been going on within the American politics for years, which has long become a laughingstock of the United States in other countries, only showcases this further.
Disregarding the debate of terrorism associated with refugees and looking at the matter purely from an economic perspective, the economic gain of cheap labor combined with a solidifying of the working force demographics could only benefit the United States. The States, like Canada, are both immigration countries whose very foundations were made up by immigrants from the 17th and 18th centuries. Unlike China and India, the United States never had a substantial domestic population to support its economy, and to turn away from immigration is to undoubtedly a move away from the foundation of this fine nation.
Perhaps, if President Trump truly intended to "Make America Great Again", he should reconsider the basis of some of his policies.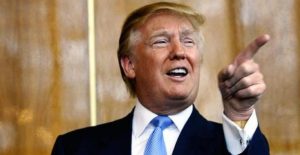 Naw, this Evan kid is just fake news. Don't listen to him. We're good. We're great. America's great. America's gonna be great.