"The most badass chicken tikka out there," that's what Badmaash LA, Downtown Los Angeles' revolutionary Indian Gastropub, offers. Mention Indian food and the natural instinct is to think of a staid restaurant with faded red carpeted floors and sitar-music.
Enter Nakul and Arjun Mahendro, the two Canadian Indian brothers who started Badmaash. Serving traditional indian food icons with an innovative twist, the brothers have brought subcontinental flavour and western favourites to Downtown LA (DTLA) while taking advantage of the area's economic upswing.
"We wanted to create a cool restaurant with great food and a fantastic atmosphere," says Nakul."Something that pays homage to our past but departs from the traditionally drab Indian restaurant. We want to redefine the indian dining experience as a whole."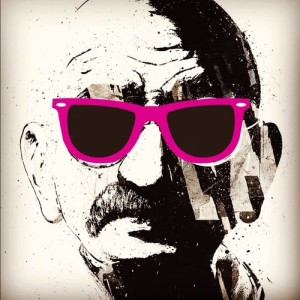 Walk into Badmaash and it becomes instantly clear what the brothers are talking about. The familiar overwhelming buffet-style dishes are replaced with portion sized plates paired with a selection of hand-picked artisan beers. The LCDs blaring Bollywood songs are gone, swapped for a cool, silent Indian classic projected on the large wall. A set of Warhol-like portraits of Mahatma Gandhi wearing coloured aviators lines the wall.
Debuted in May 2013, the two 'americanized desi boys' have turned Badmaash, the Hindi word for 'badass,' from a risqué and somewhat idealistic concept into a veritable business. Almost a year later, the buzzing eatery, has put the figurative spice back into the subcontinental cuisine.
Badmaash's location in Downtown LA, I found out from Nakul, puts it at the start of more than just a culinary revolution. The brothers entered the Downtown market just as it began gaining speed. In 2000, the Median Sales Price for DTLA hovered between $150K and $200K. After a steep decline during the recession worsened by its own micro-housing bubble, DTLA rates climbed back to almost $550K by end 2013. 
Debuted in May 2013, Badmaash has managed to evade most of the economic instability. Today investments in Downtown LA are "sound and growing" stresses Nakul. But business has not always been easy. The brothers' previous Toronto-based restaurant, Jaipur Grille, felt the effects of recent economic turmoil. The restaurant group that worked with Jaipur Grille, Nakul explains, had to accept significant losses and dramatic dips in business.
Indeed, though many industries worldwide slipped into decline after the 2008 Wall Street Crash, few were as hard-hit as the restaurant industry.
According to data released by the Federal Reserve and the Bureau of Economic Analysis, overall consumer spending dropped dramatically from 2008 through 2010. In addition, a comparative analysis by Beacon Economics details how taxable sales for the City of Los Angeles, which bottomed out in the Q2 of 2009, saw a 18.6% decline from peak to trough. A triple hit, lowered consumer spending complemented by heavy job loss and the inherent increase in available time to cook, meant few people were inclined to eat out.
In my conversation with Nakul my questions about the economy's impact required little elaboration. With spending reduced to bare-necessities, eating out became a luxury most could no longer afford. 
More interesting, however, was his positive outlook.
"This is an extremely great time for the U.S. and an event better time for Downtown LA," he said. "Everyone is look to Downtown LA as the next great American city."
In the last few months, publications like GQ have written about Downtown LA, painting it as a crossroads of innovative cuisine, alternative shopping, and an edgy, somewhat nostalgic culture. It was interesting to hear about the area's rise from someone with an on-the-ground perspective. Nakul explained that Downtown LA is growing rapidly, just less noticeably.
Traditionally, the Downtown economy is restricted mostly to the daytime, catering to the office workers that file in and out of its high-rises each day. By night, its derelict and supposedly 'crime-ridden' streets make for a disheartening vision.
Yet, as Nakul points out, the area is rapidly changing. According to a survey by the Downtown Center Business Improvement District, there was a 6% rise in Downtown's population between 2011 and 2013. More than 92% of people reported they 'lunch out' at least once a month. Notably, 93% of permanent residents (i.e. not employees or visitors) dine out at least once a month. Finally, close to 68% of respondents said they wanted more mid-level restaurant options.

Asked what the increase in population might mean for Badmaash, Nakul underscored that heightened demand means more supply must be created.
"The more people that move here, the more demand for eating options. The more restaurants that open up, the better" he said. At such an early stage there is still ample opportunity and room for expansion without the risk of market saturation, it seems. 
Nonetheless, Downtown property rates have "skyrocketed," according to Nakul. With the openings of establishments like the Ace Hotel, Downtown's micro-economy is certainly on the rise.
Economic indicators notwithstanding, I realised from my conversation with Nakul that Downtown's business environment is actually much more promising for small businesses than that of its West LA counterpart.
The saturated, unfamiliar, and expensive market of Beverley Hills or West Hollywood is hardly conducive to starting an unconventional restaurant concept, especially without financial backing.
"In Hollywood, the chairs alone were $1000 a piece. It would have completely changed our business. In Downtown, we found ones for $100," Nakul highlighted to me.
Interestingly, though Downtown's low-cost economic environment made it easier, the City of Los Angeles' policies, as other interview posts have mentioned, left much to be desired. 
Nakul described the process of opening a restaurant  in LA as "very bureaucratic, almost inaccessible."
More importantly, he emphasised the need for more support for starting small businesses, particularly in a budding micro-economy like that of Downtown LA. Support from the Downtown Business Improvement District helped push through a lot of Badmaash's permits. Beside this however, Nakul stressed the need for a city- or country-wide program to provide micro/local economic stimulus through support of small businesses. Assuaging the need for capital through long-term loans,while lowering the barriers for entry are essential if Downtown is to continue growing, he said. 
"Restaurants can become a sinkhole of money, a purveying nightmare," he explained. "Access to capital is extremely important and any restauranteur knows that initial capital investment has to be really small, making funding and low costs all the more crucial."
All in all, my interview with Nakul of Badmaash LA was enormously interesting and illuminating. As mentioned, Downtown is often said to be 'on-the-rise,' but this is only gradually becoming evident. This aside, Badmaash's and Downtown LA's burgeoning success points to the ability of unlikely, written-off economic environments to be a huge hotbed for small business success. Could this be extended to entire economies? Who knows…
BaadmashLA is located on 108 West 2nd Street #104 in DowntownLA. Be sure to visit if you're ever looking for a fantastic place to eat!