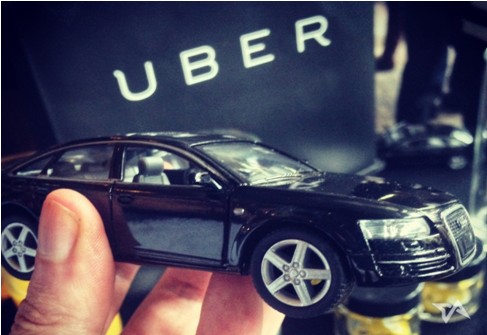 Uber is a technology company based in San Francisco that provides customers with private car services on demand with its smartphone app. Basically, with only one tap on its smartphone app, Uber will connect a customer with a Uber driver, and the customer can enjoy a reliable and safe ride experience. Everything is done through the app, so it's totally cashless and convenient. Since its founding in 2009, Uber service has expanded to over 70 major cities around the world. While its revenues had grown more than 10 times in 2013, Uber continues to seek out for larger markets. And recently, in February 2014, Uber officially launched in China. As China has the largest population as well as the largest smartphone market in the world, Uber considers its expansion into China as a greatest opportunity for the company ever in terms of the size of the market and potential customers, but maybe it should be prepared to face its toughest challenge while performing in China.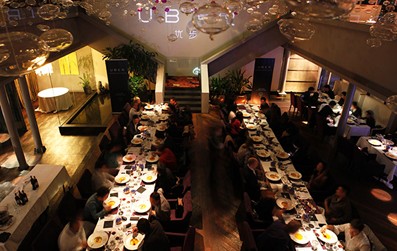 Hiring local staffs will be a starting point for Uber's localization. Uber needs to hire the right team in China in order to succeed in the country as a foreign company. For example, one of Groupon's biggest mistakes which led to its failure for expansion in China is that it failed to hire local staffs for the right management positions. Right now, Uber is still actively hiring management roles in China, as well as drivers in major cities like Beijing, Shanghai and Guangzhou, to join its ride-sharing community. Besides this, Uber has made some important decisions in terms of localization, including creating its Chinese name "You Bu" to target local customers and build up its brand image, and supporting online payments via Alipay, which is one of the most popular e-payment services in China. And instead of owning all its cars in China, Uber forms partnership with local car rental companies to rent the cars.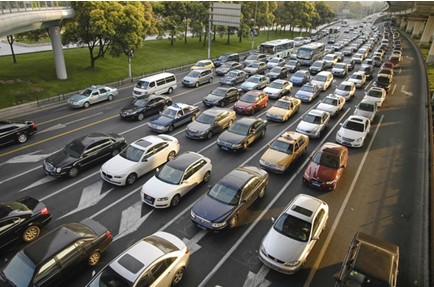 One existing opportunity for Uber to grow in China is that many Chinese people in major cities have already accepted the idea of giving rides to strangers, so it won't be difficult for Uber to fit in the culture with its ride-sharing app. As a consequence of the increasing number of middle class in China who can now afford taxis as their daily transportation options as well as the fact that the number of taxis in urban centers hasn't kept pace with the increasing demand, it now has become extremely hard to get a taxi in major cities like Beijing and Shanghai, not to mention the time during holidays and rush hours. Thus, as a result of the high demand of taxi services and the lack of enough supplies of taxis especially in major cities, there have been a growing number of "black cabs" in the cities. Black cabs refer to those private cars that the drivers make money on their own by providing rides to people in need of cabs, without any proper taxi licenses. It's an illegal service, but somehow becomes acceptable in China due to the high demand by customers and as it's hard to regulate by the government as well.
It's quite normal for people in major cities to hop into a black cab when they fail to catch a taxi but in need of a ride. I personally do the same thing. Sometimes I need to get to somewhere in hurry, and I can never make it if I take the bus or subway as it takes too much time. But I just cannot catch a taxi nearby. When I call the taxi company to ask for a cab, they usually tell me "There's no available taxi around your place. Please wait for a few minutes and try again." It's really frustrating. However, the good thing is that there are always a couple of black cabs waiting near our neighborhood. When the black cab drivers assume that you are trying to get a cab, they will approach you and ask where you are heading to. If you accept the price based on the distance, deal! It's usually cheaper than a taxi and much more convenient to get one especially during rush hours or holidays, so such illegal service is somehow quite popular in China. Of course, safety will be a concern, just like people's concern for Uber's safety control when it just launched in the U.S. as a ride-sharing app connecting drivers with customers. But many of the people in China actually accept such ride-sharing concept, which creates the potential for Uber to expand in China.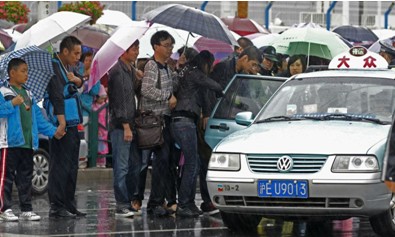 Besides the opportunity, there will also be competitions, accordingly. The biggest challenge for Uber will be the fierce competition in the Chinese market. Interestingly, even though Uber has benefited greatly from its innovative and successful ride-sharing model, its presence in China doesn't seem to disrupt the taxi cabs industry in the country. Actually, according to Quartz, "the market for taxi services has never been bigger in China", especially in major cities like Beijing and Shanghai. I interviewed a taxi driver, Hailin Wu, in Shanghai, and from his perspectives, he didn't even take Uber as a competitor. "There had been competition over the past few years, when it was quite easy for people to catch a taxi and we as drivers needed to compete for customers." Wu said, "But now, the demand for taxis is always higher than the actual number of taxis available in the city." Wu shares his taxi with his friend and does one shift per day (for approximately 10 hours), and he usually has customers from the start to the end of his shift. He barely has the time to grab a meal during work. According to Wu, there are some apps doing the same thing as Uber, but they don't seem to affect the business for taxi drivers. In cities like Shanghai, there is always more demand than supply in the market. So for taxi drivers like Wu, there will always be enough people looking for taxis, even when there are those black cabs all the time, as well as those emerging apps. It's even usual for drivers to "select" their customers in these major cities. For example, if the distance to your destination is not far enough or the route to the destination is with heavy traffic, it's very likely that a driver will refuse to provide the service to you.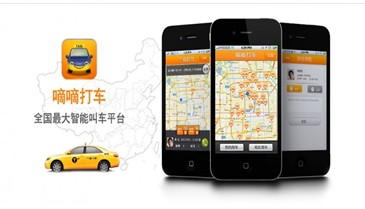 Thus, from Wu's point of view, Uber's major competitors should be those similar apps in the market which already have their customer bases as well as large amount of drivers. Uber's biggest competitor as a smartphone app should be Didi Dache. It has been the most popular ride-sharing app in China since its launch in 2012. Users can use voice messages to contact drivers nearby and can even pay a small fee to let the drivers wait for them for a while. At the end of February 2013, Didi announced to have 600,000 subscribers and 12,000 drivers in Beijing only, not to mention the number of drivers it has around the country. Other competitors include Dudu Jiaoche, Yaoyao Dache, Kuaidi Dache, and Dache Xiaomi. All these apps provide services in a similar manner. But compared to Uber, they already have a steady and even growing user base to maintain stable revenues. More importantly, many of these apps have seen growing investments from outside. For example, the E-commerce giant Alibaba has invested nearly $1 million in Kuaidi Dache in April 2013. As a result, when expanding into China, Uber really needs to find out its competitive advantage in order to attract customers and succeed in the market.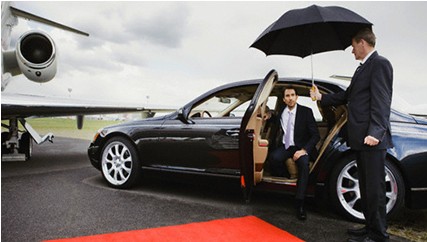 Moreover, how to maintain a competitive price is also a question. Initially, Uber positioned itself as a premium or even luxurious riding option in China, in order to differentiate itself from the so-called "crazy cheap" taxi market in the country. However, there isn't such high demand for riding services that come with a premium price. Those who can afford such services on a daily basis usually already have their private drivers. And the competition still exists. For example, Yongche is a famous web-connected car rental company in China, offering limo rides with drivers at a competitive price. Yongche's price is 300 RMB for driving you in an Audi A6 from central Shanghai to Shanghai Pudong International airport, while Uber charges approximately 350 RMB for mid-range to high-end cars for the same distance. In order to be more competitive, Uber has adjusted its position and strategy. Now the base fare to use Uber service in Shanghai has dropped to 30 RMB, compared to double the price (around 60-70 RMB) when it started its test run in the city in summer 2013. However, the price is still not quite competitive in the market, especially when you take into consideration all the similar apps, black cabs, and the already affordable taxis. After all, a price war won't help Uber succeed in the Chinese market.
I consulted Uber's issue with Carl Cai, a senior consultant at PwC Beijing. He told me that Uber approached a famous consulting company in the industry to take care of its localization in China. However, according to Carl, "Whether Uber can succeed or not in China fully depends on how soon it can figure out its competitive advantage in the market." Now Uber has its Chinese name, convenient payment options tailored to Chinese customers, and it is actively building up a outstanding management team as well as a welcoming community for both its drivers and its customers. But this is not enough. They still haven't figured out their "fit" strategy to perform in the competitive market in China, and to differentiate itself from competitions. Uber should take a close look at itself, take approaches to performing that are suitable to the given situation in China, and build on their strengths based on their success in the United States. For example, instead of lowing the price and starting a price war, maybe build on their innovative idea not just as a ride-sharing app, but as a ride-sharing community, which is a fairly new and unique concept in China.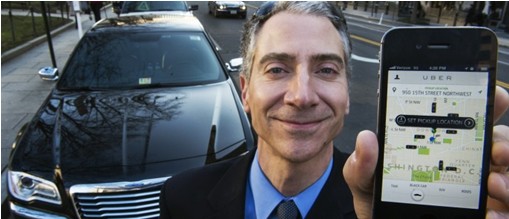 It's difficult to judge Uber's performance right now as it has just launched officially in China for few months, and the company didn't want to mention the actual numbers of its performance in China so far. Yet, Uber is still optimistic toward its expansion in China despite all the challenges. Actually, Wall Street Journal reported based on the interview with Allen Penn, Uber's head of Asia, that the number of trips booked in Shanghai through the Uber app since the test run in August 2013 even exceeded the number of trips made in San Francisco or New York during each of their first half year. "The company prides itself on being a premium service and, perhaps crucially, a "safe" option that includes a high level of customer service." said by Sam Gellman, head of Asia expansion at Uber, "Our focus is on delivering a great experience, and numbers so far have shown great initial results and we just want to keep building it up." Maybe we just need to wait a few more months to see Uber's results in the following periods, and to find out whether its future in China is as promising as it has expected.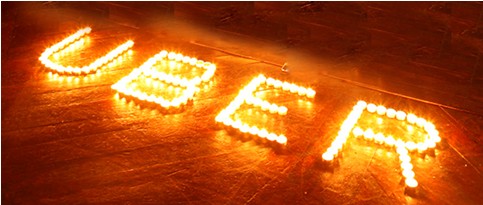 ————————-
References
http://thenextweb.com/asia/2013/08/07/uber-china/
http://www.techinasia.com/4-mistakes-behind-groupons-failure-in-china/
http://qz.com/70123/chinas-versions-of-uber-could-fix-city-cab-shortages/\
http://www.techinasia.com/uber-picks-chinese-officially-launches-china/
http://thenextweb.com/asia/2014/02/13/uber-is-bullish-about-its-potential-in-china-but-it-wont-discuss-rivals-or-reveal-figures/
http://online.wsj.com/news/articles/SB10001424052702304703804579379884010342724
Interview with Hailin Wu, taxi driver in Shanghai
Interview with Carl Cai, senior consultant at PwC, Beijing.