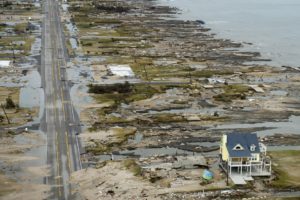 The ruthless storm battering Houston, Texas is said to rank as one of the nation's costliest disasters, with speculated loss of tens of billions of dollars in economic activity and property damage in an area critical to chemical, energy, and shipping industries.
Despite the widespread devastation and predicted losses of up to $100 billion, economists vocalized optimism that the Texas city is likely to recover quickly and may experience economic growth from rebuilding efforts.
Historically, the U.S. economy has rebounded following natural disasters, most easily associated with the financial resurgence following the $40 billion loss from Hurricane Katrina in 2005 and the $25 billion loss from Hurricane Ike in 2008. Dan Laufenberg, chief economist at Ameriprise Financial, stated, "the U.S. economy rebounded from Katrina, although the region hit by the storm has not, demonstrating once again how amazingly resilient our economy can be."
The Houston metropolitan area, the U.S.'s fifth largest based on population, accounts for approximately 3 percent of the nation's gross domestic product (GDP). Texas is often attributed as a center for oil production and refined products like diesel fuel, gasoline, heating oil, and other distillates.
In anticipation of increased demand due to the hurricane, wholesale trading prices for gasoline increased 6 cents to $1.75 per gallon on the benchmark contract set to settle next month. Ellen Zentner, chief United States economist at Morgan Stanley, suggested the lagged effects of rebuilding homes and replacing motor vehicles will outlast the anticipated neutral impact on national gross domestic product in the third quarter, providing a lift to GDP in the fourth quarter and beyond.