Tuhao, a Chinese word, has been getting very popular since last September on the Internet. BBC magazine translated it as "nouveau riche", someone who comes from a poor peasant background, and has made it rich quickly – but  doesn't quite have the manners or sophistication to go along with it. "Tuhao, lets be friends!" has become one of the hottest topics in China.
According to National Bureau of Statistics of China, GDP has increased 7.7%  from last year, which is higher than the predicted number 7.5%. However, that is the lowest increase since 1995.  International trade also decreased from  2012. A famous economist, Nouriel Roubini said to CNNMoney last week that  50% of China's economic growth comes from the government.  That's not sustainable. Honestly, China could be called as a big Tuhao with its GDP increase, but most Chinese people are not even rich with 38,420.38 RMB GDP per capita. China is experiencing an inflection point now. The magic "8" growth rate helped some people to be very rich fast and then they started to invest all over the world. As we know, investments, exports and consumption are three supporting elements for China's GDP increases.
"Tuhao" style investment- Vineyards buying
A Chinese businessman who just bought a vineyard in France died in a helicopter crash after his vineyard tour with his son, according to The Wall Street Journal. Vineyards investments unveiled because of the news. Chinese businessmen bought more than 60 vineyards in the past five years. The Chinese population consumed about 156 million 9-liter cases of wine in 2011, placing it in fifth place among the top wine-consuming nations worldwide, according to Vinexpo's study. It also predicts a 36% increase in wine consumption in China vs. 9% in the rest of the world, a 54% rise from 2011 to 2015.
"Tuhao" style investment- Luxury shopping
According to United Nations World Tourism Organization in 2013, Chinese travelers became the world's biggest spenders, shelling out about $102 billion overseas. It predicts that by 2015, total Chinese spending abroad will exceed total global luxury sales. The reason that so many Chinese travelers buy luxury goods from outside country because its extreme high import duties, which add up to 60% to the original price in China, according to Quartz. Therefore the rich Chinese people prefer to travel outside China.
"Tuhao" investment- Expensive houses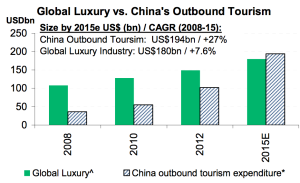 According to the National Association of Realtors, Chinese are now the second-largest foreign buyers of homes in U.S., accounting for $7.4 billion of sales in the 12 months ended March 2011. Because of the housing bubble in China, more rich people choose to investment homes in U.S.. Most of them probably concern about China's political instability, inflation, food safety even pollution.
"Tuhao" investment-Venture Capital
The China's top political advisors discussed reform in science, innovation and technology last December, which put forward proposals on the management of investment for scientific and technological development…building an environment for promoting innovation, the transformation of scientific achievement, according to Xinhua news agency. At the same time, more U.S. tech startups hope to find investors from Chinese and start their business in China. Chinese venture capital firms backed 28 U.S. companies in 2011, nearly double the number two years earlier, according to Dow Jones VentureSource. China's magic growth, large population and government's desire set a stage for more deals between China and U.S. technology companies.
"Tuhao" China has developed so fast these years. I think it's the time to slow down and wait for the people.