Every Tuesday and Thursday morning I would, without fail, purchase a large cup of iced coffee from the Annenberg cafe before heading to class. Personally, caffeine is not a necessity, but more for comfort as I often need that little push to get through the mornings. However, to many people elsewhere in the world, coffee is something they cannot get out of bed without. And this year, these caffeine addicts have all the reasons to get slightly worried as a "Little Girl" returns for another visit.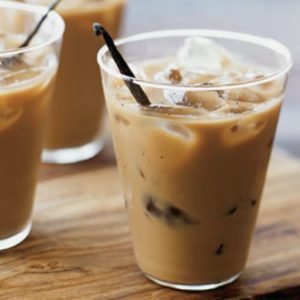 (Image of author's favorite morning drink)
I am of course referring to the La Niña (Spanish for "Little Girl") weather phenomenon. It is the opposite of the El Niño weather, which turns global climate a bit hotter. La Niña is when unusually cool water surfaces in the Pacific and causes global temperature to change as a result. It would mean that this year, the world would feel a little cooler, which may be a good thing for those who do not like hot weathers. However, it is a devastating news for farmers and manufacturers whose products rely upon a hot weather.
In a Guardian article, Sarah Butler introduces this dilemma global coffee enthusiasts are potentially facing. Coffee beans are a tropical produce, and they do not tend to react that well in face of a cooler climate. La Niña can, for example, bring in "severe droughts in key growing areas including the US midwest devastated crops while excessive rains in Columbia led to the spreading of a deadly coffee fungus", which was what had happened in its last cycle 5 years ago. When the production of coffee beans is directly and negatively impacted, it is inevitable that the coffee price would surge upwards as a result, since by simple supply-and-demand economics we know that a reduction in supply would cause the market price to go upwards.
Of course, while the simple fact is that our coffee would become more expensive, global climate change can have more devastating effects. Floods and droughts can destroy cities and their economies, all the while taking lives of hundreds of thousands. This year, the United States had suffered from three major tropical storms and hurricanes, and the affected areas are only beginning to recover. With La Niña coming in and making weather patterns more unfavorable, the recovery efforts can be hindered.
Then, the economic damage would not just be a few extra cents on my iced cappucino.