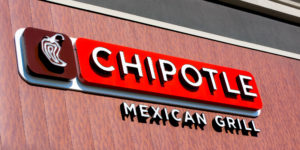 Chipotle Mexican Grill is an American fast-food chain that was opened in 1993 by current-CEO, Steve Ells. The company is known for its commitment to serving Food with Integrity, claiming that Chipotle understands the importance of how food is raised and prepared in order to produce quality taste. For this reason, Chipotle is one of the few fast-food chains that serves simple, fresh food without artificial flavors or GMOs. In fact, Chipotle was actually the first national restaurant chain to voluntarily disclose the presence of GMOs in their food until 2015, when they transitioned to only serve food made from non-GMO ingredients (Chipotle, 2015).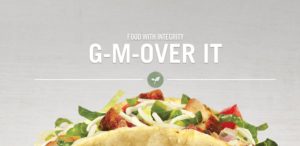 This dedication to serving the best food they can find is one of the reasons why Chipotle has found so much success. However, in the last five years, Chipotle has encountered two main problems that have significantly hindered their success. The most detrimental is the E. coli and norovirus outbreaks that hit a number of stores in 2015. The other is trying to manage the rising costs of Chipotle's core ingredients, while still maintaining the high quality of food they adhere to. Chipotle is a chain that promised something different to their customers. Then, Chipotle discovered that it was much more difficult to manage its success than anticipated. Therefore, the way that Chipotle reacts in times of difficult decision-making and crisis is essential to understanding the core characteristics and values that the company holds.
In its 2015 annual report, Chipotle announced that it had its most challenging year in history, mainly as a result of undergoing the repercussions of their widespread E. coli and norovirus outbreaks. From July to December of 2015, Chipotle's E. coli scandal, which was traced back to issues with supplier produce, sickened around 500 customers in the United States. The food health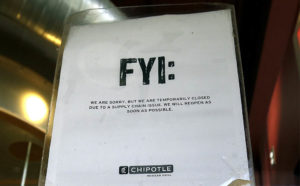 predicament initially came as a shock as 43 stores across Washington and Oregon were closed and deep cleaned after more than 40 cases were tied to the states. As cases continued to surface throughout the country, Chipotle had to take the same precautions to ensure that this would not occur in the future. However, the damage had already been done and had detrimental effects on Chipotle's business and its reputation among customers.
These measures had serious economic implications on the company. In 2014, it was estimated that per year, each Chipotle store generates $2,300,000 in sales. Taking into account the 49 stores nationwide that were closed for up to 10 days due to the outbreaks, it can be estimated that more than $3,000,000 in sales were lost in that short period of time. There are also a number of costs that cannot be calculated, but had a lasting affect on the company's bank account. For example, Chipotle had to conduct more than 2,500 tests for E. coli during the outbreak, in addition to deep cleaning and sanitizing all of the infected locations, and upping the costs of food testing for health and safety purposes.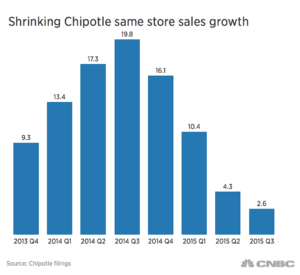 Besides the significant monetary losses Chipotle endured in this period, the greater loss the company suffered from was the damage made to their brand image. By comparing Chipotle's earning statements from September 30, 2015 to that of 2016, revenues decreased by 14.8%, which is $1.2 billion in 2015 to $997.5 million in 2016. The number of restaurant transactions also decreased by 15.2% in 2016, meaning that there were less customers eating at Chipotle in the year after the E. coli and norovirus scandals. Even more shocking is that, in the year following the outbreaks, Chipotle's net income was $7.8 million, a decrease from $144.9 million in 2015. This dramatic decrease in net income is a clear sign that Chipotle has significantly suffered from a lack of consumer traffic to their stores. Therefore, in an attempt to repair the damages caused by the outbreaks, Chipotle has spent millions of dollars on increased advertising, customer reward programs, and better food health and safety procedures, in order to prove that they are willing to endure profit losses if it means regaining their customers trust back.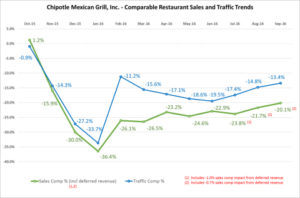 In addition to the detrimental effects the outbreak had on customer loyalty, the returns for its long-term shareholders were also greatly affected as the value of Chipotle's stock plummeted. In the last year, shares lost as much as half of their value, mostly due to Chipotle's first-quarter sales of 2016 that showed a decrease of nearly 30% because customers still feared that the restaurant chain did not resolve the causes of the outbreaks. In September of 2015, Chipotle's diluted earnings per share was $4.29. One year later, the diluted earnings per share came out to be $0.27. Since the value of stocks is based on shareholder's confidence in a company's future, the dramatic decrease in the stock's value proves that earning their customers trust back should be Chipotle's main priority in order to ensure a more promising financial future.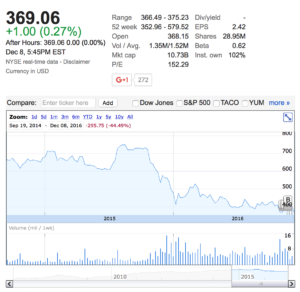 To address these issues of customer and shareholder satisfaction, Chipotle stated that 2015 was a year of reinvestment in addition to a deep commitment to regaining the trust of their customers. If executed correctly, this will recover sales and once again create long-term shareholder value. One of the most significant consequences of the outbreak was the resulting contrast between practices put forth based on their slogan, "Food with Integrity," and what was truly served to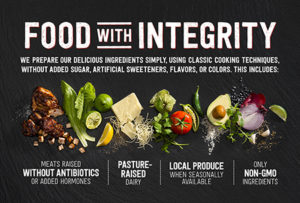 customers. Therefore, as a way of salvaging what they have left of their brand, Chipotle is standing by their vision to change the way people think about and eat fast food. However, this time around, it will be with a renewed focus based on serving a product that is safe by means of incorporating responsibly raised ingredients. Chipotle's commitment to prioritizing their relationship with their customers, above making profits, is a strategic way of reestablishing the food chain as one of the quick, risk-free alternatives to fast food.
Chipotle's brand is one of the key reasons for their success. However, pledging to serve their customers food made from the highest quality ingredients has made it hard for Chipotle to keep up with demand. Most of the ingredients that Chipotle uses tend to be more expensive because of their high quality standards. Certain economic conditions, seasonal fluctuations, weather conditions, global demand, food safety concerns, product recalls and changing government regulations also have a dramatic affect on food costs (2015 Annual Report). As a result, Chipotle has to make difficult pricing and purchasing decisions to maintain the desired level of quality they want to serve to their customers, while also generating a profit.
Chipotle has dealt with the rising cost of ingredients for decades. However, in 2011, the company introduced its first increase to its menu prices. As the prices of ingredients became too high to overlook, the only way that Chipotle could continue to provide customers with the same quality of food they expect was to raise the price of their meals. Chipotle had to do this again in 2014 due to a drop in margins by 40 basis points attributed to higher food costs for beef, avocados and cheese.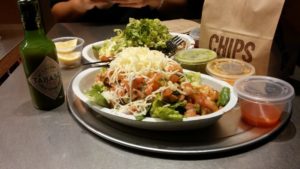 These three ingredients have caused Chipotle the most trouble over the last few years. In 2016, Chipotle's food costs were 35.1% of revenue, an increase of 210 basis points from 2015, claiming that the increase was driven by higher waste costs and avocado prices (2015 Annual Report).
The rising cost of avocados has taken a toll on Chipotle's production process. Guacamole is one of Chipotle's most popular add-ons, but the high demand has been met with difficulties because of the scarce amount of avocados on the market. According to Chipotle, each batch of guacamole contains about 60 avocados. Due to the high demand, with all of their stores combined, Chipotle goes through more than 97,000 pounds of avocados every day. It takes 74 gallons of water to produce one pound of avocados, which means that Chipotle needs around 7 million gallons of water per day to produce the amount of guacamole to meet demand. However, California produces 95% of the avocados grown in the U.S. and with California entering its sixth year of drought, the price of avocados has spiked as a result of the state's low water supply. With such high demand and little inventory, Chipotle must charge their customers an extra $1.80 for guacamole. While many customers are currently willing to accept this extra cost, if Chipotle continues to increase the price of their menu items, in addition to charging extra for guacamole, the chain could begin to lose customers.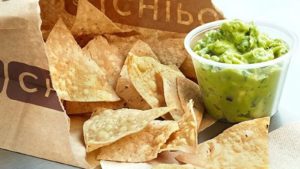 Since 2013, Chipotle has also dealt with rising global cost of meat. In February of 2015, beef prices climbed by 19% since 2014 and were expected to climb by 5-6% throughout the year (Eller, 2015). Much of this increase can be attributed to droughts that have hit parts of the US in 2014 and 2015. By looking at Chipotle's 2015 income statement, the company spent around $82 million more on food, beverage and packaging than they did in 2014. This increase was not solely due to the rises in meat products, but it definitely hindered the company's success.
Not only did the spikes in meat costs affect Chipotle's operations, but the high quality standards they set for themselves also created issues for the company. Between January and November of 2015, a number of Chipotle restaurants were unable to serve carnitas due to a pork shortage. The shortage was a result of one of Chipotle's suppliers violating some of the company's core animal welfare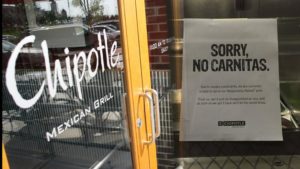 standards. As a result, Chipotle immediately suspended all purchases from the supplier and was unable to provide carnitas to about one-third of their 2,010 stores. This was a difficult decision for Chipotle to make. Removing a core menu item for more than eleven months could have posed an eminent threat to Chipotle's revenues and customer's satisfaction. However, Chipotle decided that standing by their mission statement was of the upmost importance. Therefore, the consequences that they endured from suspending the sale of carnitas was necessary in order to promote long term growth and brand loyalty.
Since the cost changes for Chipotle's menu items were not significant enough, Chipotle did not lose much of its consumer base. However, as the E. coli and norovirus outbreaks plagued Chipotles throughout the nation, customers now had a legitimate reason to stop eating at the fast-food chain. Not only did the outbreaks cause customers to temporarily stop eating at the restaurant, but they also permanently damaged Chipotle's brand image. When a business' core value is to serve food made from the highest quality ingredients and then it sickens almost 500 customers around the nation, the company is going to lose a lot of its credibility. Therefore, it has been difficult for Chipotle to earn back the trust of their customers who have lost a lot faith in the company's claims.
It is such a fragile time for Chipotle. In an effort to recover from what has happened in the past, Chipotle commits to fixing their damaged brand by showing customers the significant value they hold within the company. To jumpstart this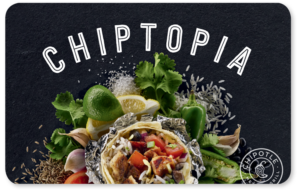 plan, Chipotle created a rewards program, Chiptopia, to give loyal customers an incentive to return to the chain. Another strategy they employed was introducing new menu items, such as sofritas and chorizo, to boost interest in their stores. Even through the disease outbreaks, Chipotle has continued to open new locations with the hopes of expanding to new and more popular markets.
Although these are well thought-out strategies to boost consumer interest and bring customers back into their stores, Chipotle's stock is still lower than it was in July of 2013, meaning that they have not even come close to making up any of their incurred losses. There are a number of steps that Chipotle should take in order to turn the company around. First, Chipotle should reinvent their relationships with their current and potential stakeholders and investors in order to foster trusting and attentive relationships by clearly outlining Chipotle's plan for future earnings. In terms of their customers, Chipotle should utilize external channels and mediums to promote new levels of transparency, insight, and easier access to available information. It would also be helpful to re-emphasize the freshness and locally grown aspects of Chipotle's suppliers, confirming that Chipotle knows where their food comes from. Chipotle is confident in their financial future and believe that there is a great chance that they can bounce back and produce all-time highs. Chipotle's commitment to their company, brand, and customers is an indicator that the chain will find a way to come back out on top.