Consume. America is a consumer society. We like to eat, drink, and shop. And as the holidays roll around we are constantly bombarded with advertisements and marketing campaigns reminding us that it is time to buy- buy gifts for our family, jewelry for our wives, toys for our kids, and even treat ourselves. However, over the past decade the annual pilgrimage to the shopping mall has experienced a shift. With the still growing trend of e-commerce, more people are looking online to make their holiday purchases. This comes as no surprise to Nordstrom who has been adjusting their company strategy to maintain a competitive edge as the landscape of retail changes.
Over the past 100 years Nordstrom has built itself into a trusted and recognizable retailer throughout the United States. They are known for their impeccable customer service and good selection of products. However for a high-end retailer it is not easy to stay afloat in the current retail scene. In order to run a physical store, a lot of costs are involved. The retailer has to pay rent to a landlord, pay utilities, keep an inventory, hire employees, account for theft, and much more. These costs have always been a factor in opening a store however the ever-growing bigger threat to traditional stores is e-commerce. Our society has progressively become more connected to technology and this has influenced our shopping habits. As a result the traditional store set up faces real obstacles moving forward.
These purchasing habits can be seen in Nordstrom's division of sales. In 2014, Nordstrom's web sales increased by 26%, accounting for $2.5 billion in revenue. For the first six months of 2016, Nordstrom reported net sales of $6.782 billion with $1.178 from Nordstrom.com, up 6.6% from the previous year. This number has only continued to increase. E-commerce has become such a burgeoning item that during the second quarter of 2016, Michael Koppel, Nordstrom's CFO announced, "We recognize that the shift towards e-commerce is having an impact to our financial model. As we accelerate investments to support changes in customer expectations, our expenses, particularly in technology, supply chain and marketing, grew faster than sales". This means that for Nordstrom to stay competitive in today's market they need to pivot the way they make their products available to consumers. They have invested heavily in growing their e-commerce platform and on engaging their customers on their mobile devices. In the past couple of years Nordstrom has really begun to reap the rewards with 21% of its revenues coming from digital sales.
If you open Nordstrom.com you will be exposed to a carefully planned marketing set up. Their opening page constantly changes showcasing the most popular products and trending brands.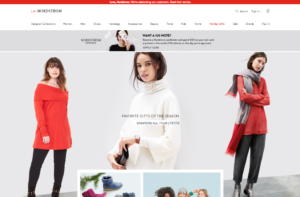 Their website is also extremely customer friendly and easy to navigate with tabs dedicated to holiday shopping. Carefully curated links can be found with Gifts for Her, Gifts under $100, and Luxury Gifts, making the shopping experience a hopefully easier one. They also make sure to be at the forefront of online promotions. Leading up to Black Friday they sent out email blasts reminding their customers of the promotions they were offering. Beyond that they regularly send out emails giving product suggestions and to inform their customers about new arrivals.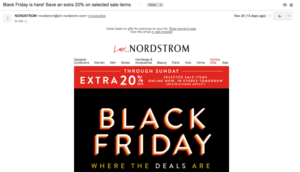 One of Nordstrom's possibly most competitive strategies is their price matching promise. They have a competitor price matching policy that states, "We are committed to offering you the best possible prices. If you find an item that we offer, in the same color and size, in stock at a national retailer, we'll be glad to meet a competitor's price". By offering this they are promising their customer that at no other location will they be able to find a better price, and in the event that they do, Nordstrom will match it. This makes it easy for shoppers to shop on their platform with confidence that they are getting the best prices. While perusing Nordstrom.com it is quite common to come across the red "We're Price Matching" banner. In many occasions the customer does not need to shop around and compare prices because if Nordstrom sees a competitor selling a product at a lower price, they automatically match it so the customer does not need to ask for a price adjustment. This also makes the store immune to shoppers who come in to look at the physical product just to make the purchase online for the cheapest price. This policy is more valuable than meets the eye because according to Entrepreneur's article, millennials are price sensitive and are using their mobile devices in store and online to compare prices. With a website that works symbiotically with its online stores, Nordstrom effectively cuts out its competition for millennials who would otherwise be searching for cheaper prices.
Some might question what the comparative advantage Nordstrom has over other retailers offering similar prices, but Nordstrom offers quite a few very enticing incentives. They offer free shipping on all orders without a minimum purchase requirement making their website a go to source when shopping for virtually anything that can be purchased online. The customer can also have peace of mind that the product that arrives on their doorstep is authentic and accounted for because Nordstrom has an established reputation. Making a purchase with them also means knowing you will receive impeccable customer service including an extremely lenient return policy. They handle their returns on a case-by-case basis with the goal of keeping their customers happy, relying on the idea that if they treat their customers fairly, their customers will also treat them fairly.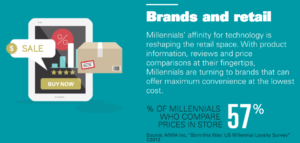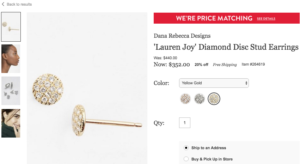 They also have a price adjustment policy that ensures customers that the price they pay is not going to fluctuate and in the event that the product goes on sale for a lower price within two weeks they will be able to be reimbursed for the difference.
It's stores work symbolically with their online website. Customers who might not be fully accustomed to shopping online can satisfy their need for instant gratification because they can place their orders online with the comfort of knowing that they can bring their items in to the store to exchange for a different size or color or get a refund. This saves them the hassle of having to ship their packages back and wait to receive their money. Customers also have the option of buying online and picking up their purchases in store. This gives them the convenience of shopping online without the downsides of having to wait for shipping. This also saves them from the potential of going to a store just to find out its run out of stock of the item they are looking for. This is a win-win situation because when a customer picks up their items in store, Nordstrom saves on shipping costs. And whether a customer is coming in for an exchange or a pick up, the company has won half the battle once a customer has stepped into the store. Whether the shopper is looking to make a return or pick up their items, they are likely to browse as they walk through the store. So in all actuality by creating a business model where both a physical store and an online store serve important needs but have enough of a point of difference where they are both valuable makes for a sustainable business in today's world of instant gratification and convenience.
Nordstrom's stores pose a benefit beyond it's physical sales as well. They are an essential part of Nordstrom's brandy equity. Their brick and mortar stores occupy space in some of America's most prestigious malls. Their well-groomed stores alone are a marketing tool. People walking by cannot help but notice the health and wealth of their storefronts. Businesses trying to sell their products take notice too. They have access to exclusive brands and therefore carry what is coveted, trendy and popular. In the past they have struck deals with the likes of Baublebar and Shoes of Prey both of which are brands that are exclusively online. The reason they may be willing to work with Nordstrom is because they become associated with Nordstrom's name and thereby reputation. Furthermore their inventory is up to date. So if Rebecca Minkoff launches a new line in her stores, you can be sure that Nordstrom will have them available as well. According to Forbes', millennials are brand loyal so once they trust a company and are accustomed to them, they are likely to continue to be patrons into adulthood. This shows the importance of capturing the millennial generation retailers have as these relationships are formed and often continue to just build on itself.
Nordstrom is also the parent company of other business such as Nordstrom Rack and hautelook.com, both of which have proven to be successful. Nordstrom Rack offers branded clothes, shoes, and accessories at a discount. Nordstrom Rack continues to expand with 113 stores and an e-commerce site that launched in February 2014. It makes up about one fifth of Nordstrom's overall sales at $2.5 billion since 2013. Similarly, HauteLook is a shopping website and mobile app that has flash sales and limited-time sales events with branded apparel and items such as makeup, jewelry and home decor. HauteLook encourages their browsers to make purchases because of the way their website is set up. Their product offerings change daily and the time restrictions set on them create a sense of urgency. HauteLook was launched in 2007 and was purchased by Nordstrom in March 2011 for $180 million in stock. This is significant because it showed Nordstrom's commitment to branching out into e-commerce. Furthermore it was one of the first times a traditional retailer acquired an online retail company. Since its acquisition, it has been racking in sales. Nordstromrack.com and Hautelook brought in $323 million in sales in the first six months of 2016, a 38% increase from the $234 million the year before.
While all these projections and figures sound extremely promising. Nordstrom's ecommerce success also comes at a cost. Interestingly enough it might be taking away from some of its in store purchases which are actually more profitable for the company. Online purchases are generating a lot of sales but not always at the best margins. Online super star, Amazon, has been infamous for their extremely low profit margins but Nordstrom does not necessarily have the same business goals as Amazon. Moving forward, Nordstrom has some tough decisions to make. The efforts and investments they have focused on the past few years may need yet another adjustment to stay on top of the game. The costs involved in creating a successful e-commerce platform on a large scale are not small. They opened their second e-commerce fulfillment center last summer to expedite their shipping process and accommodate the volume of sales. This year the company played around with the idea of opening a third fulfillment center estimated to cost about $170. This may be a smart move because of the slowly online growth they have been experiencing, but it may also be a risk worth taking as Nordstrom's upfront investments in growing their online business have paid off in the past. Nordstrom has since held off as the future of their online sales is still uncertain. These decisions are pertinent in Nordstrom's future, as they will have repercussions whichever way they decide.