Macy's has been facing a major downfall and its stock price has been tanking for a while now. This problem has been persisting for several reasons, and departmental stores in general have been facing problems making profits. Macy's stock price fell by 15% in May after its 2016 Q1 financial results were released. Even more recently, in August, Macys announced that it is planning on closing about 100 of their stores. The company executives mentioned that these stores would be performing their final sales in the next year. They have also already had a few recent store closures.
There are several reasons that have been costing Macy's major decline in sales and market share. It's stock price and overall financial valuation has also been plummeting due to this.
Firstly, fast fashion upstarts and established fast fashion companies like Zara, H&M and Forever 21 are rapidly eating away market share because they are able to bring in new styles and designs within short intervals, which is attributable their low costs of production. Also, off price retailers like TJ Maxx and Nordstrom Rack have been providing high quality merchandise at lower prices, which have been attracting a lot of departmental store retailers.
However the real game changer in the fashion retail industry has been e-commerce. E-commerce has made a strong dominant presence in the retail world. This is more than evident as Amazon is about to have the label of the largest seller of clothing in the US. Not just Macy's but multiple traditional retail companies have been struggling to keep up with the e-commerce industry performing at its ultimate peak. Though the profound growth of the online shopping realm is not a firsthand phenomenon, it is now establishing complete control over the apparel retail industry. Macy's CEO Terry Lundgren is extremely concerned and recently made a statement that "Macy's has been seeing continued weakness in consumer spending levels for apparel and related categories". On the other hand, Amazon's stock has been flying. According to research done by a recognized financial services firm, the Cowen group, its primary growth has been driven by its apparel and accessories businesses, which makes it a key competitor to Macy's. This is not only apparent from numbers from financial statements and financial valuation represented in stock market prices, but also from increase in the number of shoppers of the companies over time. Cowen and Company, an investment-banking firm performed a detailed survey of 2,500 shoppers in the United States on a monthly basis for the past three years, and their results, which are reflected in the following graph, show that Amazon's shoppers are continually increasing on an average where as Macy's number of shoppers has remained the same.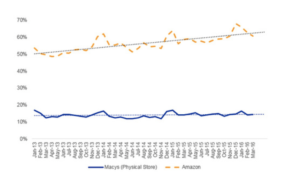 Also, there is a current trend of millennial consumers being more willing to spend on services and experiences rather than on material or tangible products. Millennials are defined as Americans who are in the age group of 18-34. They form the U.S.'s largest generation by population and account for about $1.3 trillion of the country's total annual consumer spending. According to research done by The Boston Consulting Group, the generation values personal experiences much more as opposed to material possessions, weather it is clothes and bags or cars and homes. This generation differs from previous generations in that happiness is a result of sharing personal experiences like a music festival or a vacation rather than of owning a car and a home. This trend has also been slightly contributory to decline in sales of high-end clothing brands, which sell in departmental stores like Macy's and Nordstrom. The preference shift trend has also obliged many other clothing retail brands to try and adapt and provide experiences along with their products.
The stock price of Macy's for the past year, which is summarized in the subsequent graph, has been quite volatile.

The key issues that are worrying and need to be carefully addressed by Macy's can be gathered from data from the company's recent financial statements. On May 11 2016, Macy's stock price fell by 15% to $31.38, which was both a highlight of its stock price history and also an alarming wake up call for Macy's. Macy's released its first quarter financial results a few weeks before this and they showed that its sales fell from more than 7% from more than a year ago and its performance didn't meet forecasts. Also, same store sales which indicate the change in sales generated from the existing stores of a retailer, are an important performance metric for retailers, have also been significantly declining for Macy's.
The combination of fierce competition from e-commerce, off price retailers and stores that cater to fast fashion, along with shifts in consumer preferences that are moving away from traditional clothing retail stores have caused problems for not just Macy's, but even its major competitors that have similar business models, like JC Penney's, Sears, and Nordstrom.
It is crucial for Macy's to craft an optimal strategy that has features that can address each of the causes for its decline in sales. Addressing each cause of the big problem specifically helps create a detailed approach. Capitalizing on the company's existing strengths and opportunity is an integral part of implementing any plan to solve business problems. Consequently, Macy's has announced that they have been taking some initiatives to combat their problems. They have been receiving constructive feedback and response towards these initiatives.
Firstly, the company has tried to achieve off price retailing, which is being adapted by many retail departmental stores. Off price retailers sell high quality products for much cheaper prices. The catch is that products are usually second hand goods, last season items, cancelled orders or goods returned by other retailers. They usually have an inconsistent mix of brands. An important characteristic that attracts consumers to departmental stores even today is sales and discounts. Even though departmental stores attempt to restrict discounts, it's difficult them to do so while retaining their loyal customers. This is because some economically prudent customers get too used to this pricing and it is difficult to get them to pay full price. This is exactly where off price retailing comes into the picture. It caters to these customers by providing a discounted products option all year around. For example Nordstrom, one of Macy's biggest competitors has introduced Nordstrom Rack, which has a strong presence in the off price retailing industry. Macy's is also planning to start its own off-price retail store, Macy's backstage, and aims at opening 15 stores by the end of 2016.
While the addition of this segment will definitely give Macy's a stronger foundation to combat its competitors, off price retailing comes with its own set of troubles. It is important to look from a consumer's perspective when trying to increase same store sales. Off price retail stores sometimes have defective products, because they are usually returned or rejected products bought out from other retailers. The décor of the store is not at all attractive and welcoming; the manner in which clothes are displayed in these stores are very unorganized and inconvenient for customers as they are all a mix of different kinds of clothes from different brands. Off price retailers project a different aura and feel altogether, and though Macy's can start an off price retailing division, it would still need to focus on enhancing its primary departmental stores that define its brand image.
Another step that Macy's has made towards progressing is focusing on developing and revamping their cosmetics and accessories department. While the retail industry as a whole has been struggling to perform in the United states, cosmetics and accessories sales have been soaring, and this has proven to be very beneficial to departmental stores. Not just Macy's revenue mix, every general department store's sources of revenue has a good proportion of income from the accessories and shoes departments. The revenue of Macy's specifically is 38% accounted for by this department, which is the largest portion of all the categories.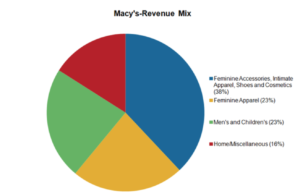 Amidst of the struggle to perform, increase same store sales and expand customer base, Macys made an acquisition of Bluemerucry, which is a luxury cosmetics and spa with 100 stores all over the country. After acquisition, Macy's is planning on opening 24 Bluemercury stores within the biggest Macy;s stores by the end of next year.
Macy's is indeed making a clever attempt to reinforce their cosmetics department.
Sales of cosmetic products have been progressing remarkably and departmental retail stores like Macy's should intend to take full advantage of this. Sales have been rising due to a combination of several factors. Firstly cosmetics cater to the contemporary trend of willingness to spend money on experiences. Buying make up is an experience, because most cosmetics stores like Blumercury provide in store make up salons and spas, which have in store makeovers. This is essentially the experiential service that Bluemercury stores could add to Macy's. Exploiting the cosmetics department by selling experiences can play a substantial role in helping achieve higher sales for the company as millennials become more and more inclined towards such services. Another aspect about the cosmetics industry that makes its products so attractive is that it provides luxury at a much a smaller price and level. For example products from luxury cosmetics brands like LeMar, Clinique and Chanel provide millennials with the contentment of owning a luxury product, though it is at a much smaller level.
A noteworthy innovation that Macy's is set to bring to its departmental stores is a virtual store assistant that guides you through the entire collection in the store. Macy's initiated a partnership with IBM to create an app called Macy's on call that is driven by artificial intelligence and provides customer with efficient in-store help.
A common apprehension that customers have towards large departmental stores is that that they do not get as much help and consideration from store associates as they would get in a smaller standalone store of any brand. Though a lot of times store assistants are helpful to customers, many customers, especially millennials would rather get this help from a smartphone in their hand rather than have to look for a store assistant and have them answer their questions. This app not only caters to such consumer preferences, but would also enhance the efficiency of the shopping process for customers. Such an app would be apt for shoppers with time constraints. Such customers know exactly what they want to buy, and in which size; they would take a few seconds to locate their items on the app and then checkout and get going. However, technology does come with its disadvantages. The risk of issues like network errors, app breakdowns and other technical glitches will subsist. Also, there is still an older group of shoppers who would prefer talking to a human store associate, not only because it might be harder for them to use the app but also because they actually like having the human touch in their shopping experience. Overall, however a user-friendly app like this one would be a considerable addition to improve the shoppers' use experience and would also help attract more customers to drive sales revenues.
Ultimately, Macy's will need to constantly keep innovating to add creative and unique components to their business to recover from its sales problems. It is not that blunders have been made by the company that have led them into difficulties, it is just that consumer preferences and trends have been rapidly changing, and intense competition from e-commerce and fast fashion retailers has been grasping customers and market share from departmental store retailers. Nordstrom, which is one of Macy's major competitor, has also been facing a similar crisis, due to almost identical reasons. Departmental retail stores will therefore need to continually add new elements to their businesses, or remodel existing features to accommodate new trends and revolutionize the value of departmental store shopping.