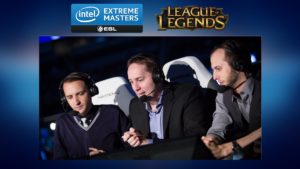 "He's gonna find Santorim right before the dragon. Looks like he's gonna try to get over the wall. Not gonna work though. Oh chilling spikes and now Santorim is in a lot of trouble.. he's lost and WOOOOOOOOOO DENIED! HEAD BUTTING AND BACK, OUT OF THE LANTERN!" Believe or not, this quote is from a sports caster. What kind of sports commentary involves a dragon and chilling spikes? You guessed it, the E-Sports. Back in Fall of 2013, there was an unusual event held in Galen Center and Staples Center. The League of Legends World Championship semi-finals and finals were held in those arenas. Those events attracted about 23,000 fans to spectate the video game matches in both event halls.  In case of the finals held in Staples Center, the tickets were sold out in an hour. Even for a professional basketball event held in Staples Center, it is very extraordinary. On top of the arena attendance, the final matches in Staples Center attracted about 32 million viewers worldwide according to Riot Games. In the end, South Korean team SK Telecom T1 won the prize of 1 million dollars.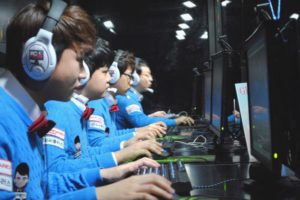 It may seem totally outrageous by traditional sports fans because these so-called "Professional Gamers" (or Pro-gamers) are earning millions of dollars by simply playing a video game in front of people. Yet, pro-gaming is more than that. Donghun Lee, scholar at Ball State University, wrote a journal article about how the E-Sports players need to train rigorously just as traditional athletes do. According to Lee, the Pro-gamers need to train their eyes to follow fast movements of pixeled characters and objects on the computer screen, train their hands to react faster for mouse clicking and keyboard button pressing, and train their hearing for reacting to gaming effect sounds. Some pro-gamers like SangHyuck "Faker" Lee plays practice games for over 12 hours a day to master his finesse in League of Legends.
League of Legends is vital to E-Sports because it showcased how serious the professional gaming can be through the outstanding number of viewers over the world. League of Legends is a free-to-play online competitive multiplayer game developed by Riot Games in 2009. Two teams of five players are required to play the game and one match lasts about 35-45 minuets. Since its release, League of Legends has been gathering monthly active users in a very fast pace. The monthly active users have increased from 15 million in 2009 to 100 million in 2016.
As mentioned earlier for the League of Legends Season 3 World Championship, the final matches attracted 23,000 physical fans and 32 million fans streaming online. Chad Millman, the editor in chief of ESPN.com and ESPN magazine, praised how E-Sports market is attractive on Fortune Magazine interview: "We saw how responsive the fan base was, how tremendous the storytelling opportunities were and, for those of us not already immersed in the industry, how similar it was from a competitive standpoint to what we already cover [. . .] It didn't seem like that much of a stretch then to get aggressive about creating a digital destination."It is very apparent that the E-Sports industry is growing. In the same article, Fortune states how the revenue from the E-Sports industry will grow from $278 million revenue in 2015 to $765 million revenue in 2018.
Essentially, League of Legends has made E-Sports big enough to attract investors to bring a significant change; once a niche industry is now becoming a profitable mainstream industry. As shown on the info-graph on the left, 2016 League of Legends World Championship had accumulative prize of 6.7 million U.S. dollars to distribute to the competing teams. Besides the prize money, the player salaries are pretty crazy as well. For example, aforementioned star gamer Faker earns $2.5 million per year from his contract with SK Telecom. While being this successful, the model of E-Sport industry actually comes from overseas despite the origin place of League of Legend being in the United States.
South Korea has had the strongest market environment for E-Sports since late 1990's. According to New York Times Article, the Asian Financial Crisis triggered South Korea to have the best environment for E-Sports because the government allocated its funds in telecommunication and Internet infrastructure. By 2000s, the PC Bangs (PC방, it is directly translated as Personal Computer Rooms) were formed and the wide community of gamers was created. PC Bangs are the Internet cafes on steroids that provide the fastest Internet speed, computers with great CPUs, and superior graphic cards for  very cheap price like a dollar for an hour. With the introduction of StarCraft, a game released by Blizzard Entertainment in 1998, the PC Bangs became the proving ground for early gamers and multiple tournaments were held in different PC Bangs. In my personal experience, PC Bangs are like the neighborhood basketball courts. If someone in my class was good at either StarCraft or WarCraftIII, he would have the same popularity as a varsity football quarterback would have in the U.S. PC Bangs has made an E-Sports culture in South Korea and the market was meant to do well because of the infrastructures.
As the competitive gaming became popular, the South Korean government created the Korean E-Sports Association to manage E-Sports. As a result, a TV station dedicated for broadcasting E-Sports and big companies such as Samsung, CJ, and SK started to organize, manage, and finance their own E-Sports teams. Those companies still act as major sponsors in South Korea. For League of Legends, those sponsoring companies put their players in a training houses so they can practice as a team at least 8 hours a day. This model of hardcore training has influenced other League of Legends teams in the world. According to New York Times, "the country's success at League of Legends has led several Western teams [. . .] many foreign teams have also tried to emulate the group living and training approach used in South Korea."
League of Legend's popularity in global E-Sports market triggered the United States to take actions. The U.S. teams such as Team Solomid, and Cloud 9 are sponsored by HTC. Cer Wang, the chairman of HTC said in 2015, said that "E-Sports has seen significant growth in the past few years and we see synergy between people who are passionate about this sport and our own customer base. It was an easy decision for us to sponsor these talented teams and individuals." Apart from HTC, many different companies like Red Bull or GEICO sponsor League of Legend Teams because they see the profitability. According to SuperData report, "Brands have taken notice of E-Sports' popularity and many have become sponsors quicker than projected [. . .] By year's end, sponsorship of tournaments, players, and esports-related sites will exceed $578 million, just 28 percent less than this year's NBA sponsorship total."
Just as Fantasy Sports exists for traditional sports fans in the U.S., the hype of E-Sports seem to extend its reach to the betting game as well. According to the Internet magazine Travelers Today, a casino in Las Vegas started to allow people to bet on the League of Legends. The magazine also mentions that XLIVE, an entertainment organization event, will have a betting panel for League of Legends this month in Las Vegas. Waco Hoover, founder of XLIVE says that "E-Sports  is a burgeoning industry that's poised for significant growth in the coming years. Some estimates put the global sports betting industry over $1 trillion and with the growing popularity of E-Sports the industry is looking to capitalize on gambling. Unheard of in traditional sports – crowd sourced prize pools in excess of $20 million demonstrate the extraordinary fan bases that exist with E-Sports and their leagues."
Moreover, there has been a deal going on between Major League Baseball Advanced Media and Riot Games recently. According to Los Angeles Times, Riot Games is finalizing a deal to sell streaming rights for League of Legend matches to MLB's tech unit for $200 million over two years. This is quite significant because most of the E-Sports matches are broadcast on Twitch or YouTube. What this deal means is that the streaming of League of Legends can be done in MLB app. The LA Times suggests that there could be a synergy for MLB to purchase League of Legends streaming rights because Riot Games has proven the wide audience its game can reach. Both Riot Games and MLB could gain massive profit with advertisers. Yet, there are still concerns regarding E-Sports broadcasting because the profit generation in E-Sports broadcasting is still in early stages. Whereas South Korea has its own TV station dedicated for video games that the station can profit from advertisers, the American E-Sports are broadcast mostly online. In this regard, moving into a premium app may pose a danger to the League of Legends fan community because the matches may lose its audience and perhaps become unpopular.
Though the MLB deal is still not announced to be closed, the concern LA Times brought up is very significant. League of Legends is not the only E-Sports game.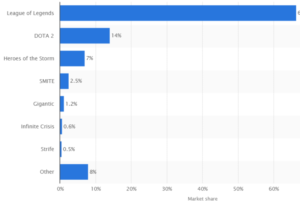 Until recently, the League of Legends has been the most popular online multiplayer video game for MOBA (multiplayer online battle arena) genre. According to data on Statista, League of Legends hold 66.3% of the market share based on PC and console revenues in 2016. For the MOBA genre, League of Legends may still be secure in E-Sports arena; however, new competitive game was introduced in this year's Summer to perhaps bring down League of Legends from its E-Sports throne. Overwatch, a competitive online first person shooter game developed by Blizzard Entertainment, recently gathered over 15 million users according to Forbes. Bringing the E-Sports to South Korea, the PC Bangs are now populated with more Overwatch players than League of Legends. Even though League of Legends matches are still broadcast on Korean TV station, Overwatch matches have been raising a great number of fans.
Does the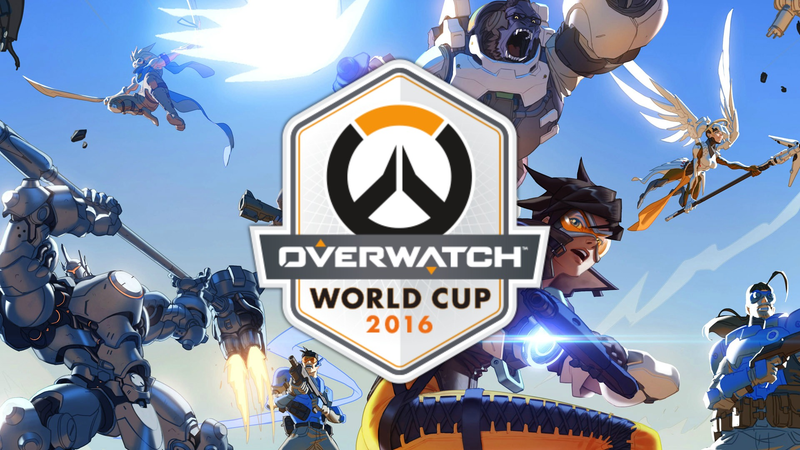 emergence of Overwatch mean the downfall of League of Legends? According to major video game news outlet Polygon, the first Overwatch World Cup at Blizzcon 2016 had more than 100,000 viewers. According to Polygon, Overwatch definitely has a potential to be big in E-Sports scene. While League of Legends has been focusing on team construction in the beginning of each round, Overwatch provides more fluidity in game. This means that once players select their champion characters in the beginning of the game, the players are locked with the champions they selected; in other words, the strategy is already locked with the character choices in the beginning of the game. Meanwhile, players can switch their choice of characters at any time of the gameplay. Providing more fluidity in strategy, many hardcore gamers find Overwatch to be a great game in competitive setting. Yet, Polygon points out the flaw of Overwatch that may hinder it from entering the E-Sports market. Overwatch is not the best game for the spectators because it is a first person shooter and it confuses spectators on which characters are on the same team. For a fast pace gun-serking game such as Overwatch, it becomes very difficult for the spectators to see what is going on. For League of Legends, each teams' health bars are color coded so it is intuitively easy to figure out what is happening in the battle field. In case of Overwatch, not so much.
Does an introduction of new exciting competitive game threaten League of Legends? Not so much. It is just like traditional sports. Basketball getting more popular than baseball does not mean that baseball is not relevant at all. Just like how League of Legends have been treated as sport, it will not have the same decline. Older games can still be relevant and profitable in E-Sports. For example, StarCraft I is still relevant in South Korea even though the competitive market started since 1990s. There are still StarCraft I matches in South Korea and they are broadcast, although StarCraft II came out and the tournament of its own has been getting popular. For this regard, I think the emergence of new games is not a threat to the E-Sports community or League of Legends. It just means that more sport genres are added and the fans will have more options to watch the pro-gamers competing with their passion. As E-Sports get popular just like League of Legends, maybe people will see E-Sports being part of Olympics.