By Alexa Ritacco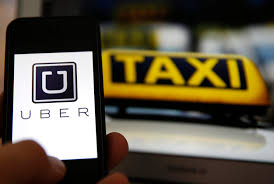 My mother calls Uber "the magic app." She loves that with just a touch of button you can call a ride that could arrive in just minutes. Not to mentions the completely digital, cashless transaction that makes for a smooth ride, with no awkward moments or hesitations when it comes to tipping.
As a college student in LA, Uber has become an essential way to get around, especially when it comes to nightlife. Coming out of a bar in Downtown LA, the streets are normally lined with dozens of Ubers and Lyfts waiting to pick up their passengers. This is a completely different picture than what existed just a few years ago. It even has its own verb now.
"Oh yeah, let's just uber."
"Going to uber over now!"
"No, I ubered."
Founded in 2009, Uber now exists in sixty countries, and over three hundred cities. In just 6 years Uber has become a globally used and extremely well-known app. But global success does not certainly mean global acceptance. Resistance to the ride sharing service has come about from all angles. Some consumers think the service is sketchy.
"I don't know, I just get a bad feeling about it. You're getting into a complete stranger's personal car. What if they're a creep? What if someone tries to take advantage?" said Alexis Colner, a senior at USC. Colner's not alone in her sentiments. There have been countless reports of harassment, extortion, and sometimes even robbery, and Uber's response to such reports have been pretty mixed. But others view Uber as the lesser of two evils.
"I would much rather hop in an Uber than a taxi cab," said NYU student, Elizabeth Gurdus, "Taxi drivers are so incredibly rude, and never take me the route I want to go. Uber drivers have a rating incentive to make my experience at least somewhat pleasant, and generally that's been the case in my experience."
While consumer perception has been an issue, the most resistance to Uber has come from Taxi cab drivers, as well as local city legislation. New York City, a place known for its thriving taxi sector with the infamous yellow cabs, has seen quite a bit of controversy surrounding Uber and other ride sharing services.
Uber launched in New York in May of 2011. Since then, the service has exploded, having given millions of rides to New Yorkers, and employing over 30,000 drivers. And it has been driving the NYC taxi drivers absolutely insane. Many drivers claim to be taking a hit financially, and feel that it is completely unfair that Uber just waltzed in one day and began stealing customers. They feel betrayed by New York City for letting this go on.
For so long, they were the only ones on the market for private transportation around the city. If a New Yorker wasn't taking the subway, bus or personally driving themselves, chances are they were taking a taxi. And really, that was their only other option. Now suddenly, the consumer has quite a few options when they're strapped for a ride. Rather than stepping out onto the sidewalk and hailing a cab, they very well may be whipping out their phone and calling for an Uber or a Lyft. The transportation market has changed completely, and now Taxis are dealing with some very hungry competitors.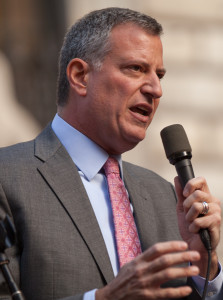 Taxi medallion owners have put a lot of pressure on Mayor Bill de Blasio's administration to help them and act in their favor. Satwinder Singh, ad NYC Taxi Medallion owner gave this analogy in a New Yorker article, "The city is the father and mother. They created the yellow cab as the baby. Now they're refusing to take care of it!"
Another owner Lal Singh continued the analogy citing the fifty cent tax that is charged on cab fares that goes directly to the MTA. "We're giving them eighty-five million dollars a year! And yet everybody accepts Uber is the stepfather and all the politicians are the stepsons!" he said.
After much badgering, de Blasio pushed to start regulation and capping on Uber in NYC in the late Spring of 2015. The legislation would basically limit the amount of Uber drivers that could be in New York City at all times, and prohibit any further growth of the company in the city.
This launched Uber into full on defense mode. They put out countless adds dissing taxi cabs, attacking their well-known racist stereotyping practices, as well as pushing all of the different types of services they offer, ranging from Pool to Lux. They rallied support from consumers in the form of petitions and protests, and even got a view celebrity endorsements via Twitter, including Kate Upton, Neil Patrick Harris and Ashton Kutcher.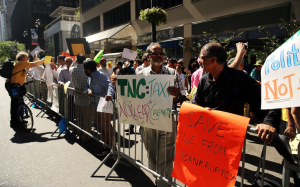 It came as no surprise to many when de Blasio decided to halt his efforts to place a cap on Uber while further studies were conducted to see really just how hard Uber is hitting the transportation market. Obviously this infuriated NYC cab drivers and launched them into a series of protests. Some of the leaders of these protests have gone as far as to suggest emulating what cab drivers in Paris did in response to Uber, which included blocking major intersections and entrances to airports. But until something drastic happens, for now, it looks like Uber will not be leaving New York anytime soon.
Since Uber is still a private company, it is pretty difficult to tell just how much of an impact they are having on the transportation market. But by looking at employment numbers, leaked reports and the cab side of things, it is pretty easy to tell that Uber has made a giant mark on the Big Apple.
It has been noted that the number of abandoned taxi cabs in Brooklyn outside of dispatcher offices has been on the rise. Many drivers have reported that they jumped ship for Uber. By doing this, they lose the worry of paying the lease on their cab, and the countless other fees that cab drivers that don't own their own medallions have to pay.
In November of 2014, it was leaked that Uber was set to generate $350 million in revenue for that year. It could have only grown since then, as Uber has expanded over 14% in NY over the past year.
A New York Post article reported that as of October 2015, 30,000 Uber drivers are employed in New York, and that they could be making an average of $40 per hour.
Based on all of these factors, there is no doubt that Uber has taken a large bite into the transportation market in New York City. So will this mean the end of taxi cabs in NY? Of course not. But this situation has forced taxicab companies to start thinking more forwardly. It has been reported that they have been developing apps similar to Uber for cab drivers to being using. Features would include GPS based fares as well as a possible rating system.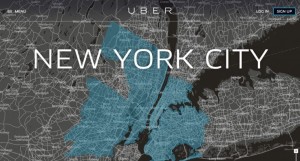 Uber has totally woken up what was a sleepy transportation market in New York. Only time can tell what will come of the industry, and if these two competitors will ever be able to peacefully coexist.
Sources:
http://www.businessinsider.com/uber-revenue-rides-drivers-and-fares-2014-11?op=1
http://www.businessinsider.com/proof-that-uber-is-obliterating-new-york-citys-taxi-industry-2015-8
http://www.newyorker.com/magazine/2015/08/03/revving-up
http://newyork.cbslocal.com/photo-galleries/2015/09/17/medallion-taxi-drivers-rally-against-uber-drivers/
http://www.capitalnewyork.com/article/city-hall/2015/09/8577153/uber-fight-city-hall-overshadows-congestion-hearing
http://nypost.com/2015/10/07/there-are-more-than-30000-uber-drivers-working-in-nyc/
https://nextcity.org/daily/entry/number-of-uber-drivers-in-nyc
http://www.nydailynews.com/news/politics/n-y-taxi-drivers-rally-uber-article-1.2363707
http://www.cbsnews.com/news/uber-defends-surge-pricing-with-nyc-case-study/