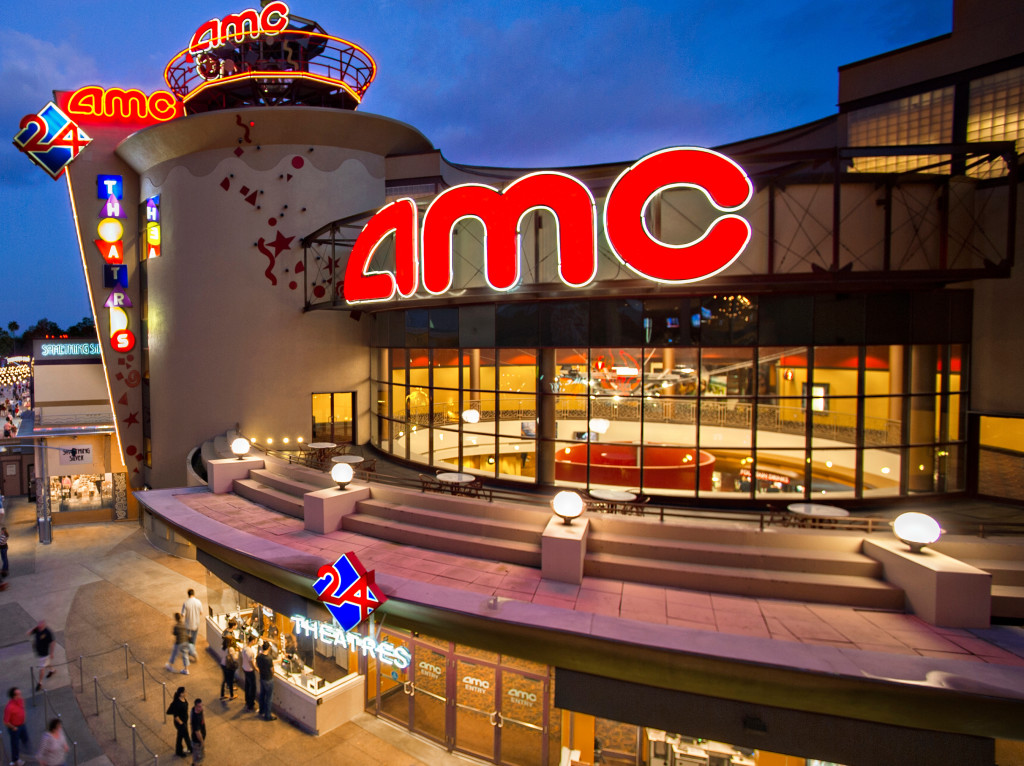 The American movie theater business is in a state of flux. Theaters are scrambling to come up with fresh ideas and marketing strategies aimed at attracting more people to their establishments. Digital technologies like 3D and IMAX formats have pushed theaters to increase ticket prices over much of the last decade. Finally, the growing popularity of streaming services, like Netflix and Amazon Prime, have given people across the country easier access to entertainment. Before the advent of new and emerging entertainment platforms, movie theaters provided many people with an escape from reality. Today, it remains questionable whether the industry has the same influence it once had over the entertainment world. Major chains like Regal Cinemas and AMC now face the challenge of updating their business plans and reminding the public why the movie theater experience is not going anywhere.
The Old vs. New Business Models
The relationship between the movie studios and the distributors remains somewhat strict when it comes to how much money each party receives from the films being shown in theaters. David Mumpower, a financial writer for the website Box Office Prophets, explains how most people assume the studios and distributors split the box office gross down the middle. In the past, film studios actually had deals with distributors to gradually give bigger slices of the revenue to the theaters over time. For example, in the opening weekend of a new movie release, the theaters would receive 10 percent of the profits and the following weekend they would receive 20 percent of the profits. This business practice shows how much Hollywood banks on distributing hit movies on a weekly basis. It also demonstrates how volatile the industry can be, especially for the theaters which have unfavorable circumstances when it comes to their revenue.
Today, movie theaters get a standard cut of the profits no matter which week the movie is in theaters. The third quarter income information provided by Regal Entertainment Group, the largest movie theater operator in the country, suggests a growing consistency with how much revenue their theaters get from tickets sales and concessions. In September 2014, Regal Cinemas made $2.19 billion in total revenue, but paid $1.1 billion in film rental and operating costs, which means the theaters received about 50 percent of the profits that year. Similarly, in September 2015, ticket admissions were $2.28 billion and film rental costs were about $1.17 billion, making the theater profits about 49 percent.
In both years, ticket admissions do make up most of the revenue, but the high costs of even renting out theaters for different movies takes away a lot of that revenue. Since the standard revenue for theaters remains fixed, they now depend more on their concessions alone for most of the revenue they actually get to keep. For example, Regal Cinemas made $575 million in concession revenue, which, out of the revenue remaining after the film studios got their cut, was about 49 percent. The cost to operate their concessions falls much lower, which means half of their profits usually come from their concession stands and the other half comes from ticket sales. Despite how nice this sounds for the theaters in theory, movie theaters are now facing problems which are undermining this system of compromise with the film studios.
Trends: Attendance and Ticket Prices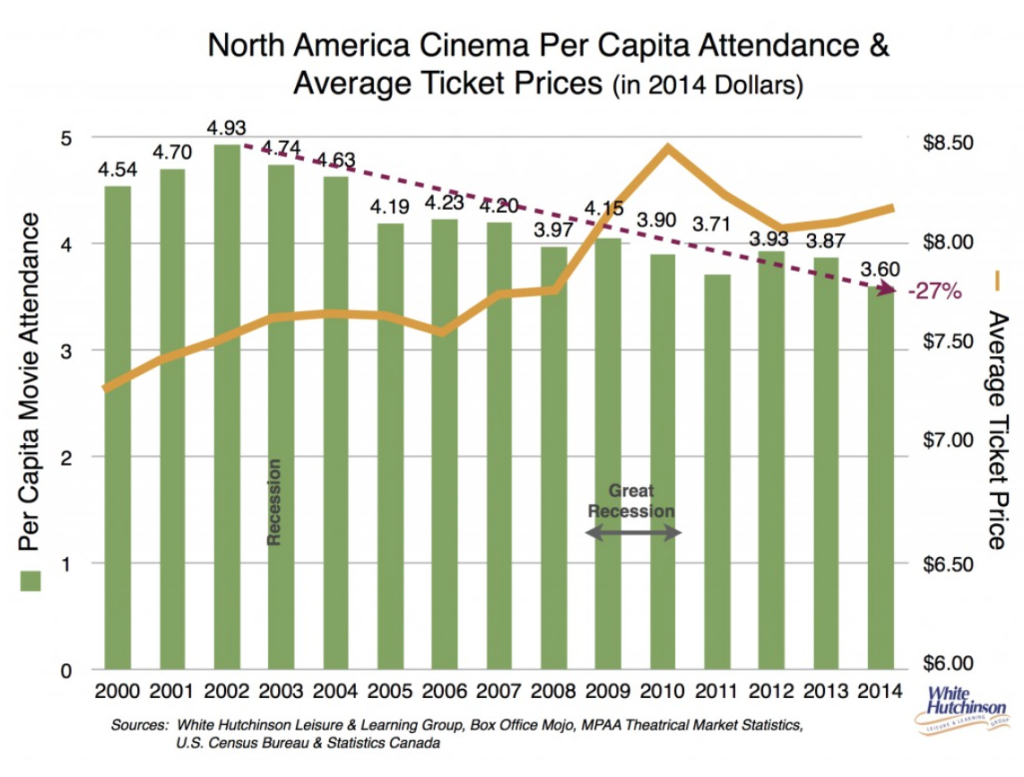 In 2002, the average American went to a movie theater 4.9 times per year. In 2014, the number dropped to 3.6 times per year. Decreasing attendance has been a major factor in the decline of the old movie theater business model. According to CEO Randy White of the White Hutchinson Leisure and Learning Group, the last twelve years of per capita movie attendance had a steady drop of over 25 percent. The 2014 calendar year had only 1.26 billion consumers buying movie tickets which comes dangerously close to the 1.24 billion consumers seen in 1994. Overall, theater attendance does fluctuate every year, but the steady decline paints a negative picture of attendance in the long term.
What caused attendance to reach a twenty-year low last year? The National Association of Theater Owners point to the underwhelming performances of most tentpole movies and franchises in 2014. The Amazing Spider-Man 2 made nearly $60 million less than its predecessor and Transformers: Age of Extinction made nearly $107 million less than its predecessor.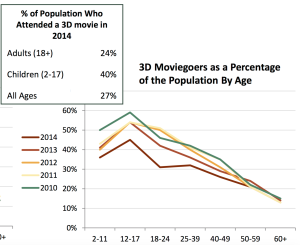 In its most recent annual theatrical statistics report, the Motion Pictures Association of America emphasizes the dramatic decline in 3D movie attendance as another culprit. On average, 27 percent of the population went to a 3D movie in 2014, but the numbers for different age groups have all dropped between 5 to 10 percent since 2010. Since the arrival of Avatar in 2009, the U.S. film studios have hoped to replicate its success; however, the push to make more films in 3D might be losing steam mainly because it costs too much to make, which has an adverse effect on ticket prices.
In a 2012 interview with technology site CNET, CEO of 3D digital production company 3ality Steve Schklair explained how studios rely too much on the expensive post production conversion process to transform their movies. He thinks this affects the experience the audience receives in the theater and, therefore, the willingness for people to continue spending more money. In the chart below, ticket prices have never been higher with a steady increase of 25 percent from $6.41 in 2005 to $8.17 in 2014. 3D movies might have their moments of greatness on the big screen, but since they are more expensive to make, they have had a negative effect on both 2D and 3D ticket prices. Earlier this year, consulting firm PricewaterhouseCoopers took a survey of over 1,000 consumers in fall of 2014. The company asked consumers the main reason why they stayed away from movie theaters; approximately 53 percent said admission prices were too high .

What Else Is Hurting the Business?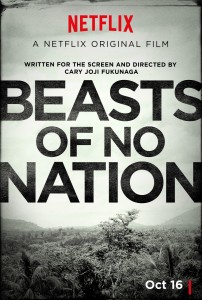 It is hard to avoid the rise in online streaming services as a major reason why movie theaters are scared about the future. In October of this year, streaming giant Netflix released its own feature-length film called Beasts of No Nation. This film marked the second time the company released a movie online as well as in the theaters, which did not make exhibitors very happy. In an article from Variety, the four largest theater chains – Regal, AMC, Cinemark, and Carmine – announced they would not show the film because it did not follow the '90-day delay rule' between theatrical and home release. They do not see the the release of the film on various platforms as fair to any theater chain around the country.
Amy Kaufman, a producer on the film, noted the multiple ways people can get their content now and how that is shifting the film business in a different direction. Online streaming services like Netflix, Hulu, and Amazon Prime continue to have a large influence over the viewing habits of the average consumer. First, the convenience of renting or buying a movie through a subscription service from the comforts of your own home appeals to large portion of the population. Streaming services remove the whole ordeal of having to drive to a theater, pick up expensive tickets, buy expensive food, and deal with distracting people in a movie theater. As of April 2015, Netflix boasts over 60 million subscribers. Second, digital technology continues to evolve and audiences continue to crave more interactive experiences. In their 2014 report, the MPAA looked at how many devices moviegoers own and about 26 percent of them own at least 5 different devices. Therefore, theaters are not only competing for attention with television shows anymore, but also with computers, smartphones, and tablets.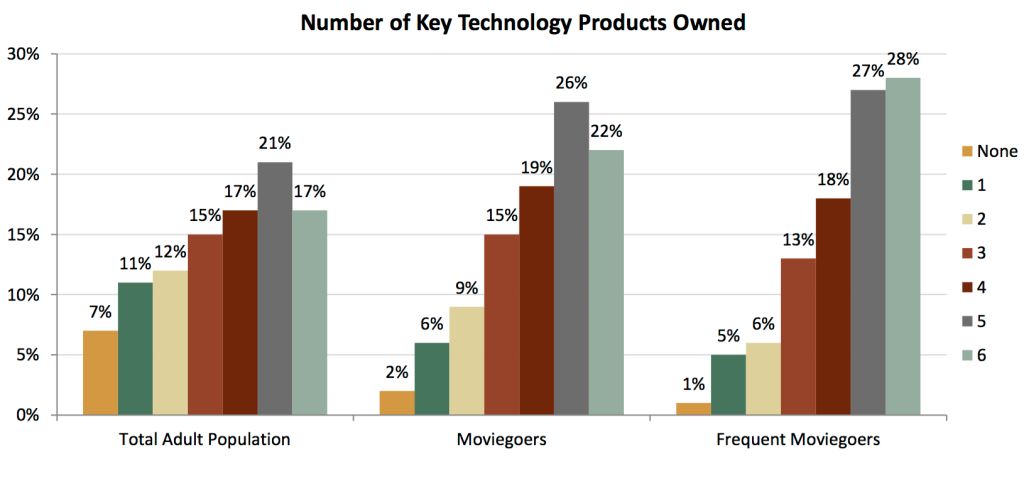 Why are Movie Theaters still Relevant?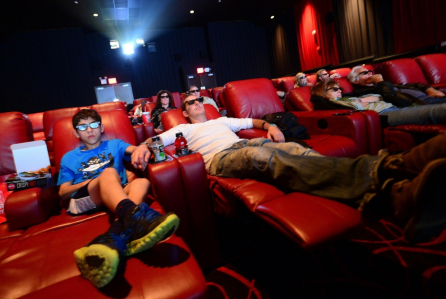 Despite all of these issues, the movie theaters still have certain attributes that are difficult to replicate elsewhere and theater chains have started enhancing the moviegoing experience for they customers. AMC Entertainment, for instance, showed how it would lead the improvement in customer experience by spending over $230 million to upgrade some of their theaters in 2014. Some of the upgrades include replacing some of the smaller seats with cushy recliner chairs, increasing the variety of food and beverages available including the installation of bars for adult customers, and expanding their multiplexes by building more screens. In an interview with Deadline, CEO Gerry Lopez hoped the overall relaxing atmosphere the company is striving for will improve revenue per customer visit. Cinemark, the third largest theater chain in the country, had a decent start to the year even with a 2 percent drop in ticket revenue during the last three months of 2014. Their success, according to their CEO Timothy Warner, came from a growing demand for food and drinks after the company installed self-service concessions stands. Warner said in his interview with the Washington Post the food and drink sales had increased five percent since the new concession stands were installed.
This seems to have paid off for AMC and Cinemark this year when their stocks increased 24 percent and 9 percent in the first three months of 2015 of this year respectively.  Film business analysts say successful films premiering or in theaters during the non-peak seasons, like Fifty Shades of Grey and American Sniper, have changed how theater companies view the normal business model. Fifty Shades of Grey premiered in February and made about $94 million during President's Day weekend. American Sniper opened in January with $107 million in its first weekend. Both movies had a large social media following before their respective premiere date, which suggests the identity of movie theaters as a place to have a social experience remains strong and the business does not have to limit itself to certain times of year or certain blockbuster films.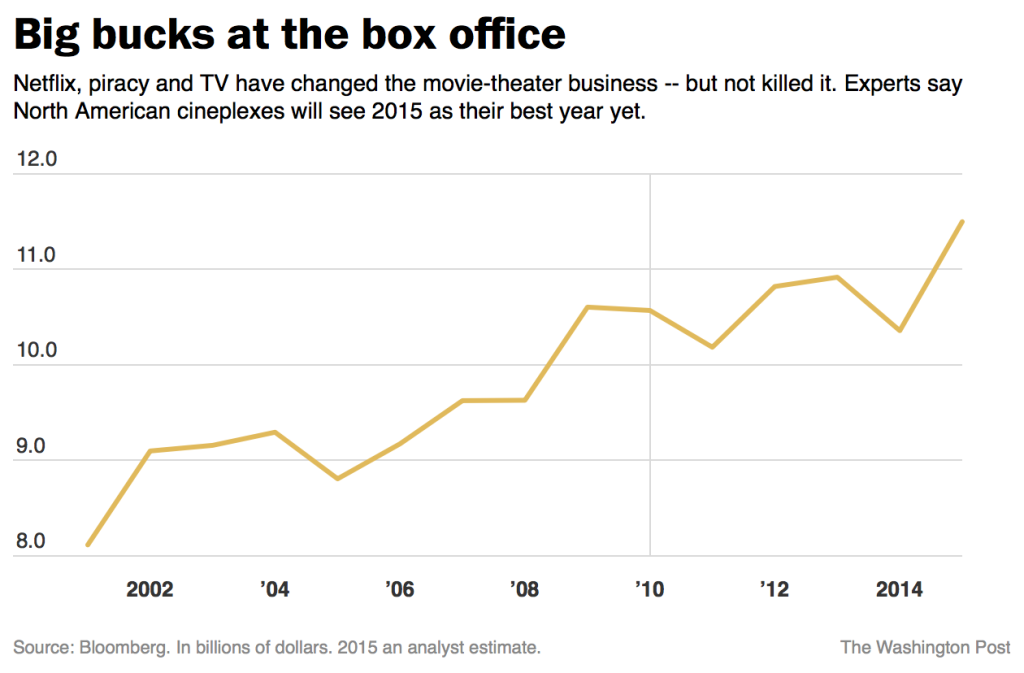 The revenue trends from the last twelve years, courtesy of analysts from Bloomberg, show how film business experts project revenue for the movie theater business to reach approximately $11.5 billion this year. The business seems to still be alive and companies are starting to notice what makes the average consumer want to come back again and again: incentivization.
Incentivizing and Why It Works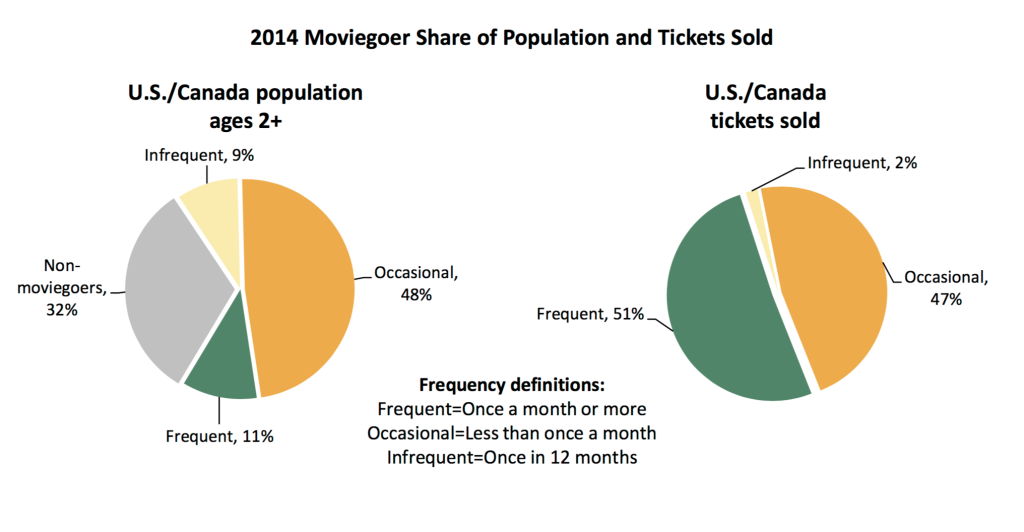 The MPAA says 11 percent of people in the U.S and Canada were frequent moviegoers in 2014, yet those same people made up over 51 percent of tickets sold. This information correlates with the increasing price of tickets: Film buffs are the people most willing to pay to see multiple movies over the course of the year, so they would likely make up a sizable amount of the tickets sold.
In December 2014, AMC Entertainment took this information to heart when they started beta-testing a new subscription service called MoviePass. The movie geeks dream app allows subscribers to pay a fee to see as many movies they want each month. Subscriptions differ based on specific cities people live in and subscribers can only watch one movie per day. The average subscription fee in the U.S. is currently about $30, which means avid moviegoers have the ability to see more movies at a lower aggregate price. This seems nice for the cinephiles around the country, but the downside for most people could be underusing the subscription. Since ticket prices continue to rise, the MoviePass subscription service means AMC and other theater chains might have found an alternative method of making profits by taking a note from their current competitors like Netflix.
Other options theater chains have already started exploring to boost ticket sales include loyalty programs. As of 2013, the Regal Cinema Crown Club offers discounts up to $1 off tickets at various locations in five different states. According to the 2013 Loyalty Census conducted by research firm Colloquy, loyalty programs across the entertainment sector rose 35 percent in 2012 reaching a total of 30.5 million people.
Towards The Future and Beyond
Movie theaters are not only thinking about financial changes, but also aesthetic changes. The audio company Dolby launched a new project called Dolby Cinema in 2014, which aims to compete with and move beyond the IMAX theater format by transforming entire theaters into interactive experiences. Some of the features include acoustic panels surrounding the speakers which are meant to immerse the audience in the movie. The official website shows the company will partner with AMC Prime theaters to begin bringing the premium moviegoing experience to people around the country.
Sources
http://www.boxofficeprophets.com/column/index.cfm?columnID=16796&cmin=10&columnpage=2
http://investor.regmovies.com/phoenix.zhtml?c=222211&p=irol-newsArticle&ID=2103033
http://www.hollywoodreporter.com/news/box-office-2014-moviegoing-hits-760766?
http://www.boxofficemojo.com/franchises/chart/?id=spiderman.htm
http://www.boxofficemojo.com/franchises/chart/?id=transformers.htm
http://www.mpaa.org/wp-content/uploads/2015/03/MPAA-Theatrical-Market-Statistics-2014.pdf
http://www.cnet.com/news/why-3d-movies-are-a-waste-of-money/
http://natoonline.org/data/ticket-price/
http://deadline.com/2015/01/movie-ticket-prices-high-summer-2014-box-office-1201349337/
http://variety.com/2015/film/news/major-theater-chains-to-boycott-netflixs-beasts-of-no-nation-1201445636/
http://www.forbes.com/sites/samanthasharf/2015/04/15/netflix-subscriber-count-crosses-62-million-sending-stock-above-500/
http://deadline.com/2014/09/amc-entertainment-accelerates-theater-upgrades-836097/
https://www.washingtonpost.com/news/business/wp/2015/02/23/forget-netflix-movie-theaters-are-on-track-to-have-their-best-year-yet/
http://business.time.com/2012/10/02/moviepass-goes-national-unlimited-trips-to-the-movies-from-25-per-month/
http://www.cnbc.com/id/100814464