By Alexa Ritacco
"Travel Agent? What's the point?" said the 18 year old, as he finalized his booking for his senior spring break trip to Cancun on Expedia. With a click of a button he books his flights, all-inclusive hotel, airport transfer and adventure trips for a 5-day vacation for him and 3 of his friends.

Yes, nowadays it is extremely easy to book a trip to literally anywhere. You want to go to Bali? Go right ahead. Paris? Just go! All you have to do is visit some sort of travel site, whether it be Expedia, Orbitz or Priceline, and you're halfway there. There is nothing complicated about booking travel these days. But obviously it wasn't always this way.
Fifteen plus years ago was the age of the travel agent. These people had all of the power when it came to getting you from point A to point B, and dealing with your travel needs. It seemed as though they were the only way one could easily book and handle their travel plans. There was a point in time where one could not simply go to American Airlines' website and view all of the possible flight times. Schedules were displayed in complicated codes, often through the popular travel system of Sabre, that generally only a travel agent could access and work properly. The same went for hotel bookings.
Consumers were able to call and book their own travel through airline telephone lines as well as hotel telephone lines, but comparing prices, times and schedules could get extremely time consuming and frustrating for both parties involved. Enter the Travel Agent. A magical person who could do all of the dirty work, and leave the customer with the easy part, which was picking and choosing what best suited their budgets and schedules.
With the Internet boom of the late 90's that led into the early 2000's, like many business models of the 1990's, the travel industry saw a major change. Their entire business model was suddenly disrupted. All of the services a travel agent had to offer began to be readily available online. Flights could be easily booked on their own. Schedules, times and prices could be easily displayed and collected with a single click. Same with hotel rates. As more and more hotels began building websites, reservations could easily be made online.
But what really killed the true art of the travel agent were the bundle websites, sites like Orbitz, Expedia, Priceline, and Travelocity. These sites can book your flights, hotels, cars, excursions, airport transfers, you name it. The rise of these sites seemingly erased the need for this particular job.
So you'd think by 2015 the profession would be dead, if not close to dying, right? Well actually, wrong. The popularity, or rather mainstream-ness of travel agencies has most certainly decreased. But the need is most definitely still there. Believe it or not, members American Society of Travel Agents report the booking of over 144 million vacations each year. And in 2012, ASTA reported $17 billion dollars in revenue. As the industry witnessed extreme changes in the flow of their business model, travel agents adapted and found new holes to fill.
In an effort to alter consumers' views of the profession, John Pittman, a vice president at ASTA, said the society prefers to use the term "travel professional." This title illustrates the profession more broadly as most current travel agents do much more than simply act as the go-between for travelers, airlines and hotels.
In what used to be a business that targeted everyone, travel agencies have begun focuses largely on targeted markets. These markets include luxury, business and nice travelers, as well as large groups and corporate travel, and the often not as tech savvy elderly. Many boutique travel agencies exist for the sole purpose of catering to some of the nation's most wealthy travelers. Or others cater for many Fortune 500 companies, booking corporate travel, retreats and company outings.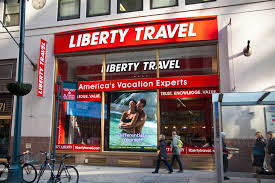 Valerie Ferrara began her career as a travel agent at Liberty Travel, one of the very few chain travel agencies that is currently left standing. What she witnessed there was a turn from serving the travel needs of her surrounding community, to the travel needs of anyone in the nation. Liberty Travel, which operates in free standing stores and shopping centers around America, developed an online matching system that connected consumers with an agent either via email or phone, depending on preference. Their agents began taking on the role of virtual agent. Customers still have the freedom to browse their options, but have the support and consulting perks of a personal agent. This is one example of how agencies have adjusted. But what about the smaller ones?
Currently Ms. Ferrara works at a much smaller, boutique travel agency as a travel consultant. Here, they specialize in luxury and group travel. She had this to say about the majority of their clientele, and how the money keeps coming in:
"I'm sure the average person would be surprised to learn that all of the agents in my office make a more than decent living off of being a travel agent. Our clients are booking regular vacations that can sometimes total up to $200,000. Just a few days ago I booked and planned a trip for $50,000 for a family of four going to New Zealand for 13 days. We plan the little details that the online sites just can't, and probably won't ever be able to handle. We also have incredible connections and great relationships with hundred of hotels and service providers around the world. It's unbeatable in many, many ways. Our clients are extremely needy, and the services provided online will probably never be up to par for them. I can't tell you how many times we have had clients come crying back to us after booking disastrous vacations online. To most, their situations would probably not be considered 'disastrous' but with this particular clientele, they have very specific travel needs and only the services of an agency can provide."
So clearly, public perception of travel agencies does not tell the whole truth when it comes to the actuality of the business. But of course that side of the business has suffered, taken a hit, and has had to adjust as a result. And what's been taken from that side has been crazily multiplied and expanded into what is now a huge business of online travel booking.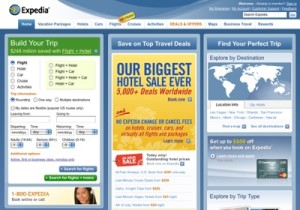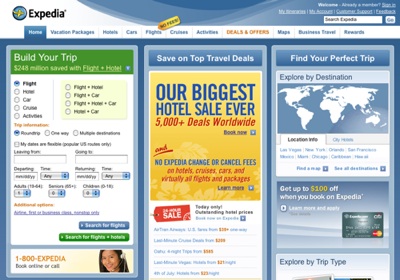 Expedia, one of the largest online travel booking empires, was founded in 1996 and is now worth $16 billion. In just under 20 years it has almost taken over the online travel booking market, having acquired other travel giants like Orbitz, Trivago, Travelocity, and most recently, online rental service HomeAway. In fact, much of the travel industry has seen a large consolidation over the past few years. Whether someone is booking on Orbitz, Expedia or Travelocity, their money is going to the same place. Think you have a lot to choose from when it comes to car rentals? Sure, you've got Alamo, Avis, Budget, Dollar, Enterprise, Hertz, National, Payless and Thrifty. Except not. Those 9 are collectively a part of 3 corporations, those being Avis, Enterprise and Hertz. Same goes for airlines, cruise lines and hotel giants.
What do these mergers mean for the consumer? Well typically giant company mergers, in general, have not often benefitted consumers. In most industries, the consumer's benefit most from fiery competition in an effort to please them the most. Yet executives at Expedia and Priceline have remained positive that this will not be the case with the online travel industry. Expedia CFO explained how the online travel industry is a $1.3 trillion dollar industry, yet what Expedia owns is likely in the single digits.
But one issue that mergers do help to remedy is the idea of an approaching perfect market that the online travel industry could potentially set up. A perfect market can happen under such conditions when all parties are selling identical products or good, when parties can no longer control the market price of what they're selling, when all parties have a relatively small market share, and when buyers have complete information of what's being sold and what the price should be. Having giants like Expedia own large portions of the market has helped prevent this from occurring.
Since the 1990's the travel industry has undergone some incredibly major changes. It shifted from being an agent dominated field, to a self-booking online industry giant. Yet, somehow agents have managed to survive and evolve and continue creating a place in the market for themselves. While the agent does not dominate the travel market by any means, it is naïve to say that the profession of a travel agent is dead. The industry has grown so rapidly, and there is more than enough room for everyone, even as more and more keep hopping on the travel train.
It is important to note that the changes seen and experienced in the travel industry are not unique to just this industry. Similar growth and change has occurred in the music and transportation markets, and it is an interesting comparison to be made for such varying industries.
http://www.usatoday.com/story/travel/columnist/mcgee/2015/03/04/airline-mergers-expedia-orbitz/24319965/
http://www.cnbc.com/2015/07/01/online-travel-industry-is-booming-report.html
http://www.huffingtonpost.com/us-news-travel/when-to-use-a-travel-agen_b_4611806.html
http://www.cnn.com/2013/10/03/travel/travel-agent-survival/
http://www.businessinsider.com/why-you-should-use-a-travel-agent-2015-7
http://www.ajhtl.com/uploads/7/1/6/3/7163688/article_37_vol_3_1.pdf
The Undercover Economist by Greg Ip