I met Allan Allaf at a small auto insurance company located near USC. I introduced myself and somewhat desperately asked if I could meet the owner of the company for my assignment.  By this point, I was already denied four times by other small businesses due to different reasons and was extremely exhausted by the triple-digit weather. I think Allaf saw how desperate I was to get the interview. He told me he was the sales manager at the company but thinks he could offer me some help since he runs a boutique shop in downtown Los Angeles.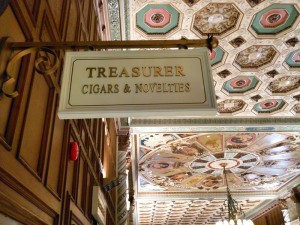 The first question that came to my mind was "why is he here if he has his own business?" But I didn't want to seem too rude. I wanted to hear his story first.
So this is how the story goes. Allaf is the owner of "Treasurer Boutique" located inside the grand Millennium Biltmore Hotel in downtown Los Angeles. His fiancé currently is in charge of running the business. He used to have two more employees but had to let them go in order to cut to the bear essentials due to sluggish economy.  He first jumped into the business with $5,000, which he had paid his friend who used to own the boutique. The rest of the money came from loans, which, he is still paying back little by little. "I come here (insurance company) to work just so that I can sleep better at night."
When I asked him if his business has been impacted by cyclical or secular shifts, he told me both factors impacted him. Then interestingly enough, he started talking very cynically about the media. "The media is a big problem from all aspects. It wouldn't shut up about the economy and puts fear in people's hearts. As a result, consumers become very aware about their money and refrain from spending. As long as the media keep making negative forecasts about the economy, I must keep coming here to work as a sales manager.
Mr. Allaf personally believes there is nothing wrong with the economy whatsoever. This doesn't mean he didn't have to change the way he runs the business. He had to stop buying smaller quantity of products from the regular vendor he used to purchase from. He began ordering larger quantity items from wholesaler to get a more discounted rate, which ultimately results in cheaper retail price. Nonetheless, despite the cheaper retail price he has to offer to consumers, there are discounts going on at pretty much all the time going anywhere from 10 to 60 percent and even 70 at times.
Interest rates or access to capital do not play a significant role in his business since people do not have to rely on third party to finance any of the items sold at the Treasurer Boutique nor the customers must be qualified by a third party to buy the products from his shop. Nonetheless, online market is a huge threat to him. "The online market is probably our biggest competitor that affects us the most. Unfortunately, small businesses like mine cannot buy in huge bulks of products as Amazon does to sell at those prices. Plus it is a lot easier to buy stuff from home than actually going into the store to purchase goods," said Allaf.
Another challenge he faces as a small business owner is the huge amount of tax he must pay. "Small business runners pay more taxes than big corporations. I don't mean in terms of numbers and figures but in terms of percentage," said Allaf. Even though he did not see an increase in the fees he needs to pay, people's spending has dropped by a significant amount. He feels that it's unfair that only big corporations get the government's advantage of having their tax cut while small business people are struggling more and more to pay their taxes. He is therefore currently thinking about getting more loans for his business. "It's hard for us to decide whether people like us should get a loan or not. I think it's almost impossible for small businesses owners, especially nowadays, to excel without the help of loans."
Then he added, "we are constantly facing predicament. It's a matter of whether we should build up slowly or make a fast leap.
Nonetheless, he seemed quite casual about these challenges. He said his business is quite easy to run because it pretty much runs itself. He was also very optimistic about the U.S. economy. "I believe there is nothing wrong with the economy whatsoever. It's not a factor about the economy, it's the media play," explained Allaf.  He gets annoyed of how the press puts false fear in people everyday, which makes people spend only 10 dollars when it is totally fine to spend 20 dollars instead.
"I really hope the media can do their job right. In the end, it is them who makes the difference in the economy."