"We Listen. We Collaborate. We Build." – These three sentences lay the foundation for Wells Construction, a family originated company since 1989. The business is located in Roseville, California, approximately 25 miles outside of the state's Capitol. Three generations of Wells family members have received employment from the company, creating a tight bond for the family – and inevitably, bound with its challenges as well.
When the recession hit in 2008, the demand for construction services took a turn for the worse, as the figure below shows. With this knowledge, I anticipated that Wells Construction wrestled to get through the economic downturn. A small, family run construction business does not have the reserve of resources that major construction companies have to get through an economic downturn like the Great Recession. This led me to inquire how Wells Construction found success to get through the rough times.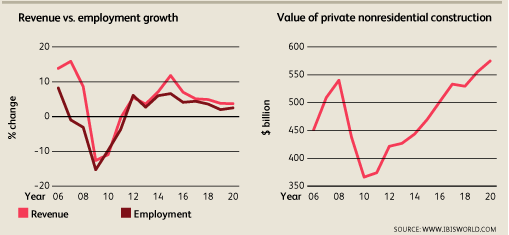 CJ Wells, the Training and Development Manager of Wells Construction, agreed to have a conversation with me about the impact the changing economy has had on their business. The first topic brought up was the big question of the day – how did they find success in an otherwise pessimistic market for construction? He began to explain that their business sources two main facets for revenue: general construction and Starbucks. One of the first bids (agreement to build) that Wells Construction acquired was Starbucks – an international chain of coffeehouses. This set the stage for a long relationship with Starbucks, one of the factors that kept Wells Construction alive through the recession. Through time, the construction company was able to take over all the planning and building services for Starbucks throughout the Sacramento area. CJ explained, "Although the construction industry has a lot of risk, Starbucks seemed to be recession proof in Sacramento, allowing us to keep our employees in employment and our office buzzing." When asked whether cyclical or secular shifts have affected the family business, CJ explained that there have been more cyclical changes for the company. Approximately every five years they experience a period of growth, followed by a time of decreased demand for construction services (riding the "economic rollercoaster").
Besides their relationship with Starbucks, their other source of revenue is in general construction – the other industries that choose to use Wells Construction for their planning and constructing needs. A certain tactic they employed to get through the recession was to focus on developing relationships with certain industries that were expanding. Currently, the veterinarian industry is growing in Sacramento; therefore, Wells Construction has placed a group of employees to strategize multiple methods to become "the" veterinarian construction group in the area. Another industry that was expanding despite the recession was private medical offices; therefore, Wells Construction also put attention towards this avenue of development. CJ made a point to exclaim that 80% of their general construction services are with repeat companies, or recommendations within the same industry. This percentage reveals that their company not only builds for their customer, but they also put effort into maintaining this relationship. For example, one of their recent projects was to build an "Orange Theory" gym in Roseville. After this was completed, Glen (the owner of Wells Construction) paid for a year membership to the fitness center for all of his employees.
Although it appeared that the recession has not impacted Wells Construction as much as I anticipated, there are still challenges present with the construction industry. The first issue at hand that CJ revealed was the continuous struggle to balance cost, quality, and time when it comes to placing a bid on a new project. Taking on the perspective of the customer, it would be ideal to have the construction project completed fast, with high quality, and in a timely manner; however, this is simply not realistic. CJ explained that you can ultimately have two out of three aspects, and not having the right balance offered on the bid could lead to losing a potential customer. Another concern Wells Construction is dealing with is the capability to control the amount of growth the company is experiencing. This is where CJ plays a vital role in the company – handling the growth and trying to keep up with the demand for their services. At first I was perplexed to hear that this incident was considered an issue, but CJ explained that if the company did not handle the growth well, it could be a swift death sentence to Wells Construction. The employee turn over rate is extremely high right now, and that also poses as an issue. Hiring employees to keep up with the projects they are accepting is risky, especially when this growth period eventually slows down and they are forced to re-evaluate the size of their team. Amidst this growth, the construction company recently decided to open a new office in Irvine, CA, which comes with a big potential for increased profits, although the stakes are evidently higher as well. Developing the infrastructure and work force to maintain this office is up to CJ – not only is their money invested in this new office, but so is their credibility as an upcoming force in the construction industry.
If Wells Construction can use this time of growth to their advantage, CJ anticipated that the company could begin to accept larger projects (right now the projects are no more than a couple million with a range between 8-20% profit). To take on a large-scale project worth more money, the company would need to acquire additional insurance, and consequently, take on more liability. The company is not ready to make this move; however, with time and positive development – it could be in the near future.
Wells Construction, the family construction company from Roseville, California, has worked its way up the business ladder to increase its profits, hire a larger workforce, and open a new office location. The recession was not a complete blow to the company as Starbucks was the lifesaver that kept them through the storm; however, their growth from this new era of demand for construction seems to be the ultimate test of the company's strengths.
Sources:
http://wellsconstruction.com
http://clients1.ibisworld.com/reports/us/bed/default.aspx?entid=84