During times of recession Americans are less than keen on going shopping—no surprise here. Even when the economy is booming, most Americans never weigh the costs and benefits of buying alligator skin boots, belts or bags, wallets or watches. No matte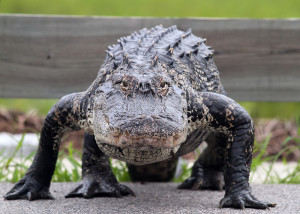 r how well the economy is doing, $2000 for Gucci alligator skin loafers or $100,000 for an alligator skin Birkin bag by Hermes, one of the most prominent players in exotic tannery business, never seems worthwhile. Apparently during recessions the wealthiest Americans are hit hard too—right in their $11,000 Burberry alligator skin wallets; but that's just fine by the alligator population.
As it turns out, sales of alligator skin goods plummet during recessions. Economists first noticed this trend during America's most recent financial crisis in 2009. There is little available data concerning alligator populations in the US, though experts generally believe that the total population has steadily increased since the 1970's. Louisiana is home to one of the largest alligator populations in America, and the industry makes a somewhat significant contribution the state's economy. Louisiana's Department of Wildlife and Fisheries website has an entire menu section dedicated to its "Alligator Program" that's separate from information about other wildlife. Maintaining a healthy commercial farming population requires alligator farmers to rent helicopters to scout nesting areas, wade into marshes to collect the eggs (and potentially confront angry female alligators), and invest considerable time and energy into raising them in captivity. Bottom line: if hides aren't selling farmers are losing a lot of money.
During the Great Recession many, if not all, of the state's alligator farms experienced serious liquidity issues and worried about their business's solvency going forward because the prices tanneries and high-end fashion houses were willing to pay for hides dropped so quickly. This industry was affected so severely that Louisiana's Alligator Management Program report since 2008 lists an asterisk next to the revenue data from that year stating, "Worldwide economic recession caused alligator hide demand to decrease dramatically."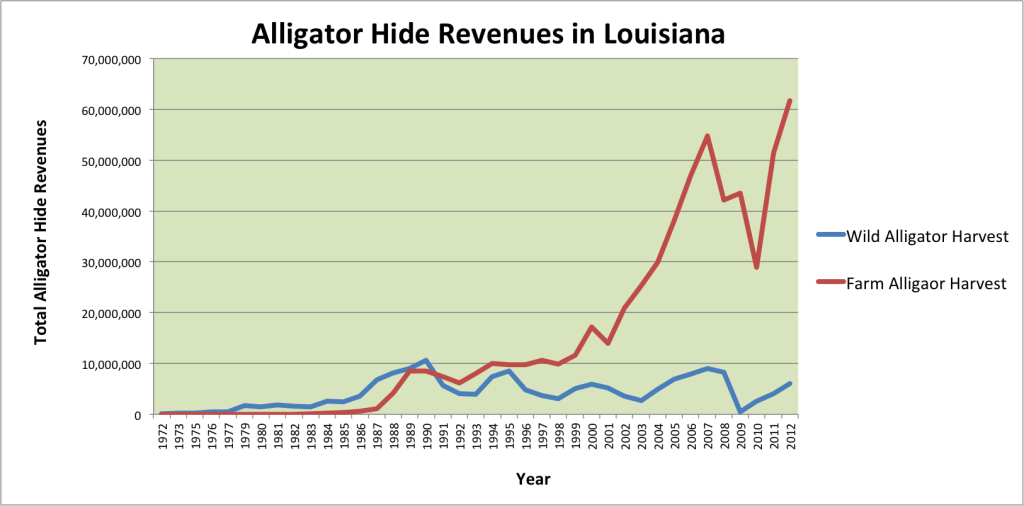 From 2002-2007 the total revenue from alligator hides increased sharply, reaching a peak value near $55 million. Total revenues decreased dramatically in 2008, rebounded slightly in 2009, and then dropped again in 2010; revenue fell to a fifth of what it was in 2007. These drops in revenue directly correspond to decreases in GDP the both Louisiana and the United States experienced in 2009.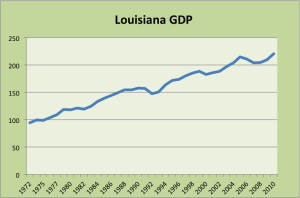 This correlation exists for earlier recessions as well. Commercial alligator farming was prohibited from 1965-1972 in an effort to protect the alligator population, so Louisiana only has data available beginning in the early 1970's.  Quadrupling oil prices, high unemployment and a high inflation rate contributed to significant stagnation in the the U.S. economy from 1973-1975; alligator hide revenues in Louisiana also decreased by about 58% during this time. Revenues rose dramatically again in 1976, corresponding to an increase in GDP for both Louisiana and the U.S. The disparity was extreme: in 1975 revenues from farm alligator hide harvests totaled $3,597, compared to $34,259 in total revenue in 1976.
Alligator skin revenues in Louisiana dropped significantly again from 1981 to 1982, corresponding to another global economic slump in the early 1980s.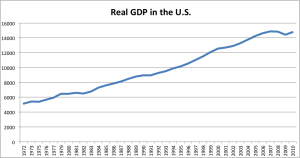 When the stock market crashed in 1987 and the business cycle dipped from 1990-91, alligator hide revenues were along for the ride, stagnating from 1989 to 1990 and then decreasing sharply until 1992. Finally, total revenues decreased again from 2000 to 2001, which corresponds to a decrease in Louisiana's GDP from 1999 to 2000, the burst of the dot.com bubble in 2000, and the September 11 terrorist attacks in 2001. Revenue from alligator hides in Louisiana is currently on the rise again, at a time when IPO valuations and the S&P 500 are reaching record highs.
It seems somewhat counterintuitive that a decrease in revenues from a luxury good would correlate so well with economic downturns. Only the wealthiest portion of the population can afford goods made from alligator hides, and people typically assume that they are insulated from economic recession or hardship. Yet, this niche luxury goods industry experiences significant declines during periods of economic recession. While it's no great tragedy that someone won't be able to purchase exorbitantly-priced shoes, it is perhaps comforting to note that recessions and financial crises force every man to tighten his belt, whether it's made from alligator leather or elastic.