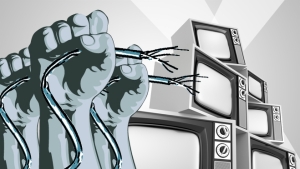 The traditional cable plan has been hit hard by the consumer driven term "cord cutting". The Internet has thrown curve balls to a number of industries since its creation and cable TV is currently up to bat. Cord cutting is the word used to describe a consumer ending their relationship with traditional cable packages and turning towards internet-based alternatives. The cable industry has always been dominated by a few powerful players. High barriers to entry, mainly hefty start up costs, meant there was largely little competition.   The internet, however, took down most of the walls and gave consumers easy access to content on a number of different sites.
Cable TV packages offer consumers a bundle of content for a monthly price. Included in these content bundles is a range of different programming. While consumers may only watch a select few of the channels included, they must pay for the entire bundle. When cutting the cord, or at least considering it, consumers cite four main reasons. Over half of the respondents cited convenience and flexibility as the main reasons, with advertisements and price also regularly cited according to ComScore's "The U.S. Total Video Report."
As a result of the internet, and a response to consumer needs, a number of streaming services have popped up giving consumers more freedom in their viewing experiences and a cheaper alternative. In terms of cord cutting, streaming has led "5 percent of U.S. TV subscribers to cut their subscriptions between 2008 and 2013, with 1.25 million (1.3 percent of the total subscriber base) snipping the cords in 2013. The researchers predicted that U.S. TV cord-cutter households will hit 6.23 million (6.2 percent) by the end of 2014." – Convergence Consulting Group
http://www.fiercecable.com/story/report-canadians-slicing-tv-cord-pace-us-counterparts/2014-04-08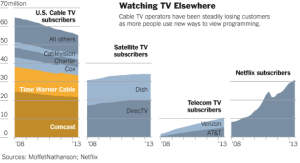 https://www.moffettnathanson.com/aboutus.aspx
While streaming has seen success, it hasn't completely taken out cable, leaving the future of TV still somewhat up in the air. Cable still has many things going for it and has the upper hand on streaming in a few areas. If cable is able to adapt to the consumer in the ways streaming has, the future of TV could be one of cord shaving, not cord cutting. The competition between these two content distributors is complex and simply cutting the cord may not be so easy. The TV landscape while certainly shifting is not shifting towards a single alternative. Rather, the industry is opening up to many alternatives, including the original players, leaving it up to consumers to create their own bundle of content providers.
Streaming took the opportunity to capitalize on cable's mistakes and in turn was able to fix the four most prominent consumer complaints. Cable TV has been the same for quite some time and until now hasn't had to change. While the cable TV model hasn't been a consumer pleasing one for a while, few alternatives had kept people paying for the service. The internet opened the industry up to alternatives and left the old pay TV model to play catch up as consumer tailored streaming services began attracting customers. Content streaming sites such as Netflix and Hulu have risen to success relatively quickly because they are consumer focused. Netflix recently reach over 50 million subscribers in 2014. The first problem streaming solves is price, as most of the services are offered for around $10 a month. Though consumers may choose to subscribe to a number of different sites, increasing costs, streaming gives the consumer more control over how much they pay. The lower prices also open the market to consumers who aren't avid TV watchers. For the consumer who only wishes to watch TV on occasion, close to a hundred bucks a month is a hefty price tag with cable.
Back in 2011, when Netflix was just starting to become popular, CEO Reed Hastings was quoted as to why Netflix was successful. "The streaming service is priced so that people who use it once or twice a month will still find value and come back. And those who use it once or twice a week will rave about it to friends."
The low prices take the pressure off utilization and in turn have increased the market for subscriptions. The price structure takes TV out of the luxury product category and places it closer to that of an impulse purchase or an easy buy. Netflix has stated that their core principle is "personalization and user choice" and with this principle they have given the consumer the power.
The power doesn't just stop with pricing either, streaming gives users access to a database of content available to be used at any time. The eight PM television slot used to be the heyday of the daily TV schedule but, over time the American lifestyle has evolved, and people are busier than ever. Cable gives viewers access to content only when it is scheduled and this model no longer fits with the on demand lifestyle the American consumer is living. With the digital age, instant gratification has become a consumer necessity and streaming has given users just that with TV they can choose to watch at any time.
Lastly, streaming has solved the problem of advertisements. As the American lifestyle gets busier and busier, consumers have less and less patience for unnecessary time suckers like commercials. The distaste for commercials has led to a number of inventions, starting with recording devices such as TiVo. Sites like Netflix have taken it one step further by deleting commercials completely. With the cable model, commercials are what make money as advertisers pay hefty prices to promote their product alongside hit shows. The more viewers watching a show, the more an advertiser will pay, meaning it matters how much and how often a user watches TV. Netflix has changed this model with its subscription fee. Regardless if a user watches one show or fifty a month, the site makes the same amount of money. This means Netflix's only concern is the number of subscribers. So instead of shoving mixed content bundles down consumer's throats, Netflix only has to focus on the consumer experience. It doesn't matter what you use of Netflix content, just that you sign up. Because of this, Netflix has created an extremely attractive consumer experience.
While there are a number of things the streaming industry is doing to win customers over, live TV isn't one of them. Streaming offers content to consumers when they want it, except if they want it live. Although this isn't a problem for TV shows and movies, it poses a major problem to the passionate sports fan. Many in the TV industry have labeled sports the glue of the cable bundle. A Harris Interactive Poll recently conducted, found "43 percent of U.S. adults naming live sports as the reason they won't cancel cable." Sports are a major TV event for many households and because of this, cable TV hasn't been completely overrun. Though many consumers would want to pay for sports alone, cable TV is sold in bundles meaning sports are package alongside a hundred other channels.   While the price tag for the bundle to only watch a fraction of the channels is large, to many sports fans it is still worth it.
USA Today contributor Jennifer Jolly speaks on why sports and streaming haven't quite worked.
"The trouble with online streaming services for sports is that most of them are subject to media blackouts, meaning broadcasters have exclusive rights to live games. So the home team, which you'd see broadcast on a local station, won't be available to watch on any online streaming service. So it's pretty tough — but not impossible — to watch live sports online, legally."
Sports are certainly a major part of the cable equation, and the way access to live games is handled will be a major factor in cable TV's future. If cable providers are able to keep exclusive access to sports content, then they will slow the cord cutting movement. With sports, many people have questioned why cable networks don't offer a sports only bundle, which could save certain customers' money. While this idea in theory sounds like a good one, it doesn't work in cables current model. By the time all the fees are added up in order for the networks to make money, the price would still amount to a hefty $50 dollars plus for only about 13 channels. http://www.businessweek.com/articles/2014-11-12/why-cable-tv-mini-bundle-for-sports-would-be-expensive-and-unlikely
More so, the large bundle of channels allows cable companies to package worthless channels with expensive ones that users are willing to pay for. An all sports bundle would mean people would no longer be paying for the worthless channels and it would result in lost revenue across the board. Sports give cable positioning power in this new market space. If cable is able to find a way to leverage that power in a consumer pleasing way, there is a space for them to be successful in. The expensive standardized channel packed bundle has lost its appeal, as consumers now want a custom experience with their content. While currently an all sports bundle does not economically work, cable companies need to find a way to make smaller more curated bundles. A smaller bundle that included sports would appeal to many levels of sports fans, including those who only put the game on occasionally. With sports in their pocket, it is not too late for cable companies to make changes to better compete is the consumer tailored market.
Sports however, aren't the only reason people are choosing to stay plugged in. Comscore found "that 24 percent of TV viewers ages 18 to 34 don't subscribe to a traditional pay TV service". Nearly 46 percent of those viewers never had cable to begin with, while the rest simply cut the cord. While the numbers cited here seem large, they are only large for the younger generation. In the same study, Comscore found that, "generally speaking, the older the viewer the greater percentage of time spent watching on traditional". The cable alternatives, such as streaming, are all recently developed digital platforms that to many older viewers seem "incredibly complicated". So while cable may seem like a hassle, to some the internet seems like a far more complicated alternative. On top of the generational gap, the cable providers are often a homes broadband subscriber as well. As a result, cable companies often offer combined internet, phone and TV packages. To many users cord cutting means changing more than just their cable package and the hassle isn't quite worth it. The younger generation, more specifically the millennial generation, has grown up with the internet and streaming is a much more natural progression. Several studies have reported a rise in people who have never even had a cord. While cord cutting seems to be on the rise with the youngest forth of the population, many of the generations that grew up with TV have held out. Though cable companies are going to have to change, many consumers are still plugged in and a consumer-focused change may be enough to stop the cutting.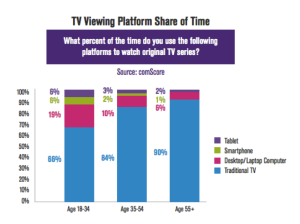 Streaming has solved many of cables problems but, to many users this hasn't been enough to cut the cord and as a result, streaming has had to go one step further. With many users choosing to keep cable due to live TV and other reasons, Netflix hasn't gotten its 50 million subscribers from cord cutters alone. In order to grow, streaming has had to position itself not only as a cable alternative but a cable addition. More so than a cable addition, individual streaming sites have had to make themselves standout amongst each other. Streaming's success has led to a number of players entering the game and while different sites differ slightly, they all largely offer the same thing. Not only are new streaming companies arising but traditional companies are adapting as HBO and CBS just recently announced plans to offer streaming options. Due to competition, these streaming sites have positioned themselves as the subscription a customer needs to have, regardless if they already have cable or other streaming subscriptions. The most notable way this has played out is through original content. Sites like Hulu and Netflix have created their own shows and mini-series in order to appeal to customers. Netflix had huge success this year with their series Orange Is The New Black, a show exclusively available on Netflix. "Netflix Inc. (NFLX), posted second-quarter signups that beat analysts' estimates as the women's prison series "Orange Is the New Black" lifted users past 50 million." – Bloomberg.com. The original content is a draw for users, and the low subscription fee has led many users to sign up just for a single show. Original content has positioned streaming to be something users want no matter what their TV situation is, and it has allowed these services to grow tremendously.
The way streaming sites have diversified themselves has made streaming less about which site is the best and more about how added together a consumer could get the ultimate viewing experience. The cable industry is changing as the TV world becomes unbundled, however, nothing has stood out as a one-stop solution for TV. The different streaming sites out there now offer different content, different plans, and different benefits. There hasn't been one yet that has been able to address all consumers' needs in the way cable did in the past.   As a result, the unbundled world of TV may actually be a bundled world, just a curated bundle. The avid TV watcher is not happy with just one streaming site or just cable, and as a result, there have been many consumers subscribing to multiple services at once.   Following this trend, a few products have come out like Roku that allow users to display their many streaming services in an app like fashion on their TV. Instead of flipping through channels, users pick content from their subscription services, one night they may watch Netflix, the next it could be Hulu. Depending on the user's budget and need for content, they could subscribe to any number of sites weighing which subscriptions they want to pay for. For many users, the totaled subscriptions have ended up looking very close to their original cable bill, however, the freedom to create their own bundle has left many customers more satisfied with their content. There have also been a number of users that choose to rack up subscriptions on top of their cable bill.  The number of people subscribing to streaming on top of their cable bill could grow tremendously if cable companies offer smaller personalized bundles. Bloomberg's Lucas Shaw, using data from Hudson Square Research, states that "it would cost over $100 a month to subscribe to Netflix, Hulu, HBO, CBS, the Tour de France, WWE wrestling and three of the four major pro sports leagues. And that's on top of what you're already paying for Internet."   Though consumers have been racking up subscriptions fees these fees are for hand picked content not a giant bundle. While streaming's low prices may be a draw for some, for others, price is just a small part of the equation. The cable bundle leaves consumers to believe they are paying for unwanted content and therefore wasting money. Streaming bills that could total close to that of a cable bill aren't seen as wasted money because each dollar is specifically and personally spent by the consumer. Together, these streaming sites have been able to give consumers what cable never has, a personalized experience.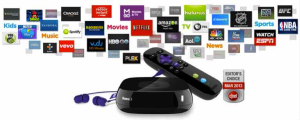 If cable companies are going to survive in this shifting environment they need to focus on the consumer. Cables solution doesn't lie in the little problems, but rather the fact that the average consumer is changing. The main reasons people cite for switching to streaming are price, access to content, convenience, and advertisements. All four reasons are part of the larger consumer trend, personalization.   The one size fits all model no longer works as the present day consumers expect personalization in almost all markets. Cables strategy of more is better by creating a massive bundle is no longer what the consumer wants. Streaming, while largely a result of technology and the Internet, it is more so a result of the evolving consumer. The internet has given marketers a way to access more consumer data than ever, and as a result, they can deliver customized advertisements and product deals. The present day consumer has not only become accustomed to this personalization, but wants and expects it. According to Forbes Insights, "more than three-quarters of consumers saw the benefit of trading personal information for more relevant discounts and offers, and 62% were willing to do so in return for personalized offers." http://www.forbes.com/sites/sap/2014/03/12/personalization-the-secret-to-better-customer-experience/
Netflix is a prime example of the personal media experience. Netflix offers three ways to watch their content: instantly to a computer, instantly to a TV, or through mail in DVDS. Beyond the viewing experience, Netflix allows customers to rate content and the site offers tailored movie suggestions to the consumer. Netflix also keeps a database of what the user has watched and provides personalized movie ratings for new movies based on the user's previous scores. Personalization is where TV is headed regardless of the viewing platform or subscription site. Users want control and that is what streaming has provided them.
"With social media, YouTube and Netflix serving up exactly what the user wants, it's no wonder that personalization is no longer a luxury, but an expectation. Businesses that fail to understand this change are charged with the unenviable task of shoehorning old media into a market that demands change and adaptation." – Eric Siu Contributor for Entrepreneur magazine http://www.entrepreneur.com/article/236574
The consumer has changed and cable has remained mostly the same, but it is not too late for cable to catch up.
Streaming sites have been the first response to the changing consumer and while this has gained them interest, this interest hasn't been enough to break down cable. The internet has left many companies behind but the TV industry isn't quite there yet. Cable TV is not in the same position the CD was in a decade ago where technology overran it. Cable is still largely in homes across the country and has an upper hand to consumer access both with cable and internet services. The problem cable companies face is not getting consumers, but keeping them. If cable is able to offer consumers a chance to personalize their bundle they are well positioned to survive. Cables power over live TV and broadcast exclusive content means they already have the diversification these streaming companies have had to create. If cable companies can unbundle to some extent and position themselves as one of consumers many content sources, they have a chance. Traditional cable TV as an outlet is not what is outdated, the customer experience these cable companies provide is. The TV landscape is getting unbundled giving consumers the ability to put the bundle back together again. This new bundle may in fact include many of the original cable TV players and a well in tact cord. The decisions these cable companies make and how they change in response to the new consumer demands will prove to be vital. With the many content providers out there now, the industry isn't looking at cord cutting, but cord shaving. Consumers have proven that they aren't looking for an all-encompassing solution to TV but rather; they want the ability to create their own solution by piecing together many content providers. The story of cable may well not be one of competition against streaming but one of unity with streaming. While cord cutting is a very easy word to throw around, the TV industry isn't just looking at a switch between cable and streaming, but rather a restructure of the entire consumer experience. The cable giants are still big players in the game with a strong lineup (live TV) and how they bat will be extremely important to the TV landscape.