During the early 2000s recession, the chairman of the board of Estée Lauder, Leonard Lauder, was surprised to notice that the sales of lipsticks under its several brands increased rapidly compared with other cosmetic products produced by the corporation. Considering the financial difficulties people encountered at that time, Lauder believed that small items like lipsticks could serve as substitutes for luxury goods that people could no longer afford. This phenomenon was then named the "Lipstick Index," and economists began to consider it a new economic indicator.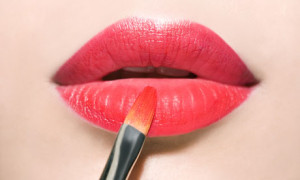 However, in the most recent recession, lipstick sales seemed to contradict the golden rule of the "Lipstick Index." According to the report released by market research firm Mintel, lipstick purchases continued to fall since the year 2007. People started to doubt whether the "Lipstick Index" was valid. Was the increase in sales in early 2000s a coincidence? The answer is "No."
In fact, one of the most famous cosmetic groups, L'Oréal,  saw its sales grow 5.3 percent in 2008, the heart of the most recent recession. This number indicates that beauty market was still active during the economic downturn. What's interesting is that, as the sales of lipsticks underwent a certain decline, sales of nail decoration goodies like nail polish are up 65% since the first half of 2008, according to market research firm NPD Group. The unpredictable shift had to do with the glut of lipsticks on women's dressers and their increasing demand for nail beauty. As a result, the "Nail Polish Index" has now become a new indicator of the economy.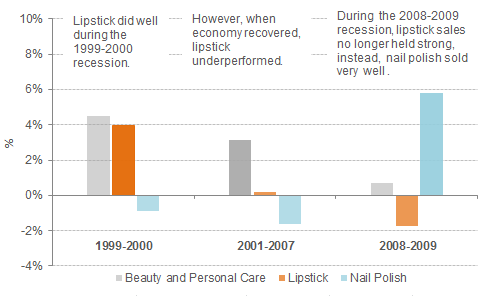 How do products like lipsticks and nail polish measure the economy? There are several rationales behind it. First, when people could no longer afford things they used to consume, they simply turned to inferior goods. For example, it might be hard for them to consume big-ticket items like houses, jewelry or autos, but as for inexpensive goods like lipsticks, they could absolutely afford it and enjoy the fun of shopping. After all, even lipsticks of top brands are under $40 nowadays. Second, according to a research conducted by the Texas Christian University, women are more likely to buy beauty products during recessions. This is because women feel more secure with makeup and nicer clothes while their bank account balances are under pressure. They try to compensate themselves with small and affordable indulgence, like lipsticks, perfumes, nail polish and others.
Since the emerging of these unusual indicators, more and more categories were defined as the indicator of future economy. The info graphic showed below lists some weird ways of gauging the economy, including sales of cheap spirits, underwear sales and lower hemlines. Although they are not as authentic as widely recognized indicators like GDP or unemployment rate, they actually provide us with a different view of the economy.