Born and raised in Boyle Heights, Robert Campos, 69, has seen the unpaved dirt street in front of his house transformed into solid concrete and then asphalt. But the neighborhood where he knows every corner and turn has never been so costly and unfamiliar to him as it is now.
Rising property values and increased cost of living are reshaping many aspects of life in Boyle Heights, a community that is situated a few miles east of downtown Los Angeles. The neighborhood represents an ongoing change of demographic and economic forces in Los Angeles. While the community has become more attractive and still affordable for many young professionals, old residents inevitably face a choice: either to sell their houses and take the cash, or to stay and stand up to ever increasing living expenses.
Gentrification has undoubtedly become a controversial topic in Boyle Heights in the past few years. As home values recovered from the 2008 financial crisis, an increasing number of home owners, mostly those who have lived in the area for more than 15 years, are leaving the neighborhood and selling their properties.
"It's getting more expensive [to live here]. The taxes have gone up a lot. And utilities have gone up a lot," said Campos, a retiree who inherited his four-bedroom house from his mother and doesn't have any child. "I might have to go into a small one-bedroom apartment because I can't even afford to live here in this neighborhood."
Campos has been seriously considering the option of putting his house up for sale, taking the cash, and renting a single-bedroom apartment for himself. A former technician of a telecommunication company, Campos fell off the pole during his routine shift in 1990, injuring both of his legs. For the past 15 years, he has been relying solely on pensions and past savings for a living.
If someone, like Campos, puts all his money in a savings account and makes no other investments, the balance would have probably looked the same since the Federal Reserve set the Federal funds rate at near-zero level in 2008.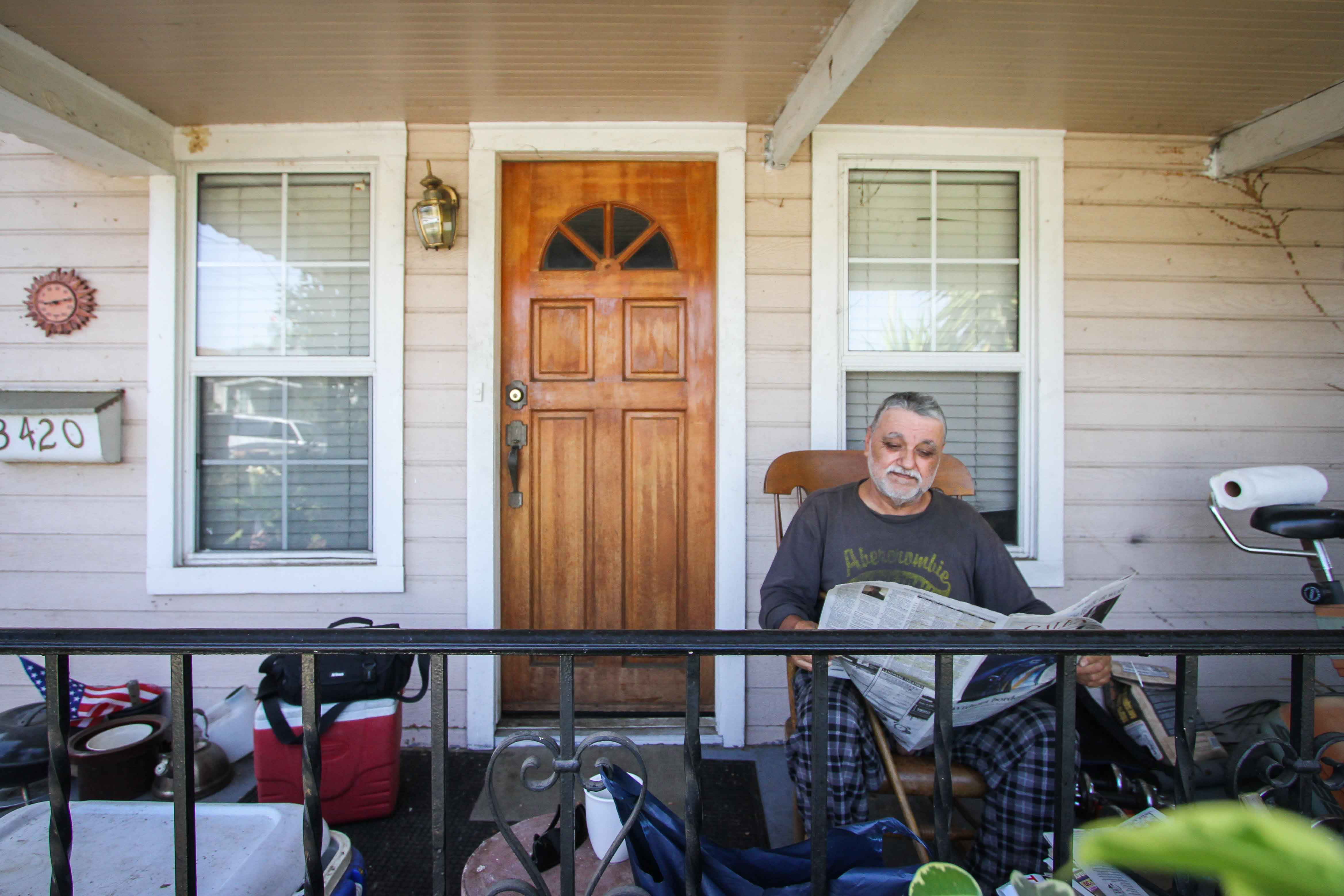 (Robert Campos sits beside the door, reading newspaper. By Zihao Yang)
"Somebody is paying the price for low interest rates. It's you and me who have money-market accounts which are earning 0.27 per cent," said Raghuram Rajan, a former IMF chief economist, in an interview of the documentary Money for Nothing, "[The super-low rate] punishes the elderly and people on a fixed salary. They worked to save that money but get nothing for it."
Strange enough, when food, property tax and utility bills stack up, getting rid of your own house and renting one instead suddenly become a realistic option for older generations with no children to bestow their properties on.
"If it gets above $350,000, I'm going to insist we sell the property," said Campos. The struggle of old residents in Boyle Heights shows not only a case of mini urban migration in Los Angeles, but also a broader conflict of shrinking affordable housing and climbing cost of living in California.
The ongoing gentrification process has made living cost higher than ever before, and at the same time, there is a constant demand for housing, also pushing up prices.
Due to its Latino culture and vicinity to the downtown L.A., Boyle Heights has attracted a lot of young Mexican-Americans who work in downtown L.A. and Arts District. Most of them are first-time home buyers and working-class, according to Luis Negrete, the manager of a real estate agency located close to the Indiana Metro station.
The demand for housing in Boyle Heights has largely increased after the Metro Gold line was put in use in 2003, even if home prices have fluctuated tremendously during the past decade. The influx of new immigrants implicitly stimulated the cost of living to increase. New theme restaurants, bars, and fancy coffee shops opened recently and scattered in the neighborhood.
A newly-opened Starbucks in 2013 was big news for many community residents. Some old residents saw it as a sign of ongoing gentrification or even an intrusion of the well-preserved historic community, while others hailed the coffee shop because it helped boost the value of their properties.
It has been seven years since the bust of housing bubble, and home prices almost climbed back to its pre-2008 level. As of October 2015, the average home price of Boyle Heights is $340,000, which is still significantly lower than the average price of Los Angeles County, $505,700. The prices were $347,000 and $504,000 for Boyle Heights and L.A. County, respectively.
When Sergio Ramos, a real estate broker, opened his business in 1992 on the E. First St., he would have never imagined a monthly sales total of 60 to 70 residential houses. Before the housing bubble burst, some houses were selling at $500,000, the highest in Boyle Heights' history. "After that everything just died down," said Ramos, "but prices have gone up recently in 2015. Compared to last year, they increased about 10 to 15 percent. That's a lot."
Campos described a Korean investor canvassing the neighborhood, eager to buy houses with $400,000 cash in hand, just before the housing collapse in 2008. Whether there is any bubble in this round of housing boom is still open to debate, potential home buyers and investors are keeping a close eye on the market trend.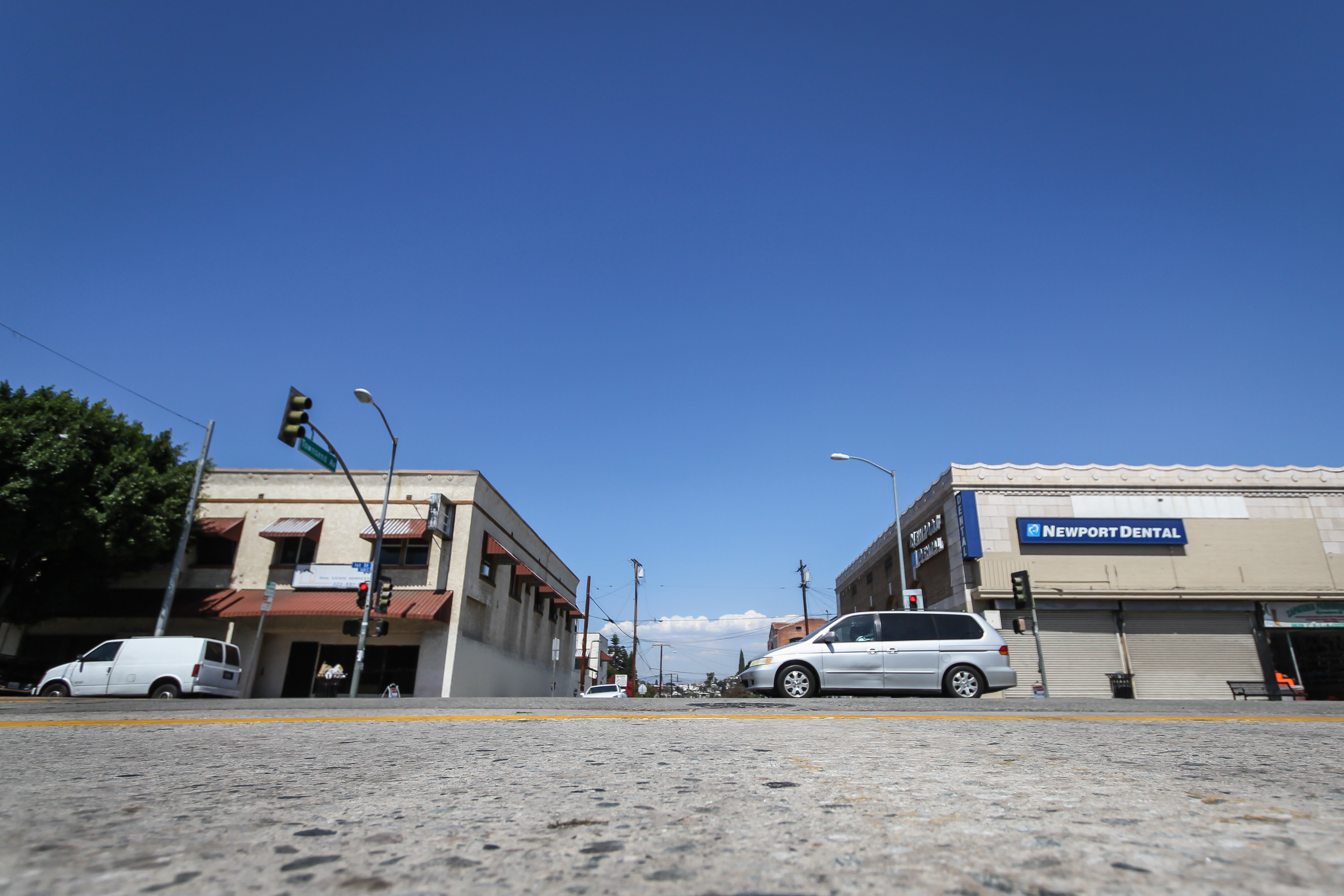 (Boyle Heights has become a new destination for people working in downtown Los Angeles. By Zihao Yang)
"It's still affordable and location is one thing that's undeniable," said Ramos, as he compared the median home selling and leasing prices of Boyle Heights to those of downtown Los Angeles. Downtown L.A. has gone through a considerable increase in property value and rent prices after major revitalization plans were put into effect.
As the Federal Funds rate around 0.25 per cent, getting a mortgage and borrowing from banks come with fairly low costs, making it easier for home buyers to obtain loans.
"As years has gone by, there has been more old owners moving out. It's little by little, but increasing," said Ofelia Zamora, a small business owner who emigrated from Mexico to Los Angeles and has settled in Boyle Heights since 1987.
Zamora owns a shop that sells birthday and party supplies on the E. Third. St. Filled with balloons, ribbons, and handmade Mexican piñata fiesta drums, her tiny business has seen a noticeable shift of consumers in the past few years.
According to Zamora, some owners sold their houses and moved to Texas in pursuit of comparatively better living standard. Others with immigrant backgrounds moved back to either Guatemala or Colombia as their children settled well in the U.S.
But for Manuel Honorato, owner of a car repair company, whose parents currently own a house in Boyle Heights and are thinking of moving to Mexico after retirement, increasing cost of living doesn't seem to be the only reason why his parents might consider selling the property. Gentrification has not only brought higher prices, but also many newcomers to the neighborhood.
"That forces people to move out because new immigrants don't have that sense of community norm," said Honorato, "The neighborhood is becoming broken down because of the prices. All of a sudden you don't have friends because all your friends are moving out."
The economic gap, along with the generation gap, has made Boyle Heights more divided than ever before. "On this block alone, there are probably only ten property owners," said Campos, "my mother was the oldest person of the original owners on the block. The rest of people have just bought property in the last 20 years. I'm probably the last person who has been here for as long as I've lived."