In China, the bourgeoning market of liquid milk and dairy products has transformed into a fierce battlefield packed with domestic and international milk producers fighting aggressively for the market share. This situation seriously challenges the status quo of a long-standing milk duopoly in China, and more importantly, unveils great market potential of the under-saturated and under-estimated liquid milk demand for foreign brands.
Money, Milk, and Media
It was not a long time before Chinese consumers were bombarded with flooding milk commercials and dazzling dairy product placement in variety shows and movies. In November, Yili, the largest dairy firm in China, pledged $470 million U.S. dollars in its TV advertising campaign for the year of 2016. With $171 million dollars on exclusive naming rights for two of the most-watched Chinese reality shows, Yili also bought exclusive primetime advertising slots for CCTV's 2016 Rio Summer Olympics Scoreboard and other leading entertainment shows.
Not to be eclipsed its most ambitious competitor Yili, Mengniu also marched on with its advertising campaign. The firm generously invested hundreds of millions of dollars in naming TV programs that are major rivalry with those sponsored by Yili. During the media sponsorship auction season this year in China, in TV advertising alone, Mengniu sponsored $120 million dollars with competition show Run for Time and Summertime Sweetheart Season 1, a reality show that is even still in its brainstorming stage.
There has been a long history of Yili and Mengniu's competition in the Chinese milk industry. Unlike baby formula market where foreign brands completely outplay Chinese domestic sellers and claim 54% of the market, liquid milk consumption is a different story.
Yili and Mengniu, counterparts of Apple and Android in the cell phone industry, dominate significant market shares of liquid milk in China. Both milk giants account for 21.7% and 18.8% of Chinese liquid milk sales respectively, followed by WaHaHa of 9.6% and Bright Dairy of 6.9% in 2013. Yili earned a profit of $652 million dollars in 2014 while Mengniu claimed its profit at $360 million dollars.
The overwhelming advertising strategy employed by dairy companies guarantees that if a television show consumer turns on his TV during prime time, this target consumer would be very likely exposed to milk advertisements, either kids drinking milk with smiling faces or young professionals trying a solve her digestion problem with premium-priced yogurt.
The aggressive marketing approach, along with the considerable amount of advertising money that is more than 80 percent of the annual profit, exactly reflects how desperate Chinese milk companies are in order to capture the ever growing market of liquid milk. But the duopolistic situation is about to change, when foreign competitors come into play and try to get a share of the huge cake.
(Yili and Mengniu's TV ad campaigns with reality shows Where Are We Going Dad? Season 3 and Run For Time Season 1.)
The Next Growth Point
If there is anything that deserves attention in the Chinese milk industry, it's the exuberant and growing demand that dictate the liquid milk market. As the Chinese government abandoned its controversial one-child policy, China will implement its two-child policy starting from next year. For dairy firms around the globe, the good news is that in the next decade, millions more children will be accompanied with cow milk during their childhood and adolescence. In the future, those who grow up with milk consumption behavior can be core customers that help support sustainable growth of dairy companies in the long run.
Even if the new two-child policy may bring more babies, the sales increase in the baby formula market has remained comparatively weak. A Nielsen report shows that in the first half of 2014, dollar sales of baby milk powder in China jumped by 7 percent, however unit sales slumped by 4 percent. As the competition in milk powder market intensifies and the market gets saturated, price wars can become a normal state in the industry, making it harder for firms to grasp the market share. While the sales of baby milk are likely to face its bottleneck in the near future, liquid milk, in contrast, has a brighter prospect.
Thanks to the continuing urbanization and shifting consumer behavior in the Chinese rural area and third- and fourth-tier cities, more people are switching from drinking soy milk to cow milk for their breakfast. In 2012, a Chinese consumes only 32 pounds of milk a year on average, whereas an American drinks 168 pounds per year and the figures for neighboring Japan and South Korea are 75 pounds. A ten percent annual increase of discretionary income over the past decade enables Chinese consumers to spare more money on their groceries, thus creating huge potential for liquid milk consumption.
However, the 2008 melamine scandal left long-lasting aftershock on Chinese domestic milk brands. Eighteen local dairies were found adding melamine into raw milk in order to fake high quality cow milk. Consumer confidence has never recovered from deep suspicion against local milk companies since then. In an effort to appeal to those who have lost their faith in domestic milk, foreign companies seized the chance and launched its marketing campaign. The result proved to be a huge success.
In the past decade, the amount of imported liquid milk in China have grown exponentially, from less than 4,000 tons in 2005 to 200,000 tons in 2014, according to the U.S. Department of Agriculture. As of 2015, firms from 27 countries, including the U.S., Germany, and Australia, have been exporting liquid milk to Chinese market with more than 100 brands. The confidence in safety and quality is the major driver behind the growth.
Since the baby formula market has already been dominated by international brands, Chinese firms are now fighting hard to prevent its liquid milk business from being taken away by foreign competitors. Unfortunately, it seems that both Chinese and international companies are primarily targeting the same group of consumers.
Target the High-End Market
Milk has always been a luxury in China for thousands of years until 1980s, when the economy went back on track after the end of the disastrous Cultural Revolution. A large part of Chinese population is intolerant to lactose, making it hard for them to digest milk, cheese, or other dairy products. Chinese never in their history used milk, so when milk companies attempted to create demand in the 80s and 90s, they marketed milk as a necessary source for strength, nutrition, and energy, as well as a symbol for better living standard. "A pound of milk a day, keeps Chinese strong," slogans similar to "an apple a day keeps the doctor away" could be heard on TV and radio on a daily basis.
As milk consumption steadily rose since 2000, Chinese firms shrewdly sensed the huge potential purchasing power of Chinese middle class families. That's why Yili spent hundreds of millions of adverting budget on reality TV shows like Where Are We Going Dad? to broadcast visuals of celebrities' children drinking its QQStar, a flavored milk product that is designed for kids under 12 and priced at a premium. QQStar comes with a small 4-ounce carton, meaning lower packaging costs compared to regular milk packaging. By targeting millions of middle- and upper-class parents of spoiled only-child, Yili managed to generate more profit margin from selling milk in smaller size.
In the liquid milk market, international firms price their products at even higher premium to attract high-end customers in Chinese market. Australian milk firms like Pauls, Harvey Fresh, and Lemnos mostly sell their merchandise through online stores. By branding themselves as the gateway to high-quality lifestyle, they successfully drew attention from urban wealthy families that don't care much about money but instead put more weight on the product quality they receive. German brand Oldenburger, for instance, even put German flags and huge "product of Germany" banners on goods shelves in some stores to signal its German origin.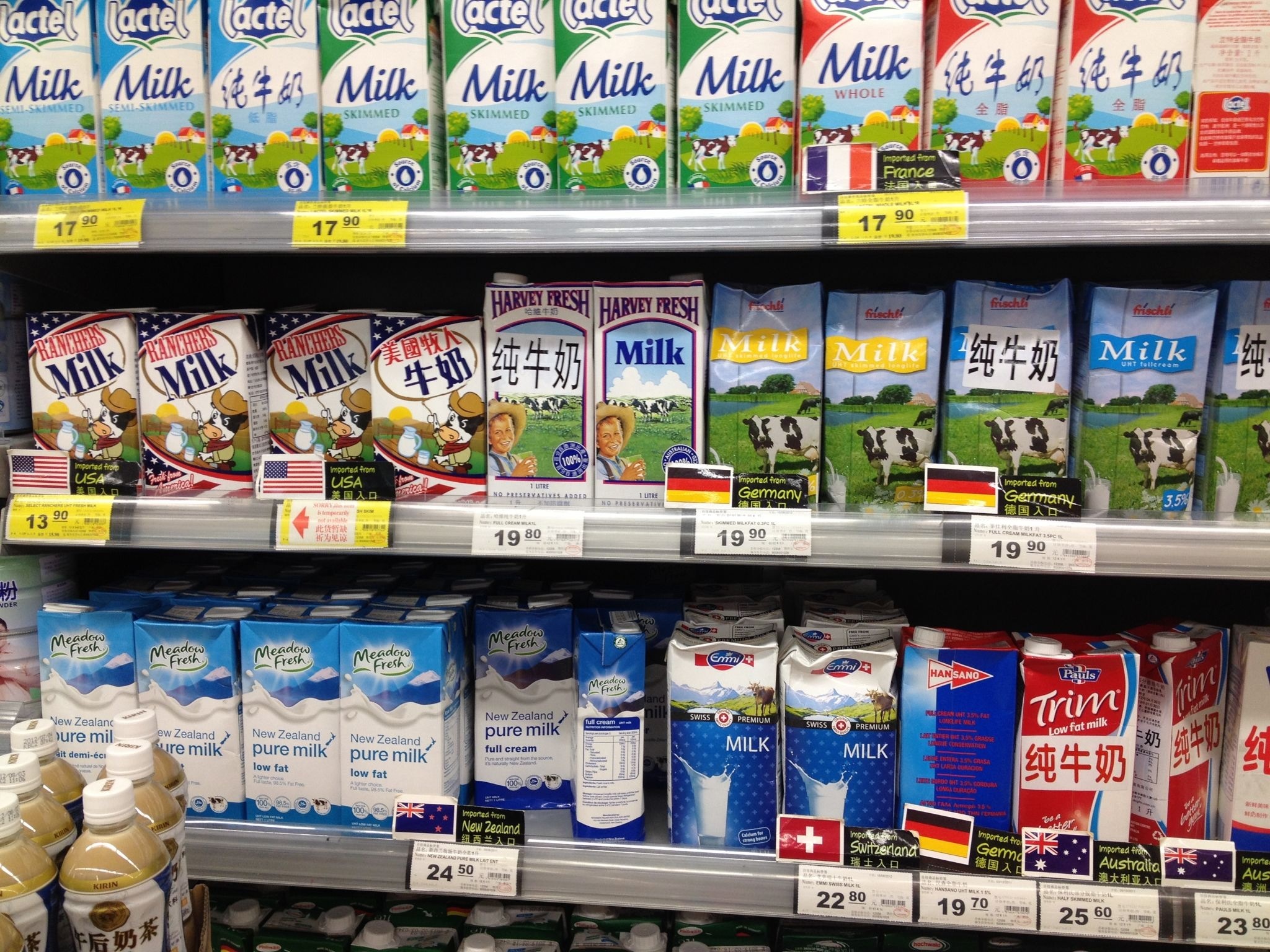 (Imported milk products in Chinese stores.)
Historically, because of the perception that imported goods are usually superior in quality, Chinese consumers are willing to pay more than do global customers. Merchandise that is not native to the Chinese market – coffee, cherries, pistachios – are generally well accepted at higher prices in anticipation of higher value. Imported milk is no exception. An imported product typically doesn't require massive advertising campaign to push sales, because its country of origin is a good selling point in itself.
It's difficult to predict whether international companies will occupy larger shares than do Chinese brands in liquid milk market. However, it can be foreseen that in the near future, Chinese firms are likely to undergo more intense competition from each other, because international companies have overall greater and more trustworthy brand images. For Chinese milk giants Yili and Mengniu, they might lose their leader status if they failed to grapple opportunities to cater to customer needs and to rebuild their brand images.
They are working hard on it. Perhaps it may seem awkward sometimes, especially when you see a 15-second close-up shot of Yili milk carton held in American actor Stanley Tucci's hand, in the 2014 Transformers: Age of Extinction movie.
Sources:
China Milk and Dairy Market Report 2015, KPMG China, May 2015
Peoples Republic of China Dairy and Products Semi-annual Report 2015, U.S. Department of Agriculture