College sports are an important component of most universities. Football and, to an extent, men's basketball are the two sports that are responsible for generating about 90% of the revenues for an entire athletic program. Universities receive millions of dollars in revenue from television broadcast deals and merchandise sales from these two sports. Without those powerhouse athletics, other less popular teams like soccer, tennis, and volleyball would have no chance in succeeding financially. However, the extraordinary amount of money universities and the National College Athletic Association receive from these television and marketing deals have current and former athletes concerned about the use of their names, images, and likenesses. These athletes want to be compensated for their success.
One man who stepped up and voiced an opinion is former UCLA basketball star and NBA player, Ed O'Bannon. In July of 2009, O'Bannon filed a lawsuit against the National College Athletic Association, arguing the organization violates antitrust laws by using former and current players' images, names, and likenesses for commercial purposes. What sparked O'Bannon's file suit was seeing his image in an Electronic Arts video game that he was not compensated for. The O'Bannon v. NCAA case insists players should be compensated a fraction of the millions of dollars college athletics generates from its huge television contracts. After six years the case has caused much controversy for the NCAA and universities. But just recently, some court decisions have impacted the case.
According to the NCAA website, it is a membership-driven organization dedicated to safeguarding the well-being of student-athletes and equipping them with the skills to succeed on the playing field, in the classroom and throughout life. With this in mind, the NCAA has created multiple rules to keep college athletics as amateur sports and control the eligibility standards for athletes. The division of a school determines the rules that follow the overarching principles of the NCAA. In this case, as an amateur sport, athletes are not allowed to be compensated for the use of their name, image, and likeness while attending the university. Punishments for infractions can be anywhere from losing playing time to being kicked off the team. For instance, during the 2014 football season, University of Georgia player Todd Gurley was suspended from the team for four games because he made money off his own autograph.
The NCAA believes college athletes should not receive compensation beyond their scholarship because it would ruin the amateurism status of athletes and goes against "eligibility" rules. The Ed O'Bannon case is fighting against this notion. One major concern among those who want to keep the current system in place is whether or not universities could generate enough money to pay athletes while also supporting them and contribute to other less popular sports. To run an entire athletic program for a competitive Division one school is over a 100 million dollars annually. Though universities may receive millions from conferences and television contracts, it does not all go to football, but to salaries, game expenses and facilities.
Recently some major decisions have been ruled in the O'Bannon v NCAA case. In June of 2014, a federal judge ruled that the NCAA cannot stop players from selling the rights to their names, images, and likenesses. This conclusion hit hard on the NCAA regulations, which prohibit student-athletes from receiving anything more than a scholarship. The court mandated that money generated from television contracts be put into a trust fund that college football and basketball athletes would receive after eligibility. The cap for the money would be up to $5,000 a year, and the most a player could make is $20,000 after four years. The NCAA of course disagreed with the ruling and fought against it.
On September 30th, 2015, The Ninth Circuit of Appeals confirmed the district court's decision that the NCAA amateur rules violated antitrust laws. This of course was a big gain for O'Bannon but was not a complete victory. The court went against the injunction that would have forced universities to pay athletes up to $5,000 dollars a year. However, schools now must cover full cost of attendance, which is food, rent, books, etc., on top of scholarship. Which means universities must add anywhere from a $5,000-$20,000 addition to scholarship which will cover student-athletes attendance. An article from Sports Illustrated claimed that Judge Jay Bybee, one of three judges out of the panel, expressed concerns that cash sums beyond educational expenses would transform NCAA sports into "Minor League" status. However, many still believe the cost of attendance is not enough for college athletes whose universities negotiate million-dollar TV contracts.
The situation does not end there. Even though O'Bannon did not win the trust fund debate, the lawsuit is far from over and he is not the only one striking down on the NCAA. Shawne Alston, Martin Jenkins, and two dozen other former and current college and professional basketball and football players argue that the cap of athletic scholarships and cost of attendance are not enough and violate antitrust laws. They are fighting for a different compensation to go towards student-athletes. If the cap was demolished, universities may be forced to pay student-athletes market hyphen price scholarships, which could extend up to seven figures. This litigation will be heard in the U.S. District Court for the Northern District of California soon. That being said, let's look at the possible financial decisions college athletics and universities would be forced to consider if athletes were required to receive money.
To help understand the current situation better, I sat down with USC Sports Information Director Jeremy Wu to discuss the conditions that have athletic departments in dismay.
According to Jeremy, the new ruling that declares that universities must pay full cost of attendance, food, rent, books, and more, is the first strain on schools financially. Some schools already provide this for football, such as USC, because they can afford it, but now are required for all sports. Other major and smaller universities are in the process of making this transition.
The money for funding full attendance does come from the 'millions of dollars' schools receive from television contracts. But what a lot of people have a hard time understanding is the money received from these contracts are not just supporting football, but an entire athletic program. "A lot of schools even with TV contracts don't make more money than they lose," Wu said, adding, "Even though contracts are huge, such as millions of dollars, funding a full athletic department is a lot and it is covering more than just football, but all the sports." Wu also mentioned the money generated from TV contracts pays coaching staffs for all teams and buys necessities for the sports.
To help understand Wu's argument better, here are some athletic financial examples. According to U.S.A Today, the University of Texas athletic program's total expenses are $154,128,877. The Longhorns have the highest athletic expenses in public universities. It also receives $161,035,187 in total revenue which means the program generates over 6 million in revenue. Then there are universities like Coppin State whose athletic program's total expenses are $3,953,265 but only receive $3,304,284 in total revenue. The university also receives $2,467,870 in subsidies, which illustrates that smaller programs lose money in athletics.
An article called Cracking The Cartel, discusses where the money for football is going. $156,647 is the median amount a division one school spends on a scholarship football player each year as of 2013. It is this high because of food, travel expenses, gear, education, exc. It also states that in 40 States, football and basketball head coaches are the highest-paid public employees. Alabama having the highest paid coach at 7 million.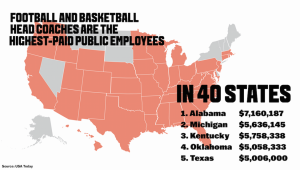 If college athletes were to receive payments from universities, here are some of the worst case scenarios.
In order for the majority of universities to provide payment for athletes they would have to make some changes. The process would start with cutting smaller sports from athletic programs, such as golf or tennis. This leads to job losses not only for the people who coach the sport, but maybe a couple of strength coaches, a nutritionist, and perhaps academic advisers.
Colleges could decide not to try and cut athletic programs all together. The programs which are most likely able to perform this financial strain are the so-called Power Five conferences (the ACC, Big Ten, Big 12, Pac-12, and SEC), but even some say it may be too much and schools slowly would drop down to Division II. Jeremy discussed how small schools like South Dakota State, that don't generate enough money off their athletic programs, would have no choice but give up its sports teams.
Even Title IX plays a heavy role and universities must still obey the rules that are enforced by it. If one women's sports team is cut, then three men's teams are cut as well. Title IX provides a unique experience for young female athletes to receive an education and achieve an athletic career. Financial struggles to pay athletes would not only take this opportunity away from women, but men as well.
As a student-athlete myself, this situation has me concerned. Though it is apparent that the NCAA needs to make some rule changes, paying college athletes certainly would revolutionize intercollegiate athletics. If universities were to act on the most dramatic possibilities from this event, college athletics as we know it, would cease to exist.