The British economic authorities aim to push for closer trade relationship with China, as Chinese President Xi Jinping arrives in London for a four-day visit. London is seeking stronger economic ties between the U.K. and China, despite the recent economic slowdown in China. This effort to enhance trading cooperation with China signifies that the U.K. has more options outside of the EU.
Currently, China is the 7th largest export market that the U.K. trades with, total export to China worth approximately 30 billion dollars last year. The major products that the UK exports to China are automobiles, telecommunications equipment and electronic components. Although the EU and US still take up most of the UK's exports, the number of UK's export goods and services to China will be riding on a rising trend, especially after Xi's recent visit.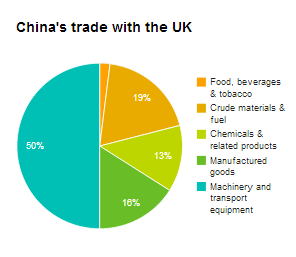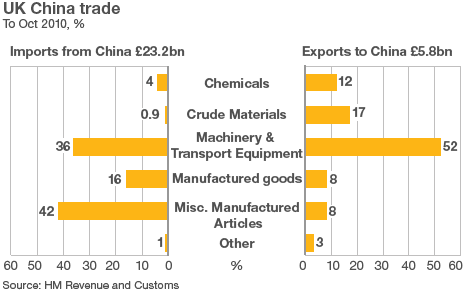 Chinese President Xi also states his intention to strengthen trade relationship between the two countries during his visit. China is the UK's second largest source of imports, right after Germany but ahead of United States, according to Quartz (Quartz). Investments on British real estate coming from China has been increasing over the past five years; in the meantime, the increase of Chinese tourists' purchasing power boosts local economy in the U.K.. According to the Reuters, "the People's Republic has picked London as the host city for its first foreign-issued, yuan-denominated bond" (Reuters). Additionally, wealthy Chinese individuals are sending their children to the UK for schools. Reportedly, every one out of seven students on a British University campus is Chinese.
On the other hand, many remain suspicious of this newly established close relationship between the UK and China. One of the arguments against this relationship maintains that China's economy is at an unstable place right now and that its growth will not skyrocket like it used to in the past ten years. Chinese stock market's recent crash has hit not only the U.K., but also the world's confidence in Chinese economy. As a result, critics comment that the timing might not be a perfect one for the two countries to strengthen trading partnerships.
Secondly, the U.K. has been known to the rest of the world for its criticism on Chinese refrain of human rights, represented by Prime Minister David Cameron's meeting with the Dalai Lama in 2012, which resulted in great diplomatic tension between the two countries. In September 2015, however, British Chancellor of the Exchequer, George Osborne indicated that the U.K. would no longer engage in "megaphone diplomacy" and will avoid its criticism on Chinese human right issues during his visit to China (Bloomberg). Unfortunately, the two countries' difference in cultural values might still pose as a barrier before the two countries manage to pull each other closer.
http://www.bloomberg.com/news/articles/2015-10-18/u-k-in-economic-kowtow-to-xi-seeks-golden-era-of-china-trade
http://exportbritain.org.uk/market-snapshots/china.html
http://www.ibtimes.com/china-uk-trade-relations-despite-chinese-economic-slowdown-british-authorities-push-2146891
http://qz.com/526977/what-china-really-wants-from-the-uk-charted-private-education-bank-loans-and-real-estate/
http://blogs.reuters.com/breakingviews/2015/10/19/china-is-unreliable-new-best-friend-for-britain/