"We used to have multi-million business back in 1998-2004." John Han, the owner of John's Violin Shop, talked about the most prosperous period of time of his business. "But when the real estate bubble hit America in 2007 we have several rough years, annual sales were as low as $200,000. It barely covered the store's expenditure and I lost near one million dollars." Han said.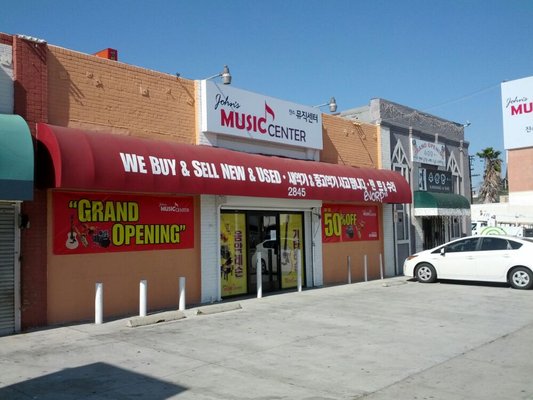 Located at the intersection of Olympic and Catalina, Han's music instrument shop shares Olympic/Vermont's liveliness as well as Catalina's tranquility. With more than 20 guitars hanging on the sidewall of the lobby, a little show stage at the corner with drums, and keyboard, the space is divided by several electronic pianos in the middle, and some layered up sound mixers to the ceiling. All the saxophones, trumpets and violins are hanged behind the counter for sale. The doors of the two small cubicles at the back are closed, with harsh and unskilled violin sound flowing out. A small but cozy music store.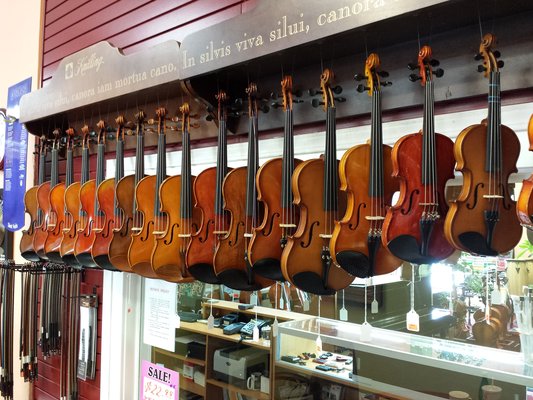 His business kicked off in another store step away in 1994, and had to move to 6th street in 2008 after huge loss from the nationwide economic crisis. "I could not afford the rent of my old store at that time, people don't come by but I still need to pay huge amount of electricity, rent and other daily expense. I couldn't afford that." Han said.
As a matter of fact, He said the business turned downward since 2004 as a result from the growing popularity of the Internet. People started to look for information online instead of coming by physical stores. Meanwhile, C2C and B2C mode entered the market and began to eat a large share, and websites such as eBay became a new platform for selling and buying products. Potential customers commonly try and test different brands of instruments in a physical store and then shop online for the best price. Accessories such as strings, drumsticks, sheet music, and tuning condenser are often discounted online. Some even call real music instrument shops as "showrooms" of online stores. Except music business, the Internet also affects other businesses, including record stores, bookstores, travel agencies and post office for the time being.
However, Han said the biggest strike was still the economy recession from 2007-2012. In terms of the competition with the internet, he believed brick-and-mortar stores won't be stock out of the market because customers still need to come for instrument checkup, repair and music lessons. "Like this one, it's not even a violin bridge." Han pointed at the oversize bridge under a violin's four strings left by a Chinese customer. "China produces some of the best violins in the world, but violin workers in China don't have good knowledge of the instrument itself," Han said. In his forties, Han has already earned over 20 years of business experience, and he knows what makes a good violin store. He knows violin, and in his opinion, violins are only mass-produced pieces of wood if workers don't know much about the instruments. He has many customers buying guitars or violins from the Internet coming to him for help tuning and repair. In his defense, store owners also benefit from the Internet because they can post adds online and get more publicity.
Han moved back to Olympic when the economy started to warm up in 2012. Instead of leasing the original location he started in 1994, he chose a much smaller outlet in the same street in order to cut budget. Till today, Han's store has not fully recovered from the nightmare in Great Recession.
So far Han is happy with the growing business, even though it is still not as good as in late 1990s and early 2000s. He has 25 students learning different instruments there, ranged from 6-year-old elementary school kid to 74-year-old grandparent. On average about 35 customers visit the store, and since it's back to school season right now, visits are almost doubled. Except September, Christmas is another busy period as a holiday season. Light season such as February and November, Han likes to add more promotions to stimulate the business.
Currently Han earns around $300,000 to $400,000 a year. He plans to accomplish half-million revenue in 2014, and aims to fully recover before 2020.