Karim Kurdi, a 31-year-old Los Angeles native, says he supports a minimum wage increase, but as an owner of a small convenient store in West L.A., he realizes it might push him out of business.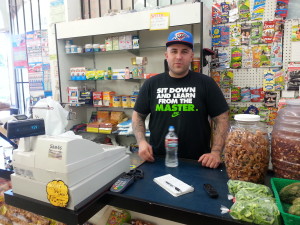 "I would love to pay my employees more but it's tough," Kurdi said. "Right now, I'm breaking even. I'm not really making any money."     
Some of Kurdi's employees travel to work from the downtown area or East L.A. and earn $9 per hour. But starting Jan. 1, 2016, their wage will be increased to $10 per hour in accordance with the state law.
Despite of his support of the increase, Kurdi says even a small change in his workers's salaries will have a significant effect on his already tiny budget.
"It's going to be tough time," he said. "If the minimum wage will rise again, it might affect my workers because they'll have their hours cut."
Kurdi, a son of a Mexican and Lebanese immigrants, opened his business, a Mar Vista Ranch Market in 2002 after hiring four workers and renting a one-story building on a busy corner of Centinela Avenue and Venice Boulevard. 
For the first six years, he enjoyed stable income from his small store. He also managed to keep his prices low while filling the aisles with Iranian dairy, Mexican-produced Coke and local poultry and meat, which attracted residents, most of them live within a walking distance from the store. 
But in 2008, things started to change. Although the number of customers who shopped at the Mar Vista Ranch Market remained stable, the average spending has declined.  
"People used to buy products for several days and now they only buy for today, just one onion and one cilantro," Kurdi said. "Now they're very careful with their money."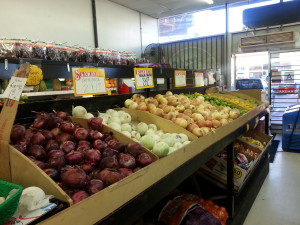 On a recent Sunday afternoon, Kurdi stood behind a register with a sticker that read "Credit or debit cards for $10 charge .50c." A woman stopped by a register to pay for a watermelon and two mangos. 
The shelves in the store were filled with tea, yogurts, tamales, and produce with oversized tags attached to them advertising discounts. Kurdi said he has not need to promote his business. Most people in the neighborhood know he has the best deals. 
But three years ago, national retailers like Target, CVS and Walgreen started offering fresh yogurt, strawberries and frozen lunches expanding their business from selling apparel to offering groceries and produce.
And owners like Kurdi have to keep their prices low to survive the competition. 
"We can't raise prices too much because people will start complaining more, and we're going to lose customers," Kurdi said.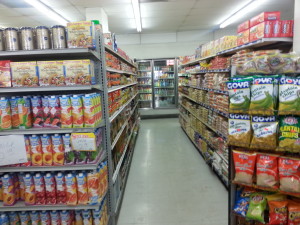 The competition, severe drought and high prices on meat and produce began to drag the business down even further, Kurdi said.
"After everything is paid and after we threw a lot of fruit and vegetables away because of the weather," Kurdi said. "I'm not really making any money."
The minimum wage increase will add up to his already barely-surviving business.
Still, despite all the challenges, Kurdi remains optimistic. He says the increase of the minimum wage won't happen overnight, and he still has some time to plan his budget. 
"I think the government needs to wait until the economy gets getter," he said. "And then raise the minimum wage again."