In April, the initial delivery of Tesla arrived in China. As one of the first customers, Dongfeng Wang got the key from Elon Musk who is the founder of Tesla Automotive in Beijing. Wang described that driving Tesla reminds him of the experience using a new smartphone, according to Phenix.com.
"I fall in love with it at first sight, I paid 40,000 dollars for ordering a Tesla while I visited Tesla in Silicon Valley," said Wang.
Building up the marketing team in China at the beginning of 2013, Tesla already received 5,000 orders all over China by the end of the year, even though they hadn't set up any service store in Beijing yet. It became a new luxury fashion among Chinese rich people. The average price of a Tesla Model S costs about 800,000 RMB (around 150,000 dollars).
Tesla–the apple of auto industry 
Founded in 2003, Tesla, as an electronic car company, has been making records in the past few years not only for their plan to build the world's largest lithium-ion battery factory, but also for the new Arizona bill that would allow the company to sell cars and bypass dealers, a win in its ongoing battle in other states against dealer licensing regulations, according to Forbes, the interview with Eugene Groysman, an Apple expert at Marketocracy.
"Just like Apple, Tesla has an opportunity to revolutionize a market. With Apple it was the unique products of the iPod and iPhone that revolutionized the digital music and mobile phone markets," said Groysman.
Elon Musk, as the founder of Tesla and Space X, created a new revolution in auto industry. Electronic car technology was not latest developed but Musk made it as a new fashion of driving. In Tesla's 10 years of existence, the company has suffered through embarrassing delays and leadership overhauls, verged on bankruptcy at least once, and been a favorite target of short sellers. In May 2013, it posted its first profitable quarter, with earnings of $11.2 million; sales for the first quarter rose 83 percent, to $562 million. Now more and more young people love to choose a Tesla or make it as one of their dreams to achieve.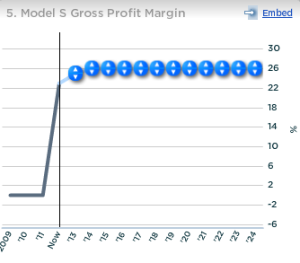 Following Tesla's lead, General Motor and Ford have started hiring software developers in its technology department. "The carmakers see kids opting to watch movies on their iPads instead of on pricey, built-in infotainment systems, and know they need to find a way to keep up", by Bloomberg BusinessWeek. Tesla has just released its Q1 financial results. Adjusted earnings per share came in at $0.12 per share, which was higher than the $0.07 expected by analysts surveyed. During the quarter, the company produced 7,535 models S and delivered 6,457, according to Bloomberg. The stock is down by around 6% in after-hours trading. Management expects about 7,500 deliveries in Q2 and says it's on track for 35,000 deliveries for the year.
"We are expanding our factory capacity to support increased Model S production later this year and the introduction of Model X next year," said Musk.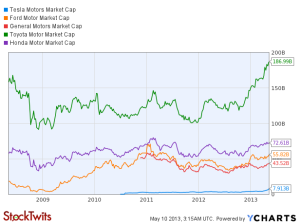 Tesla's Competitors
In the traditional auto industry, there are several old electronic car brands such as Chevrolet Volt, Ford Focus EV and Nissan Leaf. Tesla's sedan may fall short of some of its electric competitors' efficiency, but its driving range blows every one of them out of the water, according to an assessment website, Car and Driver. However, Tesla was outstanding on sales in the first quarter.
The company's supercharger network is expanding quickly, it feels like a new location opens almost every other day. With 65 chargers in the U.S., 14 in Europe, and plans to expand it to China, Tesla is doing what it can to make it possible to drive its cars long distances given the constraints of current battery technology. The network is especially strong in California and along the west coast, where Teslas have been especially popular, according to Forbes.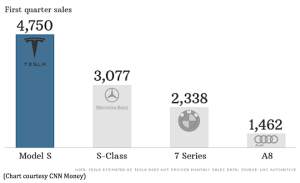 Coda and Fisker were two main competitors in the new electronic vehicle industry. Parent company Coda Holdings filed for bankruptcy protection in 2013 in Delaware. Bloomberg Business Week says Los Angeles-based Coda Holdings is seeking to sell its assets to a publicly traded private equity group, Fortress Investment Group, for $25 million. It listed assets of up to $50 million and debt of $100 million. Fisker lost money on its first model. Unlike Tesla, though, Fisker ran out of cash before it could rein in costs and establish tighter controls. Fisker stopped production in the summer of 2012, and was seeking new investment. Fisker eventually declared bankruptcy in November 2013, and in February 2014 the company was bought by Chinese auto-parts conglomerate Wanxiang Group, according to Bloomberg BusinessWeek.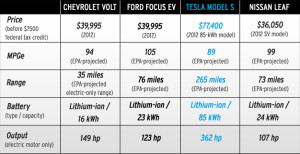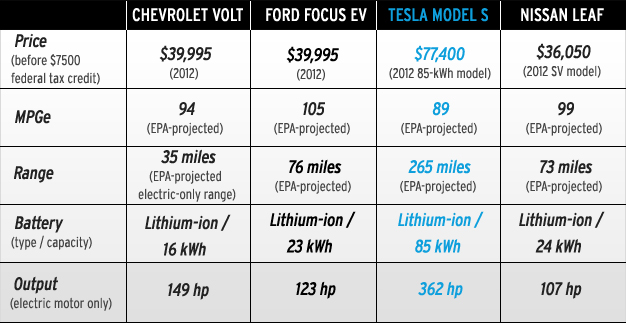 At the same time, Tesla was also struggling with government rules in US. It has to overcome strong political opposition in many states. It is one of significant hurdles about which there is much disagreement.
If there's a secret to Tesla's success, it's been to outsource as little as possible. According to Bloomberg, the company has insisted on doing just about everything it can in-house, which has helped it develop intellectual property and control costs. Tesla built the battery pack replacement feature into the Model S, for example, and then designed the robots that will do the work. None of the engineers came from the auto industry; they were largely solar-powered car hobbyists and gadget makers. A key decision by the founding crew was to lash together thousands of the lithium ion batteries found in laptops to form a giant battery pack.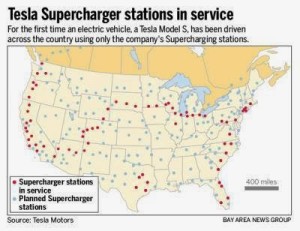 To the investor, the biggest concern is that the Model X and the new sedan won't be cheap enough to attract regular buyers.
It won't break down sales by state, though the company has opened multiple stores in New York, Texas, Illinois, and Florida, and says about three-quarters of revenue comes from outside California, according to Bloomberg, and its next test will be in Europe and Asia. Investors will be watching closely to see whether Germans and Chinese take to the car the way wealthy American geeks and eco-absolutists have—and if they do, how well that Fremont factory holds up under the stress. These are predictions for Tesla.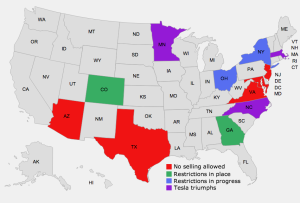 Tesla vs. BYD 
Founded in 1995, BYD has developed very quickly at the early ages in China. Recent years, it has been losing power in China's auto market. However they put more effort on digging into US market. A battery-powered, 40-foot bus is set to roll off the assembly line in a former recreational vehicle factory in Lancaster, California, a blue-collar desert community north of Los Angeles. The $38 billion Chinese conglomerate makes everything from electric cars to LED lighting to solar panels, according to Los Angeles Times.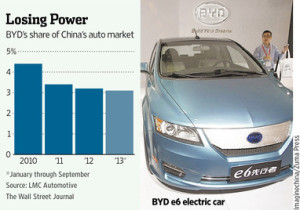 Most of media focused on BYD's rocky entry into the U.S. market and his famous investor-Warren Buffet. California state regulators last year docked the company $99,245 for violating state labor laws by under-paying Chinese engineers it brought over to work at the Lancaster factory. The labor commission later dropped that charge and reduced the fine to $37,803 for minor infractions of state labor laws. However, it didn't stop BYD to become the "official electronic vehicle".
"BYD could make a Tesla any minute if consumer demand for electric cars really ramps up." that was the latest bold claim by Wang Chuanfu, chairman of BYD.
Wang also acknowledged Tesla got an astonishing success at developing high-end electric cars, changing consumer-buying habits, and training environmentally conscious drivers. However, Wang believes that Tesla's high-end electric car strategy is not compatible with BYD's low-end consumer strategy. not planning to go head-to-head competition with Tesla.
"For us, the technology for pure electric car is not the problem. The problem is the market. To scale up new production capabilities, it takes about 4-5 years," said Wang.
Holding 10% stake in the company back in 2008, Warren Buffet is BYD's rock. At the moment, BYD's all-electric e6 car—not a high-performance sports car like Tesla's has been sold only in Shenzhen, where it is mainly used for taxicabs. It has struggled to gain traction due to a high sticker price, which costs about $60,000 in China, according to the Wall Street Journal.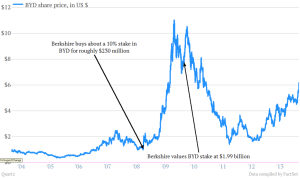 As a hugely important market for Tesla and BYD, China will be their direct battlefield in next decades. According to Quartz, Dougherty & Company analyst Andrea James has said it has the potential to be the company's second biggest market. Tesla unveiled highly competitive pricing for the Chinese market earlier this year and plans to start selling cars in April. Whatever Musk may have said in 2011, BYD may now be the company he has to beat.
Is China ready for Tesla?
A group of 23 Chinese Tesla buyers from cities other than Beijing and Shanghai has filed a class action against the company addressed to Tesla Automobile Sales (Beijing), Chinese retailer of Tesla, and CFO of the company Deepak Ahuja. Tesla is accused of consumer fraud or false advertising for changing the shipment order of the preordered automobiles without noticing the customers, according to TechNode.
The customers complained that Tesla promised consumers to ship products based on the payment order of deposit, which amounts to 250,000 RMB ($40,150), but customers in Beijing and Shanghai received emails to take their preordered cars recently, while buyers in areas other than these two cities are left behind. Elon Musk, the CEO of Tesla visited China last month and amid customer complaint turmoil.
Musk had another "mission" for his tour in China, handing keys to first delivery customers. He ever described China as a "wild card" in the company's future. It's all about timing.
China has set a target of having 5 million electric vehicles on its roads by 2020 as part of efforts to curb pollution, and other automakers are closely watching to see if Tesla can win over consumers in the market, according to LA times.
Beijing recently held a special auction for electric-vehicle license plates. The government also offers special incentives to buyers of Chinese-made electric vehicles, for instance, the Beijing municipal government enforced a quota of about 13% for hybrid electric and full-electric vehicles in the license plate registration lottery. And this share will keep increasing through 2017 to about 40%. The incentive has not been appealing enough for many in China. At the latest draw, while each permit for conventional gasoline autos received more than 90 bids, only 1,428 people applied for the 1,666 NEV plates on offer, according to ckgsb.edu. However, Tesla does not qualify for the program.
Besides government incentives, subsidies and tax reduction benefits provided for electric vehicles are certainly attractive in China.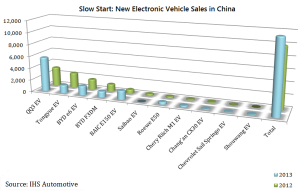 Based on the targets set out in March 2013, the overall number of NEVs must reach 0.5 million in 2015 and 2 million by 2020. This revised target is less than half of the target of 5 million set earlier for 2020. Also, according to IHS data, at the end of 2012 there were only 27,800 such vehicles on the road, of which 80% were electric buses. Last year China sold a total of 17,642 NEVs including the 11,963 passenger NEVs (refer to the graph). This brings the total number of NEVs in operation to 45,442 units.
Among the first nine buyers to receive their Model S cars, which sell for about $122,000 in China, were influencers such as Cao Guowei, CEO of Internet company Sina, and Yu Yongfu, chief executive of the mobile Internet browser company UCWeb, according to LA Times.
Tesla ever said that they would make the price "fair" in China. In fact, At least 800,000 RMB per car is a kind of rich people's toy. For instance, Chinese automaker BYD's all-electric e-6 car can be bought for under 400,000 RMB, and its model Qin for even less.
Tesla recently announced that they would produce a mass-market electric car" in three years. They are planning to build a large-scale factory that will allow it "to achieve economies of scale and minimize costs through innovative manufacturing, reduction of logistics waste, optimization of co-located processes and reduced overhead".
At least, China still need more time to be ready for a big warm welcome for Tesla or other electric vehicle companies.