Ask the average, everyday American what they think the most important agricultural product the US produces and you might get several answers. Beef, perhaps, given due to the dominance of McDonalds in this country. Soybeans or cotton are also two fair guesses. (Ask the question in California, and you might even get the avocado as your answer.)
What many people don't realise is that while the aforementioned products are important, their significance in the economy, in politics and indeed this very society pales in comparison to corn. Corn is the most produced crop in the US, with 84 million acres being dedicated to the harvesting of corn. The cash receipts from sales of corn alone amount to $63.9 billion per year. Indeed, the US produces about 34% of the world's total corn, by far the largest corn producer and consumer of the world.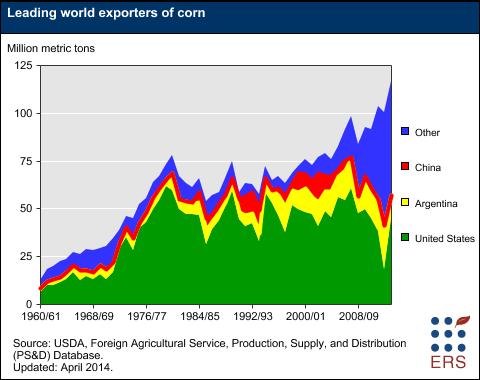 Corn almost literally makes the world go round – at least, in the case of the US. There are about 4,200 uses for corn. For the large part, corn is found in many food products, some medicine, starch, and alcohol. However, corn is also used in the production of plastic, glue, oil, and ethanol – a source of energy. Most of the nation's livestock is also fed with corn which, in theory, drives down the prices of meat for the American consumer.
It is hardly a coincidence that the US is also the world's "largest consumer of sweeteners, including high-fructose corn syrup." High fructose corn syrup (HFCS) is just one of many uses of corn, and is found in an astoundingly wide array of foods in the US. Here is a list of 10 items that contains HFCS that you may or may not have expected:
Yogurts
Breads
Frozen pizzas
Cereal bars
Cocktail peanuts
Boxed macaroni and cheese
Salad Dressing
Tonic
Applesauce
Canned Fruit
The average American eats 35 pounds of high-fructose corn syrup per year. What is even more alarming is that medical studies have shown that HFCS – especially when consumed in such large quantities – is extremely hazardous to one's health. First of all, excess consumption of sugar in any form is a leading cause for diabetes and obesity. Due to government farm bill corn subsidies, HFCS can be used as a cheaper, sweater substitute to cane sugar, increasing its presence in food products and therefore our daily intake of sugar.
(http://www.cornnaturally.com/economics-of-hfcs/)
Furthermore, despite what corn lobbyists may say, cane sugar and HFCS are not treated in the same way by our bodies. According to the Children's Hospital Oakland Research Institute, "free fructose from HFCS requires more energy to be absorbed, and soaks up two phosphorous molecules from ATP. This depletes the energy fuel source in our gut required to maintain the integrity of our intestinal lining." Despite the medical evidence, HFCS continues to be an integral part of our diet – whether we like it or not – due to the high tariffs the US places on imported sugar and the generous subsidies they grant the corn industry.
Corn clearly is an important part of the American economy – but at what price? There are some who argue that relying so heavily on one crop is dangerous; that America should expand and diversify its economy for security and practical reasons. However, the corn's industry's hold on US politics, governments, and decision making is strong.
An article by the Washington Post illustrated some examples that the corn industry influences society around us. Researcher and a Harvard-trained cardiologist who runs the Rippe Lifestyle Institute presented "30 peer-reviewed studies showing that there is no nutritional difference between sugar and corn syrup." His research is not only funded by corn refiners, but he also personally receives a "consulting fee of $500,000 a year from the corn refiners."
Furthermore, a non-profit group, the Center for Consumer Freedom, launched a television, newspaper and online campaign to defend corn syrup safety. The $3.2 million that funded the non-profit organization came from the corn refiners.
The influence the corn industry has on American politics most clearly manifests itself in the Presidential elections. The Iowa caucuses have historically been extremely important in the nominating process for the President of the United States. Since 1972, Iowa has been the first major electoral event, and serves as an early indication of which candidates will be successful in receiving the nomination of their political party in order to run for presidency.  Ethanol production consumes about 1/3 of Iowa's corn production. Historically, presidential nominees have to support the ethanol production industry in order to win Iowa – and therefore even stand a chance of winning the election.
Whether we realise it or not, corn is around us. Who knew such a simple crop would have such a significant impact on our meals but the very economy, society and political environment we live in?
Additional Sources:
http://www.mercola.com/Downloads/bonus/danger-of-corn-syrup/report.aspx
http://www.huffingtonpost.com/2012/09/04/corn-syrup-foods-high-fructose-_n_1854790.html
http://www.economist.com/node/21562912
http://www.washingtonpost.com/wp-dyn/content/article/2007/03/23/AR2007032301625_2.html
http://www.ers.usda.gov/topics/crops/corn/trade.aspx#.U2tEyvmICSo
http://www.economist.com/node/16220592