TOMS Shoes first surfaced 7 years ago with a new responsible and sustainable business model: Buy One Give One (BOGO) – when you buy a pair of shoes TOMS gives a pair to a poor child in an underdeveloped country.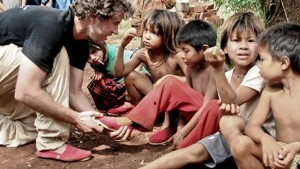 Blake Mycoskie, founder and CEO of the company, first came up with the idea in Argentina when he realized barefoot children, who accounted for over fifty percent of the children, weren't allowed to go to school. Mycoskie contacte a local shoemaker in Argentina and ordered a few hundred pairs to sell, with BOGO model in mind, in his hometown Los Angeles. Soon, the shoes became a phenomenon, a movement some call it. It's one of those companies that has a positive image in almost all consumers minds, and the first that comes to mind when thinking about socially conscious purchases.
In 2011, after selling millions of pairs of shoes, the company branched out to eyewear, promising to give out one glass in the developing world for every purchase. Last month, the company announced they're expanding into the coffee market – Mycoskie stated that for each coffee bag purchased ($12 per bag), they will give a week of clean water to someone in need. Their new product will be available for purchase on their website, café, and Wholefoods stores nationwide.
Although the coffee market is a very crowded one today, Mycoskie says that they picked up on the current trend in America of artisanal coffee roasters, and argues that they will have a better hand since people feel better about themselves with purchasing from a business with BOGO model. He believes that "the same conscious consumers that love his slip-ons will dig his beans."
However, TOMS Shoes has been the target of a backlash from consumers and philanthropists who criticize the company's business model for not being helpful in the long run. Now with their new venture, they are sure to receive more criticism from the same people claiming that the giving people a fish and teaching them to fish are two different things and the latter is more effective in the longer run.