It's been seven years since the burst of housing bubble in 2008, and the market started showing signs of recovery after 2012. It seems to be a good time to consider buying a house now, with the still-going-down 15-year fixed-rate mortgage fell to 3.08 per cent, slightly above the record low 3 per cent in May 2015, according to a Freddie Mac report.
As the mortgage rate now running below 4 per cent for nine straight weeks, the cost of getting a loan to purchase a new home has become a lot lower when compared to the data earlier this year. However, many potential first-time home buyers in low-income community, such as East Los Angeles and Boyle Heights, took a wait-and-see stance instead. More people in low-income areas have chosen to rent instead of buying houses.
"I've seen people renting for over 15 to 20 years," said Alicia Bonilla, a mail carrier who moved to East L.A. in late 1990s.
Slow wage growth is not the only reason deterring potential homebuyers from owning houses in East L.A. In fact, the median home price has been hovering around $350,000 in the last quarter, which is still affordable comparing to surrounding areas of East L.A. and Boyle Heights. The median home value in Los Angeles County is much higher, at the price of $503,700.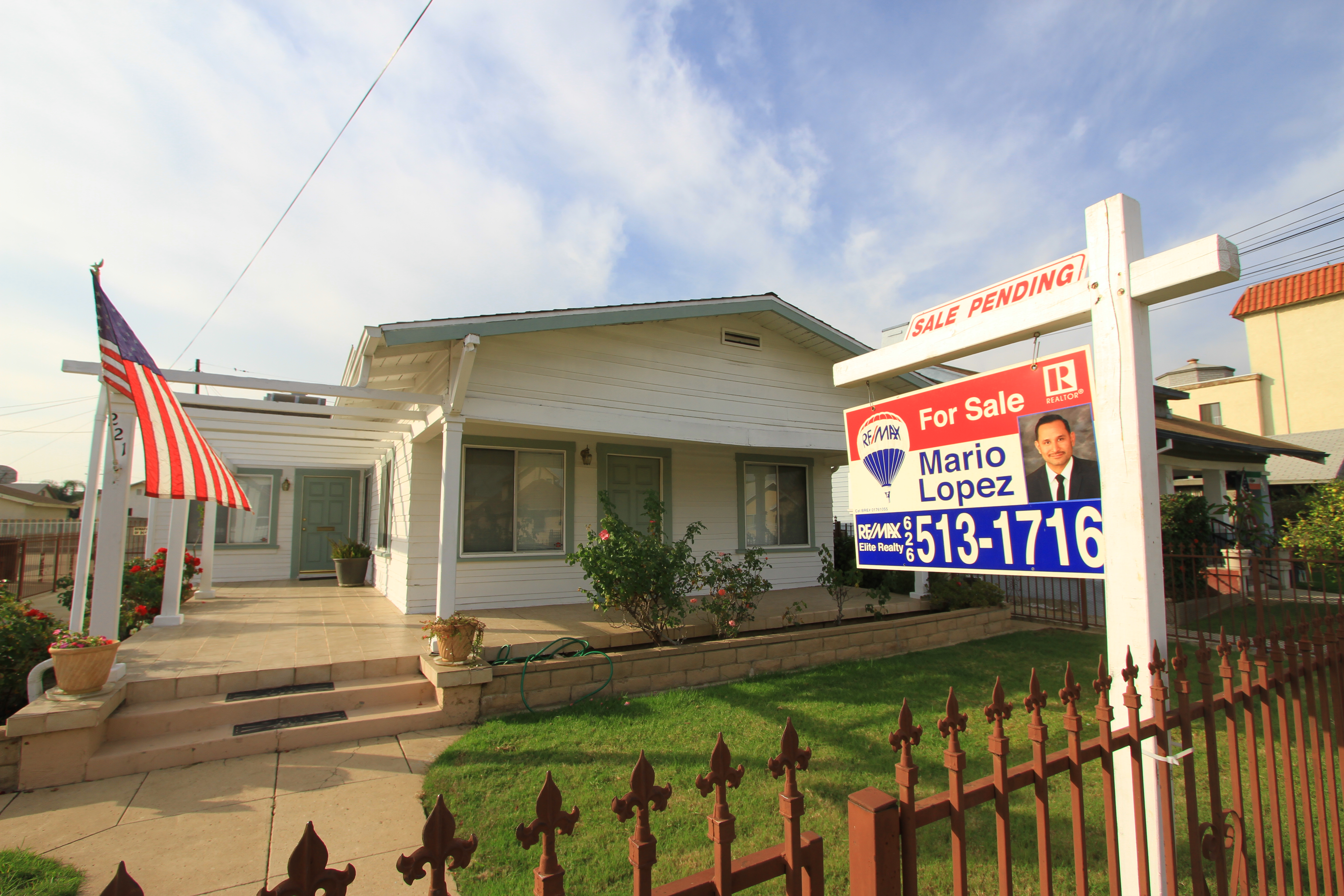 (A house was put for sale in East Los Angeles. Photo: Zihao Yang)
The booming for-sale housing market is on its way to reach record high since the housing market collapse in 2008. The median price for a 3-bedroom house in East L.A. and Boyle Heights was around $200,000 in 2012 and $310,000 last year, according to data released by Zillow.com.
For a neighborhood highly populated with working-class families and new immigrants, living in their own houses has always been a dream for many young residents. However, many potential homebuyers see this area merely as a springboard in their life to a better community.
"The accessibility to a lot of utilities such as transportation, Metro, freeways, airport – that's why [people are renting in this area]," said Luis Negrete, a real estate broker who started his business in 1983 on the E. Third St., "other than that, I don't see that much incentive to own."
A housing market with ever-rising prices but sluggish real demand has seen an increasing number of houses for sale, but the number of potential buyers didn't go up. Investors are less interested in investing in the area because of historical reasons, so most of the buyers are immigrants or families that have been living there for a long time, said Negrete.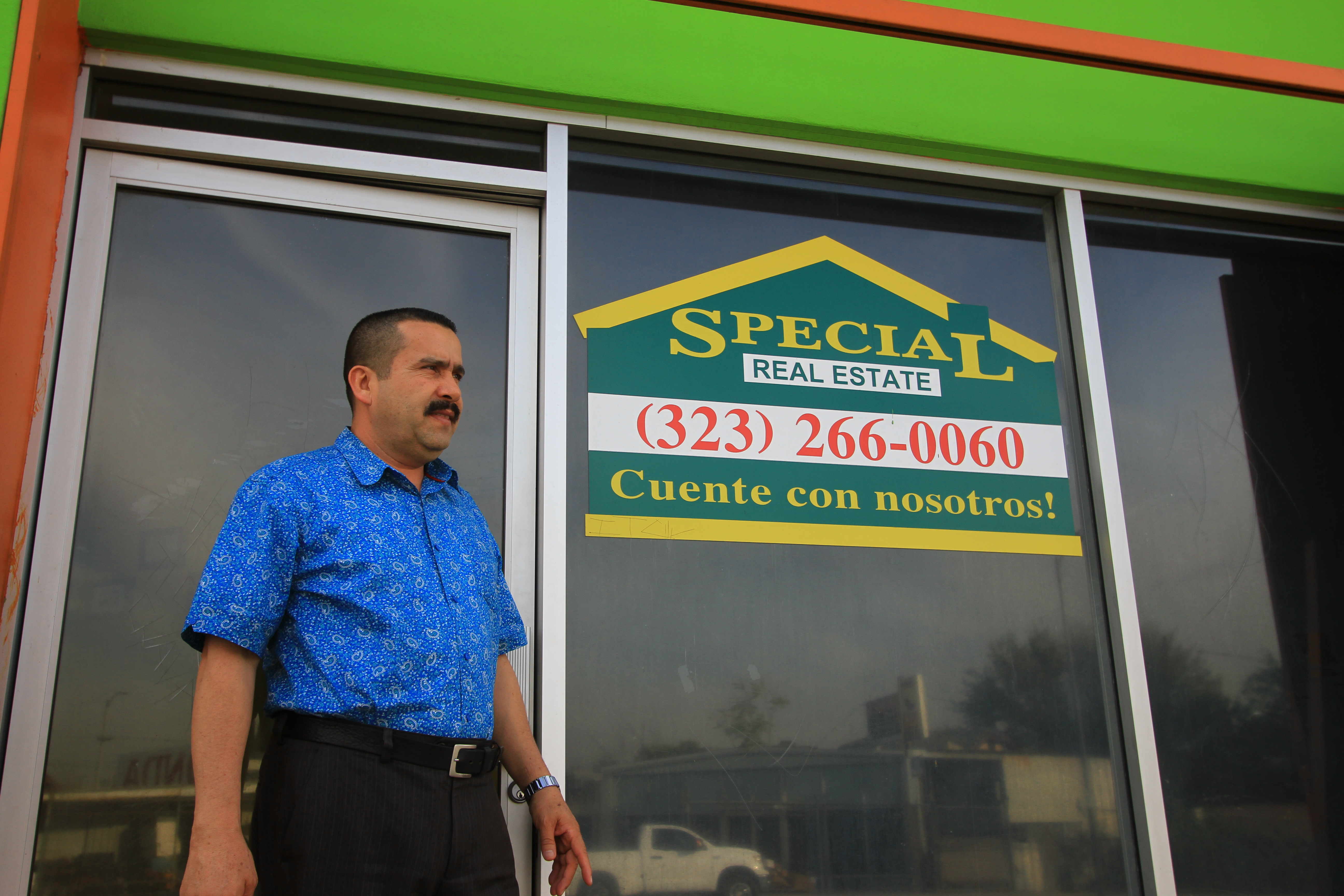 (Real estate agent Luis Negrete stands in front of his agency in Boyle Heights. Photo: Zihao Yang)
Due to its vicinity to downtown Los Angeles, Boyle Heights enticed many blue collar workers who want houses near their work locations but have no desire to own properties in the neighborhood.
"One thing that's undeniable is the location. This is a prime location [for commute]," said Sergio Ramos, a realtor whose major business area includes Boyle Heights and East Los Angeles.
According to Negrete, the ideal final home destinations for the younger generation no longer include East L.A. and Boyle Heights, and the cultural root is not a factor as important as people thought to be. Instead, neighborhoods such as Pasadena and Hacienda Heights are becoming more attractive as places to own a property.
Take a walk on the streets in East L.A. and Boyle Heights, and you will be surprised to find how many houses were put for sale in the neighborhood recently. "They were not even for sale last month," said Art Kawaguchi, an auto repair shop manager on the E. Third St.
But the number of home sales transaction remained flat and sluggish. Since 2012, not including investors, East L.A.' housing market shifted further toward renting, said Ramos.
According to East Los Angeles Community Corporation (ELACC), the homeownership rate was only about 11 per cent in Boyle Heights, far lower than the average 46.9 per cent of Los Angeles County. On the national level, the homeownership rate is about 64 per cent, reported the U.S. Census Bureau.
"In this building, a lot of young families did move in. They are just trying to find a place to live on their own. But for them to buy a house, I believe they are not ready yet. They haven't really mentioned it or talked about it," said Jeremias Tomas, a property manager of Sol Y Luna Apartments on the E. First St.
It is projected that the mortgage rate will stay low after the Federal Open Market Committee decided to keep interest rates at record lows. But according to Fed Chair Janet Yellen, a Fed rate hike, which could affect domestic housing market, is still likely in 2015. The FOMC will host two more meetings this year, in October and December respectively. A Fed rate increase could make home loans costlier and discourage people from buying houses.
Economists predicted that in 2016, more first-time and younger buyers will "take the plunge on homeownership because the cost of renting will keep going up", and that will "make the security of a fixed mortgage payment more attractive to more otherwise content renters," according to a Los Angeles Times article.
Even if predictions suggest that the decreasing cost of buying a house will incentivize more young homebuyers to consider owning properties, in many low-income communities in Los Angeles, it seems that the younger generation are thinking of somewhere else to settle down in the long run.
Sources:
http://www.freddiemac.com/pmms/index.html
http://freddiemac.mwnewsroom.com/press-releases/mortgage-rates-calm-ahead-of-federal-reserve-decis-otcqb-fmcc-1217973
http://la.curbed.com/archives/2015/07/los_angeles_housing_market_bubble.php
http://www.chicagotribune.com/business/ct-mortgage-rates-slip-20150924-story.html
http://www.federalreserve.gov/monetarypolicy/fomccalendars.htm
http://files.zillowstatic.com/research/public/Neighborhood/Neighborhood_Zhvi_AllHomes.csv