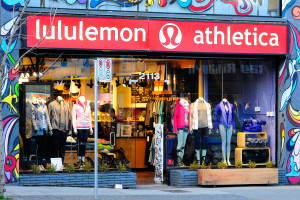 A healthy lifestyle, which includes eating right and working out, is becoming more and more needed as well as advertised in today's society. This boom of working out has frequently impacted people's health, along with athletic wear. Popular athletic apparel companies such as Nike, Under Armor, and Adidas have been the go-to products for comfortable, stylish, clothing to workout in. However, there is a unique athletic apparel company making an impact on consumers in new ways than just style. Lululemon Athletica is a billion dollar company that has established its brand as a top yoga apparel wear and is also influencing the industry in a positive way.
An Established Brand
Lululemon Athletica , also known as LULU, is yoga-inspired apparel which also includes running, dancing, and other athletic pursuits. Its mission statement is creating components for people to live longer, healthier, fun lives. Lululemon's primary target customer is sophisticated and educated women who understand the importance of an active, healthy lifestyle. They have recently expanded in men's and youth apparel. LULU creates the athletic clothing to offer performance, fit and comfort while incorporating both function and style. According to Hoovers, it operates some 250 company-owned stores primarily located in North America. The popularity and expansion of its clothing is making the company a competitor in the sportswear industry.
The Canadian company was founded in 1998 by Chip Wilson and the first retail store opened in November of 2000, by the beach area of Vancouver BC called Kitsilano. The distinctive name was voted in a survey of a 100 people and includes a logo which is a stylizing "A" that represent the first letter in the name "athletically hip," one of the names that was up against Lululemon.
According to LULU's website, the main idea of the first store was for it to be a community hub where people could learn and discuss the physical aspects of healthy living from yoga and diet to running and cycling as well as the mental aspects of living a powerful life of possibilities. However, the popularity of the store grew, making it too busy for employees to help the customers with this concept. This was the determining factor that the company needed to grow.
The Revenue and Expansion
As of February 2015, there are 211 stores in the United States, 57 stores in Canada, 26 stores in Australia, and five in New Zealand. This year Lululemon opened its first store in the United Kingdom and one in Singapore. The company plans on expanding more stores in the UK and Singapore along with opening new ones in Germany and Asia. About 95% of Lululemon's revenues came from North America in fiscal 2014, which is about $1.5 billion. As the company expands in Europe and Asia the international revenue will begin to climb.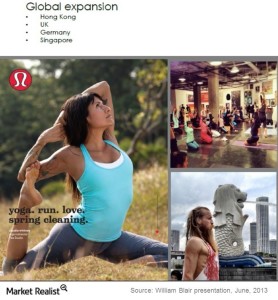 Lululemon has grown rapidly since its creation in 1998. The growth has influenced expansions for more stores in North America along with global expansion. According to its annual report, the net revenue has increased from $40.7 million in fiscal 2004 to $1.8 billion in fiscal 2014. Also in 2014, the company had an annual growth rate of 13%. Increasing from $1.6 billion in fiscal 2013 to $1.8 billion in fiscal 2014. The net revenue was $1, 797,213 billion in February of 2015.
The apparel company is definitely affected by seasonal trends and receives the most profit during its fourth quarter, which are from the strong sales during the holiday season. However, operating expenses are more equally distributed throughout the year. With this being the case, Lululemon's substantial portion of its operating profits are generated in the fourth quarter of its fiscal year. For example, during the fourth quarter of the 2014 fiscal year, they generated approximately 42%, 39%, and 41% of its full year operating profit, making holiday shopping an important factor in its overall revenue.
Marketing a Community
The marketing structure of Lululemon is very unique. Mentioned earlier, their number one target is adult women who pursue exercise to achieve physical fitness and inner peace. Over the last couple years the company has designed clothing for men and athletic female youth who also exercise to achieve the same goals. The increase of the Baby Boomer generation seeking more longevity should also help lead to longer-term growth in the athletic participation. The company believes their consumers' needs are driven by desire of a functional product and the wanting to create a particular lifestyle. Thus, Lululemon trusts their authentic brand is more than just for athletes, but for people who want to lead an active, healthy, and balanced life.
The community in which Lululemon operates in is an important factor for their business. The core of its marketing approach is very community-based and store-centric. LULU has no marketing team and is against advertising, very rarely will you see the brand in a commercial. The company wants to build loyalty and by doing this it creates local initiatives like its ambassador program. The ambassador program is evolved of 1,500 people and extends to unique individuals in store communities who provide the characteristics of the company. As other sportswear companies use star-athlete endorsements, Lululemon relies on the ambassador program in the same way. World-class athletes are a part of the program as well, such as cyclist Ryan Leech and 25 other Olympians. All ambassadors communicate with each other and the stores through an online forum. Social media is also another initiative that allows the company to market its brand.
There are three main channels in which the products reach customers. Corporate-owned retail stores, direct-to-consumer sales, which includes online sales, and wholesales. 80% of sales come from company-owned stores while 15% account from online sales and wholesales bring in the rest.
Lululemon's mission is to provide technically advanced fabrics with a design team who works closely with their suppliers to incorporate innovative fabrics that create the particular product. Some of these product include shirts, tank tops, sports bras, spandex, long tights, leggings, and head bands.
LULU and Competitors  
The sportswear industry is definitely a competitive market. Lululemon competes against many large competitors with powerful worldwide brand recognition that also target women, such as Nike, Inc., Adidas, The Gap, Inc., and Under Armor, Inc. They also compete with other apparel sellers because of the uneven nature of the sports apparel industry. Many of the competitors have advantages because of their longer operating history, larger and broader customer bases, greater brand recognition, and other resources.
Competitors use traditional ways of advertising that are faster than Lululemon, which creates more sales for the competitive companies. This is a down side for LULU. In addition, the company does not own a patent or exclusive intellectual property rights for its products, which makes it easier for its competitors to sell products that have similar styles to LULU's merchandises.
However, according to Lululemon's annual report, the company is more profitable than its peers. The company's retail-oriented model is a factor in the advantage, compared to other athletic goods sellers like Nike, Under Armor, Adidas, and VF Corporation. Sales are very marginal, products sell either through retail outlets or through its websites and phone sales.
Here is a graph that compares Lululemon Athletica with its peers: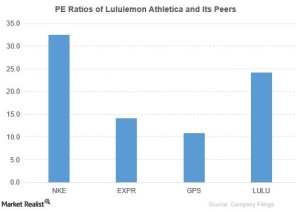 The information provide from the graph shows that LULU has mostly outperformed its peers based on price-to-earnings ratios, except for Nike.
A Happy Work Environment
Working at Lululemon is a distinctive experience compared to other sportswear companies. The goal of the company is to train its people so well that they could in fact positively influence their families, communities and the people walking into its stores.
An employee for Lululemon named Jade Grace went into detail about how the company and its work atmosphere are positive and different from normal retail stores. "Lululemon sets you up to follow your own passion and not necessarily the passion and goals of the company," Grace said, "They encourage you to follow your own goals and what you want and are looking for in life. No other company does that."
Grace also went into detail about how in the corporate world LULU has the highest fire and hire turnover rate because so many people are following their own passion. They get the opportunity to be part of a corporate business and then apply that to whatever life adventure they wanted to actually go on. "The company really encourages you to follow your own dreams and not theirs," Grace said, "In return there is loyalty and compassion the employee will have for the company."
She also believes attention to small detail is what sets them apart from other big sportswear companies. They always want customer feedback and will actually make changes to its products to make customers happy. It gives freedom and comfort to consumers who wear the clothing. LULU listens to what people want and creates better versions of a product instead of just coming up with an idea that consumers may want.
Positive vibes are constantly promoted throughout the store for consumers and employees. "Lulu believes that happiness is a choice," Grace Said, "they believe people who chose to be happy are going to be happy."
Continuing to Grow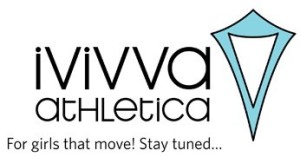 The popularity and demand of Lululemon is forcing the company to make changes and expand. One revenue driver that the company is hoping to rely on in the future is Ivivva, a dance-inspired brand for young girls that was launched in 2009. These stores have increased aggressively and is a key growth driver for the company going forward.
LULU has had a tremendous impact on the US market and will continue to expand. Sales have increased in US stores because of improving labor market and lower energy prices. IN 2017, the company plans on opening 20 new stores in Europe and Asia.
However, as the rapid pace of growing continues, it could be a risk for the company. They may not be able to adapt to the demand and constant complexity of the business. If this were to happen, LULU may result in a loss of market share and a decrease in net revenue and profitability.
Lululemon heavily relies on its brand and the reputation and value it expresses. Though expanding may produce risks that can affect the company, the brand of LULU is what keeps it strong and moving forward in the competitive market. It wants to remain a positive influence in athletics and have an impact on people by being more than just athletic wear, but a way of living.