For some Chinese students studying in the United States, a lot of Hollywood movies might not be accessible for them to watch in movie theaters, if they decide to go back home for vacations. Spider-Man: Homecoming, for example, was released in the United States on June 28, 2017, while the release date for this film in China was September 8, 2017. Thus, for Chinese international students who went back home for summer vacation in May and return back to America in September, they might miss screening period in both countries. Such over two months delay is referred as the practice of Hollywood blackout in Chinese film market, or Chinese domestic film protection months.
[The history of Hollywood blackout period]
The Chinese government has never released any written document to acknowledge the official existence of this Hollywood blackout months, and even in 2012, the Vice Director of Chinese State Administration of Radio, Film, and Television Jin Tian denied in an interview that the Chinese government has even intentionally protected its film industry. Tian said the film market in China is free and is determined by consumers' demand. However, ChinaDaily,NetEase Entertainment, and PeopleDaily all traced the idea of Hollywood blackout back to 2004. When Chinese movie House of Flying Daggers was released in July of 2004, the Chinese State Administration of Radio, Film, and Television gave an oral order to all Chinese theaters that while House of Flying Daggers was on screen, no Hollywood movies were allowed to compete against. The Spider Man 2 and Shrek 2 both got pushed off release date in China. The order worked effectively, as House of Flying Daggers garnished $92.8 million, which was the second highest box office in China that year and the highest box office for domestic movie in China that year. It also broke the record of the highest box office for Chinese domestic movie. In an interview conducted by Sina Entertainment, The Director of Chinese State Administration of Radio, Film, and Television Gang Tong praised the marketing operation of House of Flying Daggers. He said, "this model helped Chinese domestic film industry."
Consequently, such model has kept since then and became so-called Hollywood blackout since Hollywood movies are major component of Chinese imported movies. According to ChinaDaily and NetEase Entertainment, aiming to support Chinese domestic film industry, during summer vacation (June to August), Spring Festival, and National Day holiday week, Chinese government discourages theaters to put on foreign movies, especially Hollywood blockbusters, to compete against domestically made Chinese movies. The term "Chinese domestic film protection months" was created by media and film industry, not an official term.
[How has Hollywood Blackout performed in China]
The Hollywood Blackout has been active in Chinese film industry for twelve years so far.
The Hollywood Blackout did help Chinese movies such as Aftershock and The Founding of a Party to end with an impressive box office.
BUT has Chinese domestic film industry as a whole enjoyed the protection and improved since then?
Not really.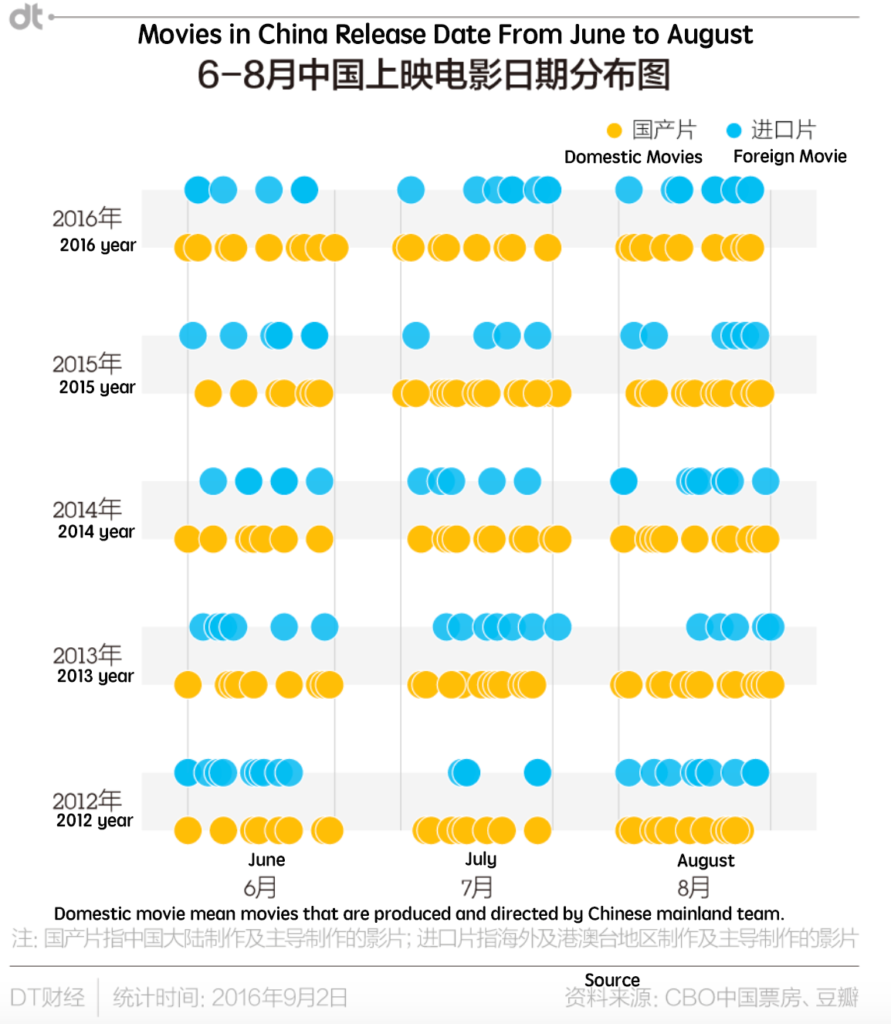 According to Hollywood Reporter, since 2012, the Chinese government only allows 34 imported movies on screen each year. In addition to this quote and the Hollywood Blackout, the Chinese government also has applied strategies such as putting big name Hollywood movies at same period; thus, they are in head-to-head battles to decrease Hollywood movies' box office.
According to Shenzhen Daily, the Hollywood Blackout also resulted a negative competition environment for Hollywood movies since all delayed American movies will massively emerge on theater at the end of August. Shenzhen Daily said Warner Brothers tried to contact China Film Group, a State-owned enterprise which is the only government-authorized importer of foreign films, to delay the opening of "The Dark Knight Rises" to late September, so it would not combat with its another movie "The Amazing Spider-Man" at same period. The Chinese government did not agree. They were both released on September 3rd. They both harmed each other's box office.
Here is the Chinese release date of movies from June to August. The blue dots represent foreign movies, while the yellow dots represent Chinese domestic movies. Clearly, from June to August, there were much more domestic movies than foreign movies on screen. However, the above graphic also indicates that the Hollywood Blackout is not strict as it stated. In July 2013, for example, there was still a lot of foreign movies. BUT Soho Entertainment argues that most of these foreign movies during "Hollywood Blackout period" are not competitive Hollywood movies.
Did Chinese domestic film industry experience a boom during Hollywood Blackout?
The statistics above presents the film row piece rate and percentage of box office for domestic movies and foreign movies during Hollywood Blackout. The film row piece rate indicates the rate of screening of a film in cinemas within a specified time period, which is calculated by dividing the number of screenings of a film in cinemas within a specified time period by the total number of film screenings in cinemas within the same period. The above chart clearly tells that even the film row piece rate of Chinese domestic movies is generally 3-4 times that of foreign imported movies during Hollywood Blackout period, the foreign movies still could share box office half and half with Chinese domestic movies. The only exception is 2015, which was a clear winning case for Chinese domestic movies, but that momentum did not keep in 2016.
Here is a direct comparison of box office between domestic movies and imported movies during Hollywood Blackout Period. Again, 2015 is the only year that domestic movies took significant advantage.
[What Happened in 2015?]
There was a clearly huge boom of Chinese domestic film industry in terms of box office. What happened in 2015? Is this year an isolated case?
According to CGTN, CCTV English Channel, a growing size of middle class and an expansion of cinema infrastructure contribute to this boom of Chinese film industry.  According to the State Administration for Press Publishing Radio Film and Television (SAPPRFT), "A total of 8,035 screens were installed in 2015 — a rate of 22 screens erected every day. China's screen count currently sits at 31,627, while the number in North America is estimated at around 39,000."
In an interview with Deputy Chairman of the Shanghai Film Association Shi Chuan, he said since more theaters and screens were built in smaller cities, more audience could go to cinemas. Furthermore, there was indeed a growing trend of the quality and diversity of Chinese domestic movies, according to Hollywood Reporter.Monkey King: Hero is Back, a 3D animated film based on a beloved classic Chinese story, received not only good looking in box office number but also a positive public review.
However, there was a huge controversy regarding to box office inflation, or even  it should be called fraud. Chinese movie Monster Hunt garnished RMB 2.43billion ($379m) in China and became the highest-grossing film not only during Hollywood Blackout period but also the highest in Chinese  history up to that year.Chinese state broadcaster CCTV addressed an issue that Monster Hunt might conduct box office fraud that many sold-out screenings were actually filled with empty seats. Later, the distributor of this movie, EDKO Film company, admitted that the company gave away RMB 40 million worth of tickets during the final 15 days of its run. In the past, it was a common practice for Chinese movie companies to offer "free welfare tickets" to young children, seniors, police, teachers and the disabled. However, film companies like EDKO took advantage of this welfare tickets and exploited this strategy in order to get their box office number higher.
When the record-breaking Monster Hunt hit in North America, it only got $468 per theater in the U.S., which was the lowest per-theater average of any new film that weekend.
Epoch Times published an article in 2015 that exposed some dirty truths of Chinese box office figures. The article also asserts that "an anonymous executive at a film distributor spoke to Sina about his involvement in a large-scale box office ticket purchase. The distributor had spent over 60 million yuan ($9.7 million) nationwide to boost one film." Some companies also asked their partners and contributors to buy more tickets. The reason is that "even if the movie didn't earn much money by the end, the high box office figure may already have created opportunities for the listed movie company on the stock market." Moreover, the article said high box office in short period of time, like reaching 100 million by the third day, can soon attract media attention. The more media coverage could boost a movie's competitiveness in the market since people tend to go to watch high-box-office movies.
Another unethical practice mentioned in the Epoch Times article is bribing theaters. In exchange, theaters arrange more showing time for their partners, increasing their sales. "According to the Sina report, profits are split 43/57 percent between the film distributor and the theater, respectively."
[Has the quality of Chinese movies improved?]
Not much.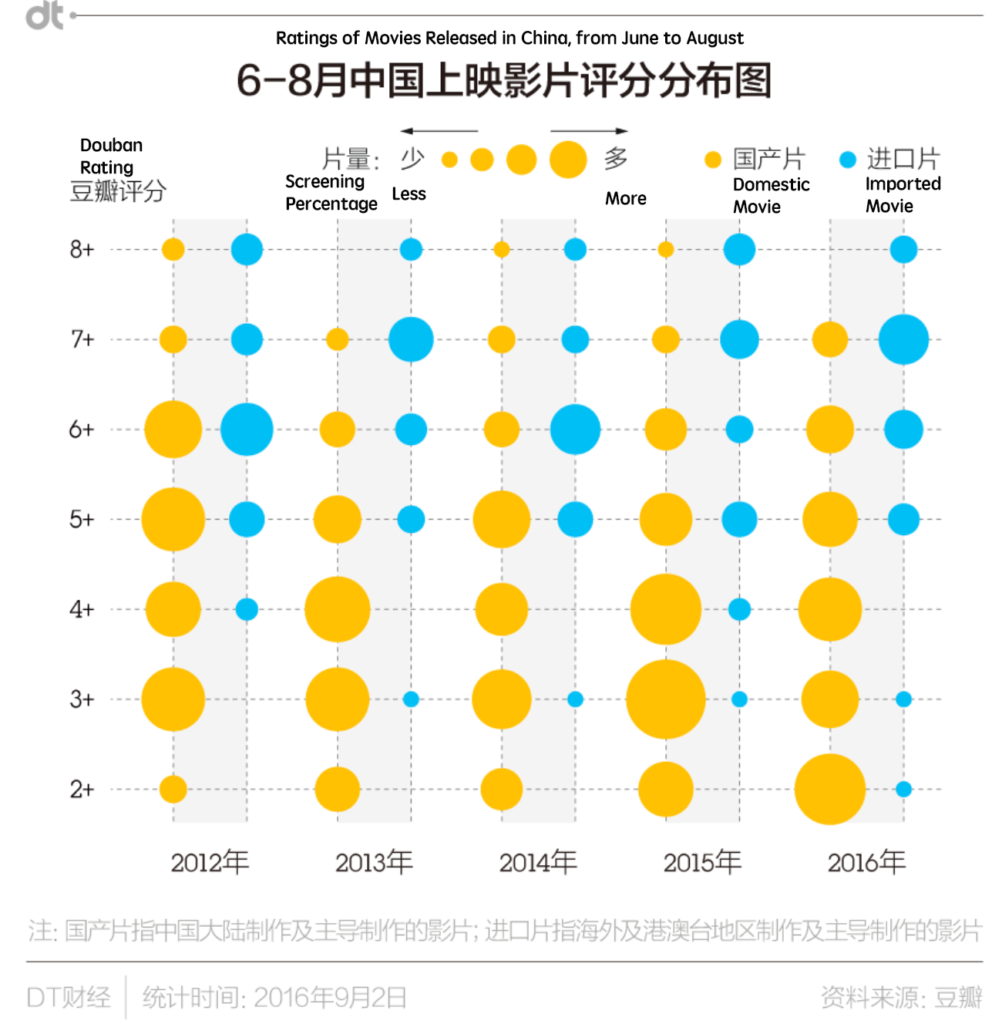 The above chart shows ratings of movies in China during Hollywood Blackout period. The source for rating is DouBan, which is a counterpart of Rotten Tomato in China. Larger dots represent more high screening percentage in theater. Chinese domestic movies with low ratings occupy large scale of screening time in theater. Chinese domestic movies with lower and lower ratings took larger and larger portion of Chinese screen, as the years went. In 2016, movies with 2+ ratings are the largest portion on screen while there was an empty whole for Chinese domestic movie with 8+ rating. It is not a healthy trend. The general public in China is disappointed by their domestic film products during Hollywood Blackout period.
In 2017, China Youth Daily published an article that criticized the effectiveness of Hollywood Blackout. The article first acknowledge the function of Hollywood Blackout that it helped Chinese film industry to claim dominance in the market, battling against Hollywood. It also saves time for Chinese film industry to grow, but the article also argues that current domestic film protection mechanism failed to either help small film business companies or boost high-quality movie products. It only created a domestic capital competition environment. The Chinese movie companies with largest capital won, not necessarily a victory for high quality movies. Consequently, Chinese audience tended to equalize Hollywood Blackout period as trashy movie period. They would wait to go to theaters after Hollywood Blackout. This contributes to the fall down of box office in 2016 during Hollywood Blackout.
[Recent Updates and How to Get Around it]
A good new for Hollywood. In 2016, due to a box office turndown, the Chinese government relaxed the quota for imported movies from 34 to 38. According to the Guardian the quota is set to keep expanding as part of trading deal between President Trump with Chinese President Xi.
Chinese audience is definitely a lucrative market for American film producers. The Fate of the Furious, for example, earned just $215 million stateside but collected $388 million at China's box office.
2017 was a good year and also an interesting year for Chinese domestic movies during Hollywood blackout. Chinese movie Wolf-Warrior 2 grossed RMB5.68 billion($870 million). It defeated Chinese state-military propaganda movie The Founding of an Army. It shows that despite to the all regulation, Chinese audience are able to distinguish what is a better quality movie.
Felicia Chan, a senior lecturer at the University of Manchester said , "I'm not sure if 'preventing too much Western influence' is an argument any more at the Chinese box office, given the numbers Hollywood blockbusters are hitting in China … I suspect (the blackout) keeps the Chinese film industry buoyant, which then allows its players to have more negotiating power with Hollywood."
There are two ways for American film producers to get around Hollywood Blackout.
The first one is to release the movie in May. The Hollywood Blackout only set restrictions that imported blockbusters are restricted to be premiered. However, American movies can get on screen in the mid of May prior to Hollywood Blackout period and can slip into June and July, which are hottest time for people to go to theaters. "Despicable Me 3", for example released right before the blackout period, was the only Hollywood film on the top-grossing list of 2017.
The second way is to co-produce a movie with a Chinese film company. Then, it will not be considered as an imported movie during the Hollywood Blackout and also be exempted from the annual quota of imported movie.
 The Hollywood Blackout could be viewed as a Chinese tariff on imported movies to protect the Chinese entertainment industry. It intended to create an environment for Chinese film companies to grow before they face competition against western counterparts. However, instead of taking this opportunity to improve, Chinese film companies actually were spoiled by this protection period. More and more trashy quality movies are taking larger and larger portion of screening times on theater. The box office has become floated and misleading. Small and Middle Chinese movie companies are not benefited. It becomes an unhealthy market of playing capitals and money that discourages movies' quality but focuses on making money in a short period of time.