Airbnb and its hosts are broadening their business. During the company's annual conference in November, Airbnb's CEO Brian Chesky announced "experience" and "places" will be the two new features joining "homes" on its app. Besides booking a spare room rental, travelers can now use Airbnb to reserve tours and activities.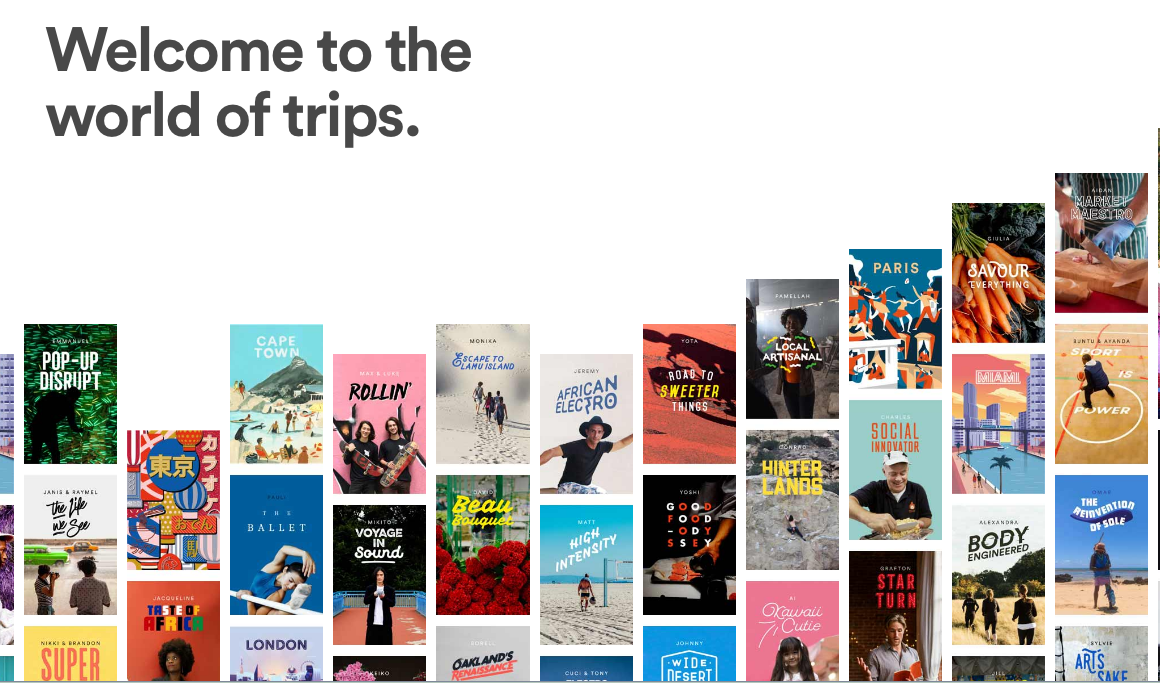 These two new features are design to help travelers to make more in-depth planning and to have a fuller travel experience. The launch marks Airbnb's start of transitioning from a home rental site to an integrated travel-planning platform.
"Places" are the travel guides curated by local hosts or experienced traveller. They are essentially lists of places to go. Hidden artistic corners, must-try restaurants, unlikely music venues, etc. Travelers do not have to pay to read these recommendations. This feature has potential to help Airbnb attract more travelers to view its content. Most travelers like to look for places to go before they take off. Some ask on Facebook, some turn to TripAdvisor. But this new "places" feature offers organized personal recommendations that people can eyebrow base on their own preference.
Some curators may recommend places or activities that they have special access to, and that leads into the "experience" feature. "Experience" allow travelers to purchase travel packages on Airbnb. Currently, about 500 activities are available on Airbnb's app. They are generally more personal and sometimes more creative than the tours from travel agency. For example, travelers can connect to a film producer who can put up a set for them to try out acting. Or they might stay with ranch owner for a few days to ride horses and harvest fruit. Most of these experience packages have activities on multiple days, cost anywhere from $200 to $1000 and provide amenities such as food, drink and tickets. Like home rental, the experience service providers are also individual hosts; Airbnb remains a platform for people to share and meet.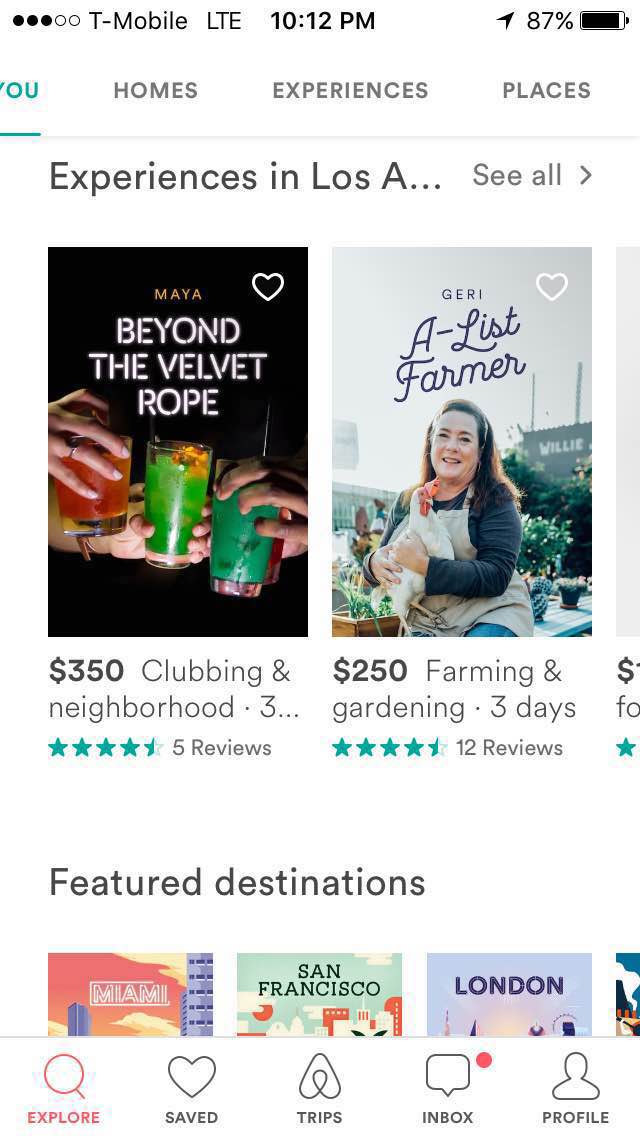 The expansion didn't come from sudden. Airbnb has been planning and testing on this launching since a while ago. A "journey" feature was tested in the bay area last year, which encourages hosts to plan a whole trip for travelers. In August this year, an app called Airbnb Trip was available briefly on Google Play Store. Similar to "experience", Airbnb Trip allowed users to reserve activities in their destination, such as booking a restaurant or connecting with a tour guide. In September, Airbnb acquired a travel site called Trip4Real, which also emphasize on unique local experience. The fact that Airbnb raised $850 million in capital this August at its $30 billion valuation also signals a big move.
It is quite an ambitious transition for a company that has only be in the competitive market for a few years. But Airbnb isn't afraid of trying, because it has the strongest supporters. The annual conference held three days in Los Angeles's Orpheum Theatre. Although the admission was between $275 and $345 — and Airbnb does not pay for that fee, over 7000 excited hosts from all over the world still rushed to L.A. Many applied to be hosts of "experience", but the company decided it was going to be more selective at the beginning. Depending on the market needs, there should be more "experience" hosts joining the party.
Hosts are supportive of Airbnb's new attempt because they are benefited by Airbnb's operation. Chinese e-commerce giant Alibaba created Taobao and became the most popular online trading site; one of its keys to success is that it provided individuals the opportunity to become business owner. Similarly, Airbnb offers a chance for individual homeowner to become a host. As of July 2016, listings on Airbnb has exceeded 2.3 million. Some people even make enough that they decide to run b&b full time. Gabrielle Catania for example, owns a house in Oregon that has four guest rooms. Her place is always reserved as she keeps getting fantastic complement on the breakfast she made. Gabrielle spends at least an hour preparing breakfast for her guests. Apple rose is her favorite desert to serve. She enjoys being an Airbnb host, because it gives her a chance to meet guests from different background while making enough money.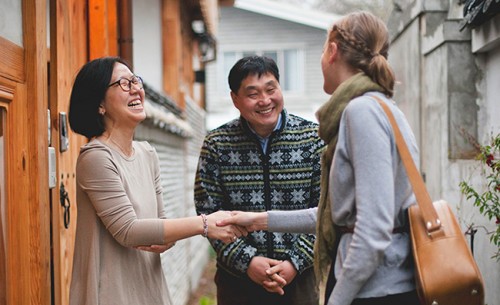 Airbnb's influence over the hospitality industry has been rising drastically since 2013. According to Forbes, Airbnb over 100 million travelers have used Airbnb's home rental service. The average number of nightly stays is about 500,000. And the valuation of the company has exceeded hotel giant Hilton; about five times of Hyatt.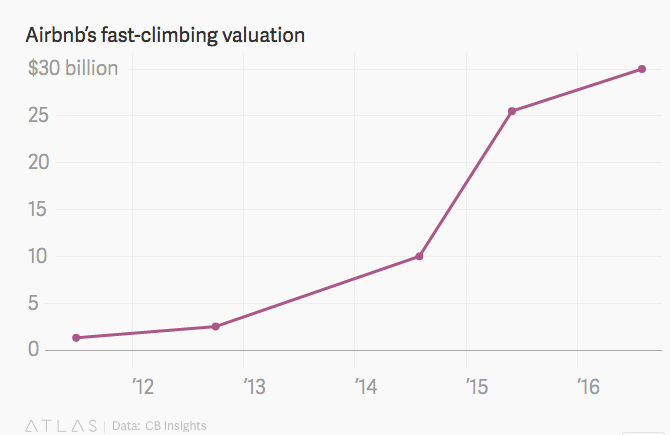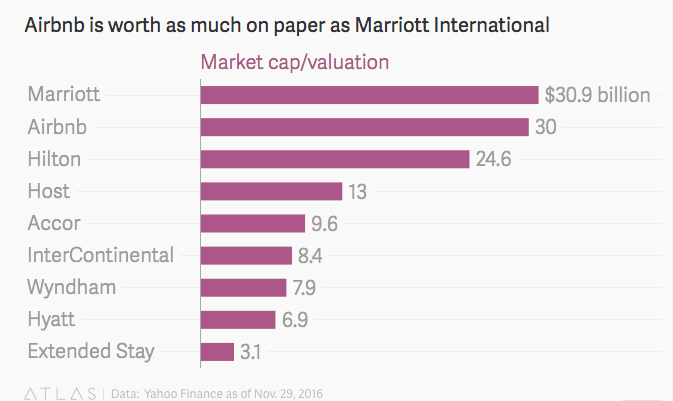 It succeeded for a reason; Airbnb came in at a perfect timing with extensive understanding of the market and consumers. There are always people with extra space in their homes; many even have extra houses. While renting in long term can be troublesome, many welcoming homeowners are willing to rent short term to travelers. There is supply, and there is demand. Internet has encouraged a culture of sharing. Travelers nowadays are often not satisfied with traditional hotel experience. They want a sense of excitement and belonging for their journey. More importantly, they are usually on different budgets. This is when Airbnb kicks in. It partners with homeowners to offers unique accommodations that feel like home at various prices. Travelers can choose to pay $40 a day to live in a tiny tidy single room in Monterey Park, or they can reserve a beautifully designed luxury villa in Malibu that costs $1500 a night. The prices are very flexible, because the market demand is generally high, and it isn't too difficult to enter the competition and become a host. So even on a relatively low budget, travelers can still compare and choose from different home styles. They like to be able to choose, so they keep coming back.
The home rental is already making great success. But Airbnb still decides to expand its business, because finding a place to "live" is just the start of a great journey. They are aware of this long before they launch these new features. For a long time, Airbnb has been using slogan "Live there, even if it's just for a night," to encourage travelers to value their "living experience."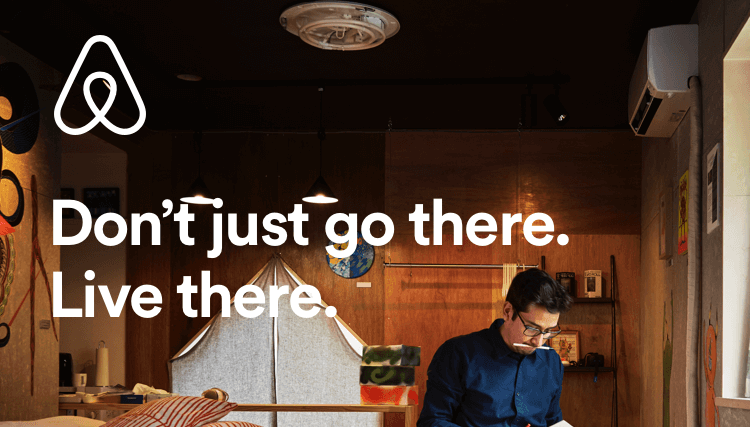 But there might be other reasons why Airbnb is expanding to promote travel experience. As a platform, sometimes it is hard for Airbnb to background check every host. Many authorities are worried about some of the listings fall foul of laws, so they try to make policy to implement stricter regulations. The state of New York passed law in October to curtail Airbnb and other short term rentals. To ease the worry, Airbnb has been "compromising" by being transparent to the public and releasing users data. Although the enforcement has been postponed, the future of short term home rental in New York cannot be guaranteed. Airbnb needs an alternative, a new area of business to support its operation if any unpredictable happens.
While Airbnb is making a reasonable business expansion, there might be other problems to consider. Airbnb's selling point is that its activities are provided by local experts, but many local travel agencies have already been in the business for a long time and know the area very well. Although localization is always on the top of Airbnb's mind, it cannot guarantee its experience packages to be better than what travel agencies offer. Some hotels may find it hard  to keep up with Airbnb because they have established environment, but travel agencies can easily adjust their travel plans and make them more exciting to compete with Airbnb and its proud hosts. At the same time, these local agencies have better relationship and understanding to the government.
Airbnb also needs to be smart on communicating with its hosts if it wants to remain outstanding in the competitive local market. Afterall, Airbnb relies on the hosts to provide great experiences to the customers. It does not interact with the travelers directly. So how can I insure the uniqueness and quality of the service? In a long term, that can be a challenge.
Reference:
https://www.theguardian.com/travel/2014/jul/08/airbnb-legal-troubles-what-are-the-issues
http://www.wsj.com/articles/the-enforcement-of-airbnb-law-postponed-again-1478305423
Airbnb releases first transparency report on government requests for user data
http://www.forbes.com/sites/briansolomon/2016/07/13/airbnb-confronts-racism-as-it-hits-100-million-guest-arrivals/#4fab57e41c3c