After more than two decades, the Supreme Court has agreed to hear the repeal of the Professional and Amateur Sports Protection Act. PASPA, a federal law enacted in 1992, outlaws single-game sports wagering outside of Nevada. While opening arguments will commence in early December, a decision will likely not be reached until early 2018.
Still, this is the furthest that the argument for a modernized and regulated sports betting market has ever reached. A decision in favor of repealing the law, which the state of New Jersey has claimed is unconstitutional, can unlock a market worth several billion dollars.
Leagues have tried to distance themselves from gambling, however, as disruptions occur, gambling has become the newest medium for sports fans and even non-sports fans to enjoy the game.
Leagues now find themselves in unfamiliar territory and must adapt to the future while upholding the integrity of the game or be left behind. A regulated and legalized market across 50 states could prove to be the catalyst for major change and the loss or gain of billions of dollars.
Fortunately, while the Supreme Court gears up to hear opening arguments in this case, leagues across the world have begun to prepare for what is seen believed to be the inevitable. Through partnerships, changes in stances, and sponsorships, leagues have been preparing for quite some time.
PASPA was enacted to protect the sanctity of the game. Fears of point shaving and match fixing forced the public and Congress to accept a bill that would seemingly fix such problems. Prior to PASPA states such as Oregon and Delaware offered sports parlay cards through their state lottery. However, in the years since daily fantasy leagues have taken their place in American society, sports leagues have taken sponsorships from casinos, and most importantly have led way to an offshore illegal market worth $150 billion.
Take for example the popular NCAA March Madness tournament. The annual affair draws fans from across the United States to fill out tournament brackets in which they predict who will move on.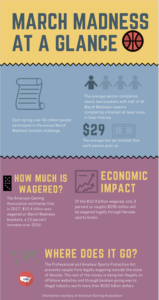 In recent years, more and more fans have turned towards wagering their picks online through various websites such as Bovada and BetUS. There can bet on individual teams, current matchups, future matchups, and the title game itself.
The American Gaming Association estimates that roughly 40 million people fill out 70 million brackets with the average bet per bracket hanging around $29. This year, the AGA estimated that Americans wagered $10.4 billion dollars on March Madness, but only 3 percent, or roughly $295 million, will have been done so legally through Nevada sportsbooks.
While the Supreme Court has agreed to hear the repeal of PASPA, it does not come on the heels of the unfounded fears against match fixing or the billions of dollars being pumped into organized crime, but rather if PASPA violated the 10th amendment and state sovereignty when it was enacted. Nonetheless, the result of this decision can lead way to ending such widespread problems.
SportRadar, a company that deals with sports data related to teams and players partnered with three of the four biggest leagues in the United States. The company provides real-time statistics for NFL, NBA, and NHL games and players. In addition to providing statistics used by broadcasters and bookies worldwide, SportRadar also monitors and reports on unusual betting trends. The company is also the parent company of BetRadar, a major player in the gambling industry.
Likewise, the MLB which represents the fourth biggest league in the United States, has a partnership with Genius Sports, which acts in the same manner as SportRadar. Its executives met with sportsbook operators in September to gain a better understanding of how the industry operates.
These partnerships with data companies provide a stark shift in stance compared to just one decade earlier, when representatives from the four major leagues filed a letter dismissing the idea of monitoring books and the data that make them up.
Apart from partnering with outside agencies, the NFL and NHL have both elected to move and create franchises in Las Vegas. The Oakland Raiders of the NFL are set to arrive in 2019, while the Las Vegas Golden Knights opened play this past month.
Attendees of Golden Knights home games will be able to readily bet within the confines of the T-Mobile Arena. The NHL had the opportunity to file a prohibition preventing sports betting from occurring as the game happens, however, elected not to.
The NFL in recent years has held games in London, where sports betting is regulated and legal. Outside of moving the Raiders to Las Vegas, the NFL has also eyed creating a franchise in London where it is set to play several games this season featuring marquee teams. Fans at these games are can bet on their phones and outside in the streets before, during, and after the game. The ability to gamble in-game without the result being compromised is a look at the potential for such a feature in the United States.
NBA commissioner Adam Silver wrote in 2014 in the New York Times, "Times have changed since PASPA was enacted," Silver said in his piece. "I believe that sports betting should be brought out of the underground and into the sunlight where it can be appropriately monitored and regulated."
Should PASPA be repealed, over a dozen states have already filed legislation this year that would permit wagering on sports in some way. The AGA estimates that a legal sports betting market would provide over 150,000 in jobs, a substantial estimate given that a large majority of gambling takes place online and not physically.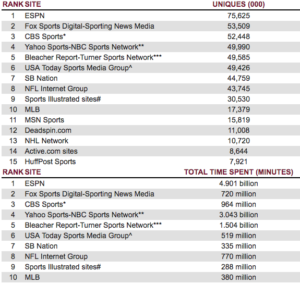 Steve Doty, director of media relations, says that the company is committed to moving past PASPA in favor of a legal and regulated market. "AGA is committed to overturning this failing federal ban on sports betting; once it is removed, AGA looks forward to leading the conversation in states across the country to educate local lawmakers on sports betting.
Company Eilers & Krejcik Gaming has taken a conservative approach to estimating the potential for a legal and regulated betting environment. They estimate in a base case that by 2023, if 32 states were to legalize sports betting in some form, the market will be worth approximately $6.03 billion in annual revenue.
If every state were to legalize gambling, including online wagering, the number expands to $16 billion, which comes from $245 billion taken in. While $245 billion is estimated to be taken in keep in mind that a large portion is often paid out.
All of this comes on the heels of a Washington Post poll published in September, which sees more than half of Americans supporting a legal and regulative sports betting environment. 55 percent approve of such an environment, which serves as a considerable shift from nearly 25 years ago, when PASPA was first enacted and 56 percent of Americans disproved of legalized sports gambling.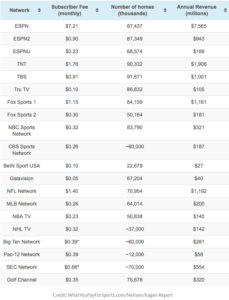 In the decades since PASPA was enacted the landscape of gambling and sports has grown closer and as with such more people are willing to accept it as a medium. While sports and the leagues that govern them did their best to distance themselves, they can't help, but find themselves growing closer together. One factor to this close relationship is the rise of fantasy sports.
In 1988 before the dot com boom, Fantasy Sports Trade Association details that an estimated 500,000 players were engaged in weekly/daily fantasy sports.
Between 1991 and 1994 that number grew upwards to three million and now in 2017 has reached an all-time high of 59.3 million people.
Amongst leagues themselves people began to bet on individual games and between each other's teams. This interest would lead way to companies such as DraftKings and FanDuel to sprout up and offer daily fantasy sports with the benefit of being able to bet and win money with people from across the United States.
The act of fantasy sports gambling is not inherently illegal even though it requires users to pick players from different teams and earn points based off their real-life performances.
Eventually more sophisticated gambling involving parlays and futures among other means would find its way into sports fans lives and lead way to the multi-billion-dollar industry aforementioned.
All of this begs the question: Why are leagues finally warming up to any of this? The answer is a lot simpler than most would imagine.
It's no secret that television is a dying medium. The age of cord-cutting is fully underway and more and more people are cutting their cable bill down or outright eliminating it altogether. In some instances, people have turned their attention to online streaming services such as Hulu or Netflix and in other instances people have left television behind altogether.
This greatly impacts sports as a large majority of league revenue comes from various deals that allow channels such as ESPN and Fox the ability to broadcast games and utilize footage across their various platforms and shows.
Take for example ESPN and the NBA. In 2014, the NBA struck a deal with ESPN and Turner Sports for nine years, $24 billion, a 180 percent increase in money for the league.
With such a large deal it can be assumed that ESPN is drawing record viewers and must keep up with the demand, however, that cannot be further from the truth. Reuters reported that ESPN is losing viewers at an alarming rate. 88.4 million households carry ESPN as of December 2016. In February 2011 that number was well over 100 million.
Not only are more and more ditching cable, but their simply not tuning in. The NBA recently faced a problem in which marquee players such as Lebron James and Stephen Curry opted not to play in throwaway matchups in favor of rest, knowing full well that their teams would make it to the postseason.
While the league has done its best to limit that issue this upcoming season by working around the schedule to limit the number of back-to-back matchups, the problem remains. The Wednesday matchup that ESPN paid millions to bring to viewers between San Antonio and Golden State is now boring by default. Less viewers equals less advertisers and less advertising dollars puts companies like ESPN in the red and eventually force them to lay off staff to cope.
When the nine-year deal between the NBA and ESPN is up and the numbers are looked at, the NBA and ESPN will strike a much lower deal if any deal at all. The NBA will now be out of billions and will need to recuperate it in some way.
As with such leagues such as the NBA must pivot now more than ever to where fans are currently flowing and that is the world of gambling. Daily fantasy sports as well as gambling parlays and futures are currently dominating fans as the newest way to enjoy the games and make some money as well.
It's highly self-contained and does not require participants to sit down and physically watch the game. In-fact many of these websites carry with them explainers on how to get involved as well as daily articles relaying information on why (X) team is expected to win over (Y) team and why player (A) is projected to hit a homerun against pitcher (B).
Utilizing factual statistics brought to participants by the various data companies outlined above is more logical than listening to hosts and commentators rant about the intangibles of the game such as why player (C) does not historically play well at sundown in Houston in October on a Tuesday. Suddenly, now even the shows on these networks become an even bigger afterthought then the games that drive the conversation.
Leagues are now in a way forced to move towards the future for fear of being left behind. At the same time, there is a lot to fear if you are a commissioner of any one of these leagues. Because the leagues themselves will not hold individualized betting websites sponsored by them, they must think of new ways to drive revenue.
The partnerships outlined above are one such example as are sponsorships such as DraftKings owning a restaurant within the Staples Center which is home to several professional sports teams.
However, partnerships and sponsorships alone are not nearly enough to make up the billions that will eventually be lost in television deals. In a potential future where television viewership is in the low millions and attendance continues to stagger, how can leagues and individual teams turn a profit.This is what makes the December opening arguments for PASPA interesting and most importantly, supremely significant for leagues.
https://www.huffingtonpost.com/entry/just-admit-the-nba-deal-is-screwing-you-espn_us_58d98250e4b0e6062d92300f
Poll: For first time, majority of Americans approve of legalizing sports betting – The Washington Post
Recent U.S. gambling legalization: A case study of lotteries – ScienceDirect
U.S. Sports Betting: A Sector On The Cusp Of Major Change | GamblingCompliance
Gambling – Where does sports betting legalization in the U.S. stand right now?
Sports Betting Ban Has 'Perverse Effect,' Says Casino Group – Poker News
NFL's presence in UK shows how gambling can be done
March Madness Betting to Top $10 Billion | AGA