For many Americans, this time of year is filled with family memories, food, and celebrating holidays.  But for over 74.5 million, this time is also associated with intense shopping for Christmas presents and overcrowded malls.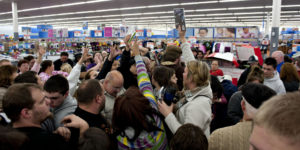 The day after Christmas, otherwise known as Black Friday, is typically a time where many Americans head to their local malls in search of door buster deals and savings.
Studies estimate that over 30% of an average retailer's sales comes from the six-week time period from Thanksgiving to Christmas.
Although almost 100 million Americans are still choosing to shop on Black Friday, and now over Black Friday weekend, the number of Americans has been declining over the past few years.  In 2015, 102 million shopped over Black Friday weekend but when compared to the 2014 numbers (133.7 million), many people are choosing to not partake in the Black Friday festivities.
Black Friday, although still very popular, is no longer becoming the buzzy, attractive thing to do the day after Thanksgiving, as the popularity and willingness of Americans to brave the crowds for a deal declines.
So, why are sales and the number of Americans choosing to shop declining?  As many currently believe, the economy is doing much better than in previous years, so sales should be increasing.
Experts believe that one of the factors leading to the decline in Black Friday shoppers is the lack of credit card debt.  Many shoppers currently are using their own money, or cash, to spend on Black Friday consumption, rather than credit cards.
Also, many people throughout the country are still very concerned about the economic state of the United States, as people are still recovering from the recession and economic crisis of 2013.
Many also attribute the decline of shoppers to the increase in online shopping.  Many of the big-box consumers, like Target and Walmart, offer the same low price deals online.  This encourages many to stay home and avoid the crowds while still being able to save and get the deals that they are looking for.
In 2015, the National Retail Federation (NRF) reported that more Americans shopped online the three days after Thanksgiving than in stores.
While many large retailers look to Black Friday for a substantial portion of their sales, some stores, like REI have chosen to close down on Black Friday completely.  REI now encourages their customers to #OptOutside and pays all their employees time off for the day.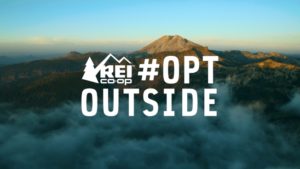 In an interview with Business Insider, REI CEO Jerry Strizke said that he wanted to make a statement against the trend of opening around a national holiday. "I was looking at the chaos of Black Friday and how more and more stores were opening on Thanksgiving and it just didn't feel right."
Although Stritzke might feel this way and take a stand against Black Friday shopping, no other retailers have made this move to shut down so far.  As shopping numbers decline, will other retailers decide this is a change to make as well?
http://www.businessinsider.com/rei-closed-on-black-friday-2016-11
http://www.economist.com/blogs/economist-explains/2015/12/economist-explains
https://www.thebalance.com/what-is-black-friday-3305710