The Automobile Industry
The automobile industry today: an industry that is exhausted with a plethora of options for the consumer to choose from. This is a market that is innovative, changing, and advancing on a daily basis to meet increasing consumer and environmental needs.
General Motors (GM) is an American multinational corporation that designs, manufactures, markets and distributes motor vehicles and parts. GM was founded in 1908 and has played pivotal role in the automobile industry since its inauguration. With that being said, I am going to take a deeper dive into the mission and ideas behind Tesla Motors for the remainder of this post. Tesla was founded in 2003 in the city of technologic innovation, Silicon Valley. Elon Musk and the other cofounders believed from the start that it could become a standalone leader in a market that was already extremely saturated and highly competitive. Tesla sought to create an electronic vehicle that would be an integral part of a company that is now referred to as a hybrid between an American automaker and "energy storage company".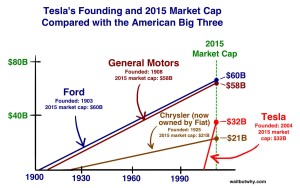 "Tesla's mission is to accelerate the world's transition to sustainable energy."
We look at two companies, on opposite ends of the spectrum; Tesla – a company looking to quickly gain market share, compared to General Motors who has been in business for over 100 years. Both share a common purpose of serving consumers with the power of a motor vehicle.
Small Fish in a Big Sea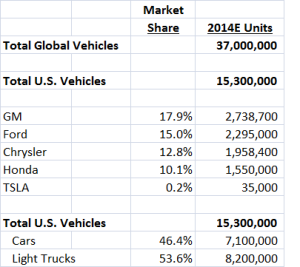 This is where the story begins. The thing is, Tesla Motor's valuation is ¾ of General Motors. However, its production makes up only a tenth of GM. Currently, Tesla's market cap is at $29.2 billion in comparison to GM's $48.5 billion. Looking closer into this situation, it is important to understand that the automobile industry is all about scale.
Car companies are competing with similar products. A standard vehicle is no longer appealing to the millennial car buyer. It is companies like Tesla who are being rewarded for its innovation, which has allowed them to capture market share in a competitive space. Tesla has taken risks, risks that have surely paid off and will allow Tesla Motors to grow as it continues to roll out new vehicles in the future.
Tesla is breaking every rule of what a car company should be and investors are rewarding it for doing so. All, telling by the market valuation and how investors are reacting to its stock (TSLA).
Cars or Energy? Pick One…or Both.
As mentioned earlier, Tesla has also been referred to as an "energy storage company". Co-Founder and CEO, and Product Architect, Elon Musk, truly believes that there will be a future when all vehicles will depend 100% on electricity or alternatives to gasoline and oil. Tesla will stand by this motto and become a supplier of electric parts to gain the cooperation and ability to work alongside other car makers. By doing so, Tesla has the capability to continue to dominate the electric vehicle industry by becoming a supplier that other makers will soon rely on, in order to grow and flourish.
Knowing Tesla's Executive is a Musk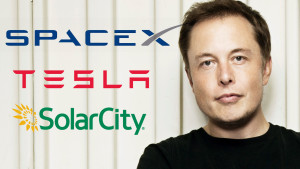 It's imperative to get back to Tesla's roots and the man behind the magic. Elon Musk is running the show of this technologic
al craze. In 1998, he co-founded PayPal, an online payment service company that was entering a market, which was moving quickly and attracting the
introduction of new, innovative products/services each day. Tesla, similar in a way, is a cutting-edge, innovative, brand new product.
Musk is an innovator, always thinking of new ways to better his projects. He is trying to "disrupt an established and technology-adverse industry" by the power of the Tesla. Due to his many controversial and outlandish ideas, questions have risen regarding his leadership and direction with the company.
After reporting its first profitable quarter on October 26, 2016, there are still many consumers who are hesitant to pull the trigger. Many people are satisfied with the car companies they already trust and are scared to take the leap of faith. However, those who have started making the switch have been seen in increasing numbers as time passes. Tesla's newest Model 3 sedan has over 375,000 preorders.
Investing in Tesla

Being that Tesla's concept is completely new to the consumer, it is frightening, yet, exciting. This is the future and investors are seeing this through Tesla's growing stock price. So great that,
"automobile manufacturers have entered a race toward
s the development of sustainable cars, and shifts in customer demand will drive production in the future."
Investors are trusting this company by looking at its growing numbers in sales. Its projection rates are growing astronomically and the car maker is being faced with manufacturing inventory challenges today. Although seen as a challenge, this is an issue that most companies want to be facing. It is incredible that investors have wanted to trust this company from the beginning all because of its concept and the man behind the madness. Tesla Motors just recently became a profitable corporation; however, that did not stop investors from trusting this technologically-savvy vehicle from its inception.
Musk has provided our world with the future; a vehicle capable of technological, energy-saving power that one could have never dreamt of actually operating on the roads today. This is a vehicle of its own.
It's ALL good, or is it?
We must take a step back as it is crucial to analyze Tesla Motors's values and initiative as an automobile and energy storage company. Is Tesla moving too fast all at once? Yes, I firmly believe it is great that they have been able to single-handedly dominate the electric vehicle space, but more distinguished and respected automakers are headed directly for them because they see this being the future.
More recently, Tesla has announced that is not only is going to continue to just dominate the space of electrical vehicles, but also solar energy. Let's evaluate this company as a whole. It has been able to grow its production from 50,000 vehicles to over 500,000 in just three years. The numbers are incredible, making leaders of this company only want to try new things and continue to be a relevant name in the technological, energy-saving industry.
The Path to Success is Up in the Air
It might be a good idea for Tesla to focus on one specific thing. Should they be focusing on the idea this company was created on in the first place, electric vehicles? Or, should Tesla focus more on research and development in the alternative energy space? When we look at Musk from an outsider's perspective, it seems like focusing on one product at a time will not be the case.
Though it does not appear that Tesla is taking any initiative to slow down, it is imperative to look at all aspects of the empire in regards to this automobile maker. There are a lot of obstacles that Tesla is willing to face head-on and by thinking together critically, we too can discuss the future of Tesla Motors for the betterment of the investor, the company, and its stakeholders.
Sources:
http://themarketmogul.com/teslas-road-to-success-is-not-car-manufacturing/
Castellanza, Luca. "Tesla's Road To Success Is Not Car Manufacturing." The Market Mogul. N.p., 15 Aug. 2016. Web. 10 Nov. 2016.
http://www.usatoday.com/story/money/business/2016/08/20/tesla-gigafactory-lithium-ion-batteries/87684228/
McDonald, Michael. "The Key Challenge to Tesla's Growth." USA Today. Gannett, 20 Aug. 2016. Web. 10 Nov. 2016.
http://money.cnn.com/2016/11/02/technology/tesla-solar-city-solar-roof/index.html
McFarland, Matt. "Tesla Is Killing off the Ugly Solar Panel. But There's One Problem." CNN Money. N.p., 2 Nov. 2016. Web. 10 Nov. 2016.