Introduction
            Throughout the past fifteen years, the shifts in technology that have consumed our society have been dramatic, changing the way we conduct every day simple tasks and have altered business models in all different sectors of industry.  Although this can easily be attributed to modification in transportation (Uber), or hotel accommodations (Airbnb), this technological shift and advancement is very evident in the entertainment and music industries as well.
Over the past fifteen years, the music industry, and label conglomerates in particular, has dramatically shifted from a business model focused and reliant on physical album sales to a full service firm offering record production and distribution (that is mostly digital) and other ancillary services of the music industry, such as touring, brand partnerships, and merchandise.  With a reported loss of over 60 percent of revenue over the past fifteen years annually, it has been very clear to these huge, multi-national conglomerates that changes are needed in order to survive in this ever-altering industry.
The three major record labels, Sony Music Entertainment, Warner Music Group, and Universal Music Group, to be discussed in further detail, have taken years to catch up to the evolving technology and consumer demand of our current world, but are working to monetize and turn a strong profit on the world's biggest artists and names in music once again. Although the days of selling just physical album sales are now over, the music industry is far from dying.
History
Universal Music Group, also known by many as UMG, is one of the current global leaders in music.  With over a 30% market share, UMG is considered to be the leader in the industry with a majority share in the global music market.  With this leadership and majority comes with responsibility, as many other companies in the industry, like other label conglomerates, indie labels, management companies, and live ticketing companies look towards the labels and their sales revenues as economic indicators, using them as a clear way of determining the health and vitality of the global music industry.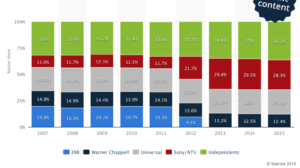 The current music industry as we know it, with the three key players – UMG, Warner Music Group and Sony Music Entertainment, was born and created in 2011 with the acquisition and consolidation of EMI and Universal Music Group.
UMG has the largest market share, with a 36.2% share in 2015, followed by Sony with a 28.3% share, and lastly Warner with a 23.1% share.  Independent labels, in 2015, had about a 12% share in the global music industry as well.
2011 was a pivotal time for the music industry, as many lasting changes occurred, shifting the climate of music to today's current state.  In January 2011, Lucian Grainge was appointed to CEO and then quickly chairman of UMG.  In November of that year, it was announced that EMI, a then big player in the industry would be splitting and merging, selling their recording business assets to UMG for $1.9 billion, and selling their music publishing to Sony for $2.2 billion.
The merger, which quickly changed the landscape of the music industry, was approved by the European Commission and the Federal Trade Commission in Europe and the US, respectively.  This merger changed the music industry landscape overnight, as UMG quickly became the world leader in recorded music and dominated the industry setting.
However, during this time period, the landscape of music purchasing was also changing, with the introduction of digital sales and iTunes, and soon after streaming. iTunes was revealed in 2001 by Steve Jobs at the 2001 MacWorld Expo, and quickly gained traction throughout the world.
In their first press release published in 2001 releasing iTunes 1.0, Apple stated, "iTunes is miles ahead of every other jukebox application, and we hope its dramatically simpler user interface will bring even more people into the digital music revolution."  As this all became true over the next ten years, it is almost impossible to believe that the instigators of iTunes believed that it would transform the entire music as it eventually did.
It is estimated that iTunes sold over one million songs their first week, with only 200,000 songs available for purchase and download.  By working with the major labels themselves to make sure that their catalogues were available to be purchased, iTunes quickly became a massive music seller.  By 2007, with the release of the first iPhone, Apple became the largest technology company in the world, owning all aspects of our technology-filled lives from the hardware to the content we were consuming on our devices.  And, by the end of the 2000s, iTunes accounted for 26.7% of US sellers, serving as the number one seller of music in the US, either physical or digital.
With the iTunes revenue models, labels quickly began to work with Apple to ensure that their artist and their firms would be receiving adequate compensation, as they realized that the current trends of consumers would quickly begin to shift from physical album sales to singles sold online and downloaded digitally, a la iTunes.
However, by Spring 2011, just as UMG and EMI announced the acquisition, Spotify, a Swedish startup announce that they had just reached over one million subscribers globally and quickly launched in the United States by Summer 2011.  Over the next few years, Spotify and other streaming services would quickly change the entire landscape of the music industry, forcing the major label conglomerates, artists, and other key players to make key adjustments in order to survive in this changing market.
Current State of Affairs
            Although many people, especially consumers, today, believe that the music industry is dying and label conglomerates are no longer relevant or prominent in the world, quite the opposite was just recognized, as a new study revealed that the music industry is currently thriving. Even though streaming has easily passed physical album sales as the top way that consumers listen to their music, over the past few years, major conglomerates like UMG have developed new revenue models in order to sustain their businesses.
On November 10, 2016, Universal Music Group revealed their quarterly earnings for Q3 of 2016 and many
people were shocked.  In the first nine months of 2016, UMG reported earnings of over 3.6 billion euros.  This was a 3.8% growth compared to last year's numbers.  UMG is currently more profitable than Spotify ever has been and is currently on track to have their best year since they were acquired by Vivendi over ten years ago.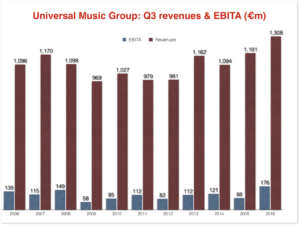 Music streaming, in its current state, is expected to bring in close to $6 billion in revenue this year, and is expected to have an annual projected growth rate of 14.3%. (Statistica) With this massive growth in streaming, revenues for the major labels, like UMG are expected to rise in the streaming category as well, with revenue of over $1 billion for UMG alone already reported for 2016.
Streaming is expected to only grow immensely in popularity, as there is projected to be over 1.2 billion users of streaming services by 2021 with a steady increase from now until then.
Diversity of Services
One of the ways in which labels have begun to combat the changing tides of the music industry is to seek out and obtain alternative revenue sources for their artists.  In order to combat the lack of revenue that came from the change to streaming and digital downloads, labels like UMG had to look for alternative ways to make money.  So, they began to sign their new artists to a new type of deal called a "360 deal."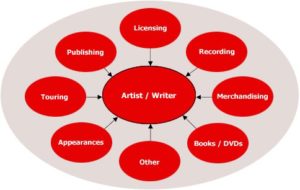 The deals demand a portion of the artist's income from record sales, streaming, touring, merchandise, publishing, brand partnerships, and any other type of revenue you might think an artist can receive.  Deals are estimated to range from handing over 5-50% of revenue to the label and can vary on the types of services and revenue streams included depending on the size and career strength of an artist.
Labels, like UMG, have begun to use this model, as they believe that they are investing in the careers of these artists and deserve to be compensated as such.  Because the lack of revenue coming from album sales has hindered their profits, many label heads believe that 360 models will allow them to remain profitable in this ever changing industry and support the artists that they have worked to develop and chosen to put their resources behind.
Artist Perspective
            Today, in 2016, many artists no longer believe that a major label conglomerate is necessary for success and profitability in the music industry.  Just a few days ago, the 2017 Grammy nominations were released.  Many believed that 2017 would serve as the Grammys that changed the music industry, as the Recording Academy was believed to focus on highlighting artists who were not signed under a major label and changed the landscape of the music industry based on their individual decisions.
Although many of the artists (including all of the Artist of the Year nominees) are still representing major labels, one of the most notable non-major label artists nominated is Chance the Rapper.
Chance the Rapper received seven Grammy nominations this year, only following major label artists Drake, Beyoncé, Rihanna, and Kanye West.  Chance received more nominations that Justin Bieber, Sia and David Bowie, all major label artists as well.
Chance, who is not signed to a major label, is known for releasing his music for free and only on streaming sites. His latest album, Coloring Book, was only released on streaming and is the first digital-only album to be nominated for a Grammy.  The album charted on the Billboard Top 200 with over 57 million streams (equivalent to 38,000 units) and his latest single reached the Top 40 charts as well.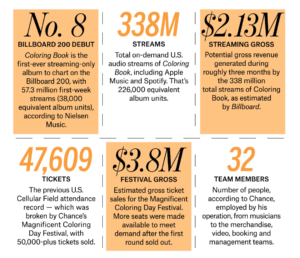 He explains his mentality on not signing to a major label and believes that he can better his career in a way that is in a superior way than any one of the major labels could. "I'm just trying to be an example for all the young artists that are becoming artists everyday and working on their craft and trying to help them avoid the pitfalls of the upper management in music and the non music side of music.  When it's in your hands you're just self motivated and have all the tools that are there. I just want people to avoid the convo."
Although Chance the Rapper is not ever artist, and certainly not every well-known artist currently touring on the charts, he is a strong example of a type of business model that clearly works and is defying the traditional label/artist relationship that major labels like UMG have worked for years to grow and develop.
Conclusion
            UMG, and the record industry as a whole, is at a current crossroads.  From what originally began as conglomerates of music labels working to record and publish music, it seems as if labels are vying to take the control away from artists and other industry entities, like management and agencies, in order to still serve as the gatekeepers of the industry.  From a revenue perspective, major labels like UMG are still vital for many musicians to "make it" in the music industry in order to reach the massive audiences needed to tour or chart.
However, with artists, like Chance the Rapper succeeding without a label and making all of the business decisions with an a la carte team pieced together himself being nominated for multiple Grammys, the current landscape may change even more.  As Chance the Rapper gains notoriety, up and coming, and more developed artists, might begin to forgo the major labels even more and create and build their own teams and revenue models.  Regardless of what occurs in the next few years, it is very evident that the music industry is thriving, due to new technology inserted everyday into the climate.
Works Cited
360 Deals and What They Indicate About the Future of the … (n.d.). Retrieved December 8, 2016, from http://www.kentlaw.edu/perritt/courses/seminar/Basofin-360%20Deals-FINAL.pdf&p=DevEx,5045.1
Buyer Beware: Why Artists Should Do A 180 On "360" Deals. (n.d.). Retrieved December 08, 2016, from http://www.billboard.com/biz/articles/news/1209534/buyer-beware-why-artists-should-do-a-180-on-360-deals
Caught In Time: The Music Industry's Struggle To Adapt. (n.d.). Retrieved December 08, 2016, from http://www.hypebot.com/hypebot/2013/02/caught-in-time-the-music-industrys-struggle-to-adapt.html
@. (n.d.). Chance the Rapper, Lil Wayne, and 2 Chainz Trash a Label Office on 'Ellen' Retrieved December 08, 2016, from http://www.ew.com/article/2016/09/15/chance-rapper-ellen
@. (2016). Chicago's Chance The Rapper Of 'No Problem' Makes Grammy History; Gets 7 Nods Without Label Help; Even Exceeds Adele's Number Of Nominations. Retrieved December 08, 2016, from http://www.newseveryday.com/articles/58262/20161207/chicago-s-chance-the-rapper-of-no-problem-makes-grammy-history-gets7-nods-without-label-help-even-exceeds-adele-s-number-of-nominations.htm
Crook, J., & Tepper, F. (n.d.). A Brief History Of Spotify. Retrieved December 06, 2016, from https://techcrunch.com/gallery/a-brief-history-of-spotify/
McElhearn, K. (2016). 15 years of iTunes: A look at Apple's media app and its influence on an industry. Retrieved December 01, 2016, from http://www.macworld.com/article/3019878/software/15-years-of-itunes-a-look-at-apples-media-app-and-its-influence-on-an-industry.html
The New Pioneers: Chance the Rapper Is One of the Hottest Acts in Music, Has a Top 10 Album and His Own Festival — All Without a Label or Physical Release. (n.d.). Retrieved December 06, 2016, from http://www.billboard.com/articles/news/magazine-feature/7468570/chance-the-rapper-coloring-book-labels-grammy