NAFTA, the North American Free Trade Agreement is currently the world's largest free trade zone but that position will soon be overtaken by the Trans Pacific Partnership (TPP) agreement, which involves the United States and 11 other countries that produce 40% of the world's total GDP of $107.5 trillion, 26% of its trade and over 793 million of its consumers. It is basically a trade agreement that will help support economic growth and jobs by removing trade barriers (such as steep tariffs) for goods and services between the 12 countries involved. The TTP help boosts exports and economic growth by increasing the employment of the 12 countries involved. It is estimated to increase exports by $305 billion per year by 2025, by removing the 18,000 tariffs placed on US exports to the other countries.
So obviously the agreement creates an advantage to our country's economy, but what would it mean to the state of California?
California has important trade and investment ties with the 11 other countries involved with TPP. In 2013, California exported $70.1 billion worth of goods to these countries, hence with the TPP agreement in motion, it will surely help strengthen the trade and investment relationships between California and the 11 countries and support the California jobs that depend on them. The TPP agreement will also provide California with an opportunity to increase its trade in goods with current US FTA partners, which of the 11 TPP countries, there are 6 of them (Australia, Canada, Chile, Mexico, Peru and Singapore). California exported $54 billion worth of goods to these six countries in 2013, accounting for roughly 32% of California's goods exports globally. The TPP will help to support these global supply chains and facilitate further trade with these current FTA partners, along with 5 other countries that has the potential to expand in terms of trade relationship with California.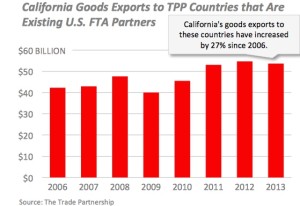 As mentioned before, the TPP will also provide California with the opportunity of expanding its market for goods and services to the 5 other countries that are currently not a part of the US FTA. The 5 countries which have a combined population of 252 million people, and a combined economy of $5.6 trillion have the potential to be new markets for Californian exports. Although currently California has good trade ties with some of these countries, exporting $24.6 billion in goods and services in 2013 to the 5 aforementioned countries, the state still faces very high level of tariffs to export to them. For example, the tariff rate for export of fresh Californian Oranges go as far 32.0% to Japan.

All in all, the TPP creates a better opportunity for California to not only expand existing trade between the six current US FTA partners, but it also help California expand to new markets around the world, which leads to an increase in the state's economy, in terms of increasing investment ties between California and the TPP countries, and also supporting jobs in California.