Longing to have his own restaurant for years, Philip Ozaki happily left his head chef position at Plan Check Kitchen when Richard Larios and Timothy Cam made him an offer he couldn't refuse—-shared ownership of Dirt Dog.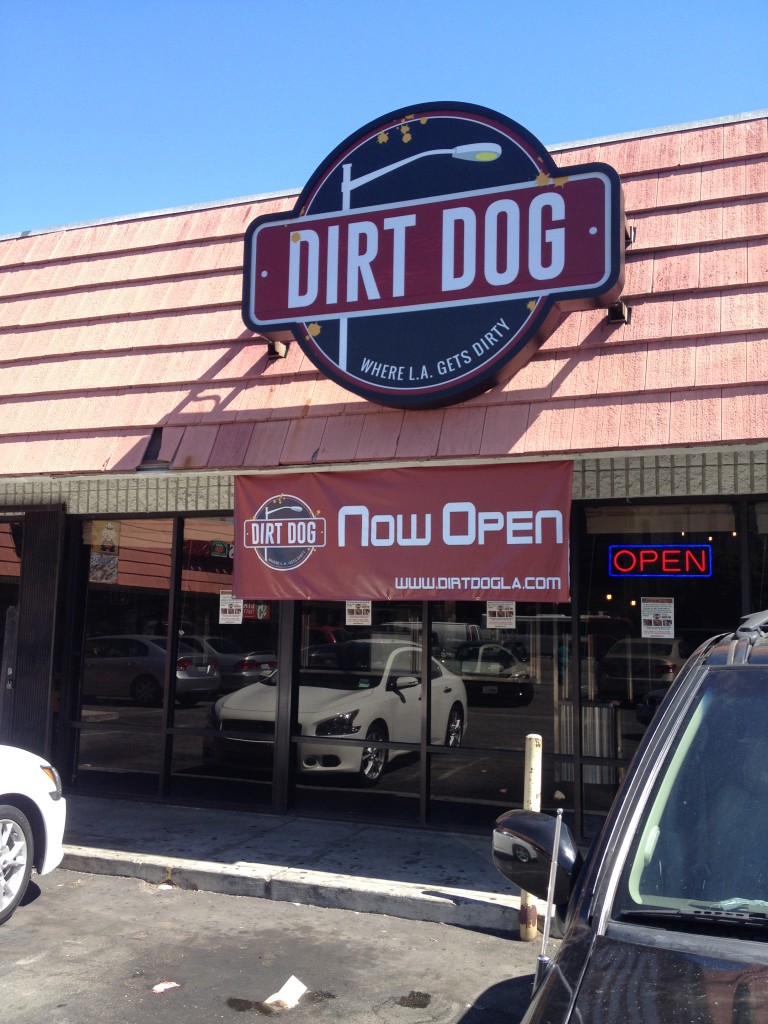 On August 1, the three welcomed the opening of Dirt Dog, whose mission is to "provide the best and unique tasting bacon wrapped hot dogs in a community oriented social environment."
Dirt Dog locates on Figueroa Boulevard, right north to University of Southern California. What Ozaki, Larios and Cam did is simply turning the famous Los Angeles street food into an indoor business.
"It used to be street food. People have it at midnight after partying. But now we are providing the bacon-wrapped hot dogs here all day everyday," said Philip Ozaki, Head Chef and Chief Operations Officer of Dirt Dog.
Compared to the hot dogs served by street-side vendors, Dirt Dog is using a higher quality of ingredients and coming up with more choices of flavors. It guarantees that its hot dog is made from "100% premium all beef Nathan's 5/1 dog, wrapped in center cut bacon, topped with grilled onions & red and green bell peppers."
Within the first month, more than six websites have reached out to Dirt Dog and wrote about them, including LA Weekly and Cue The Critic. This Wednesday, Jack F.M. (93.1) will also join Dirt Dog to give free hot dogs.
Bacon-wrapped hot dog has never drawn so much attention before, however, it does not make any difference to the condition of traditional hot dog vendors.
Los Angeles Times published a story suggesting that the weak economy forces more Angelenos become street vendors.
According to the research group, Economic Roundtable, 43 percent of the vendors in Los Angeles prepare and serve food-related products. Their sales can add up to $42 million a year.
Unfortunately, street vending is still fighting for its legal permission to come out of the shadow. 271 citations were issued against sidewalk vending during last fiscal year, however, the number surged to 286 only for the first quarter of 2014.
Officials' opinion varies on legalizing street vendors or not. The major concerns are the potential costs of the enforcement system, the upcoming costs for maintaining the clean streets where street vendors operate their businesses, and also the potential tax revenue.
Prices of the merchandise sold by street vendors are usually negotiable. Therefore street vendors become the major shopping destination of many low-income families. The Economic Roundtable also suggests that every dollar earned by LA street vendors will finally generates economic impacts of $1.6 on the local economy.
Enjoying the legal permission to make street food, the three owners of Dirt Dog haven't forgot to repay the community that supported them.  They decide that for each quarter, 10% of their profits will be put into community services.
Similar to investing the community, Ozaki firmly believe that investing the workers in the restaurant is going to reward more than what you expected.
"If you are treating them well, they will treat your customers well. Then more customers will be happy to eat here," Ozaki said.
When new customers step in Dirt Dog, they will never feel lost in the menu. A waitress is always holding a menu and ready to explain everything on it. Many customers would like to spend several minutes with her before placing the order, and end up having the most satisfactory choice.
On Yelp many reviews mention their superb customer service, one of which even writes: "Customer service at its finest!"

Ozaki, Laoris and Cam are glad to see that their investment is paying back. "It took us 2 months to hire people," Ozaki said. "We interview 3 or 4 people everyday," Laoris added.
Finally they hired 15 workers, and offered them salary all above the minimum wage.. When talking about the possible rise of minimum wage from $9 to $15, he admitted that the major cost of Dirt Dog is on labors. The cost on ingredients and marketing only account for about 10% of its whole spending.
"But we are ready to pay them more and we have already paid them more than most of the businesses here," Ozaki said. He said after the workers in nearby businesses getting to know that they offer a better salary, there are new workers come in everyday to seek their job. And he has already hired more than four workers who used to work for their neighbors in the plaza.
"Even the manager of Five Guys wants to come here," Ozaki said proudly.
Dirt Dog now opens from 11 a.m. to 10 p.m. but in two months, Ozaki said they will start to open at 7 a.m., serving breakfast and getting license to sell liquor for the late night hours.
No matter how the economy changes, the three owners are very ambitious and confident about Dirt Dog's future.
"We definitely have a backup plan and but for now we are doing alright and the sales is getting better and better," Ozaki said confidently.