After sitting in the Annenberg lobby for 30 minutes trying to muster up the courage to talk to the girl sitting next to television wall; she suddenly gathers her belongings, places them into her backpack and walks out the door. This is the third time this happened this month. Where do you turn? Our parents never taught us about how to talk to girls. School only taught us algebra and English. Naturally, you turn to the first place you go to find any information, Google. "How do I talk to girls?" The first three results are wikihows…. alright that does not help at all. Who do you know that is the best with girls? Well Stan never seemed to have any issue with girls, but it would be embarrassing to ask him. Okay back to Google. "How to…pickup girls?" Wow all these websites look so creepy. Maybe YouTube? A guy picking up girls in a fat suit? No way! These Simple Pickup guys actually look pretty normal.
This is the story of how several fans stumbled upon Simple Pickup's YouTube channel. Bijan, the newest member of Simple Pickup team, explained in a personal interview that this is exactly how he found out about the YouTube personalities. There are many other pickup companies and YouTube channels that have come under fire for sexual harassment, however the guys at Simple Pickup have been able to set themselves apart from the negative coverage in the media.
Pickup has different meanings for different people. Google defines a pickup artist as a person who practices finding, attracting, and seducing sexual partners, usually women. There are many different individuals who claimed to have invented 'pickup' but the individuals that brought the subject into the public's eye were Erik James Horvat-Markovic, also known as Mystery, and Neil Strauss, the author of "The Game: Penetrating the Secret Society of Pickup Artists." Mystery hosted a reality competition on VH1 called "The Pickup Artist." After watching the show many people went out to seek additional resources and Neil Strauss' book became a New York Times best seller.
Simple Pickup is one of three companies that provide instructional videos and bootcamps for men across the world that are interested in learning how to pickup women.
Real Social Dynamics or RSD, consists of a group of guys that were featured in in Neil Strauss' book, "The Game."
Neil Strauss created a website selling his books and instructional videos called Stylelife.com.
Currently these three companies dominate the market of pickup.
The traditional business models of these companies is to sell instructional DVD's, teach in person workshops with one on one instruction called bootcamps, and host seminars teaching pickup to their customers. These seminars typically consist of one pick up teacher that stands in front of about 30-40 men teaching what they know about the subject. The two other companies both bootcamps that cost about $2,000 to attend.
Let's break down each company and the products they offer:
Real Social Dynamics
They have the biggest variety of coaches and host seminars and bootcamps all over the world. A majority of the coaches were students of Mystery and decided to band together to create a global scale business for teaching pickup to men all over the world. Their most infamous coach's name is Julian Blanc who has recently come under fire for teaching sexual harassment to his students. The information they teach is extremely technical and dissects social interactions as a step of actions, almost like a video game. RSD is heavily theory based.
Seminar: $1,000 (3 days, a coach speaks in front of 20-30 students)
Bootcamp: $2,000 (3 to 1 in person instruction with live feed back)
DVD's: $600 (Instructional videos that teach students the foundations of pickup)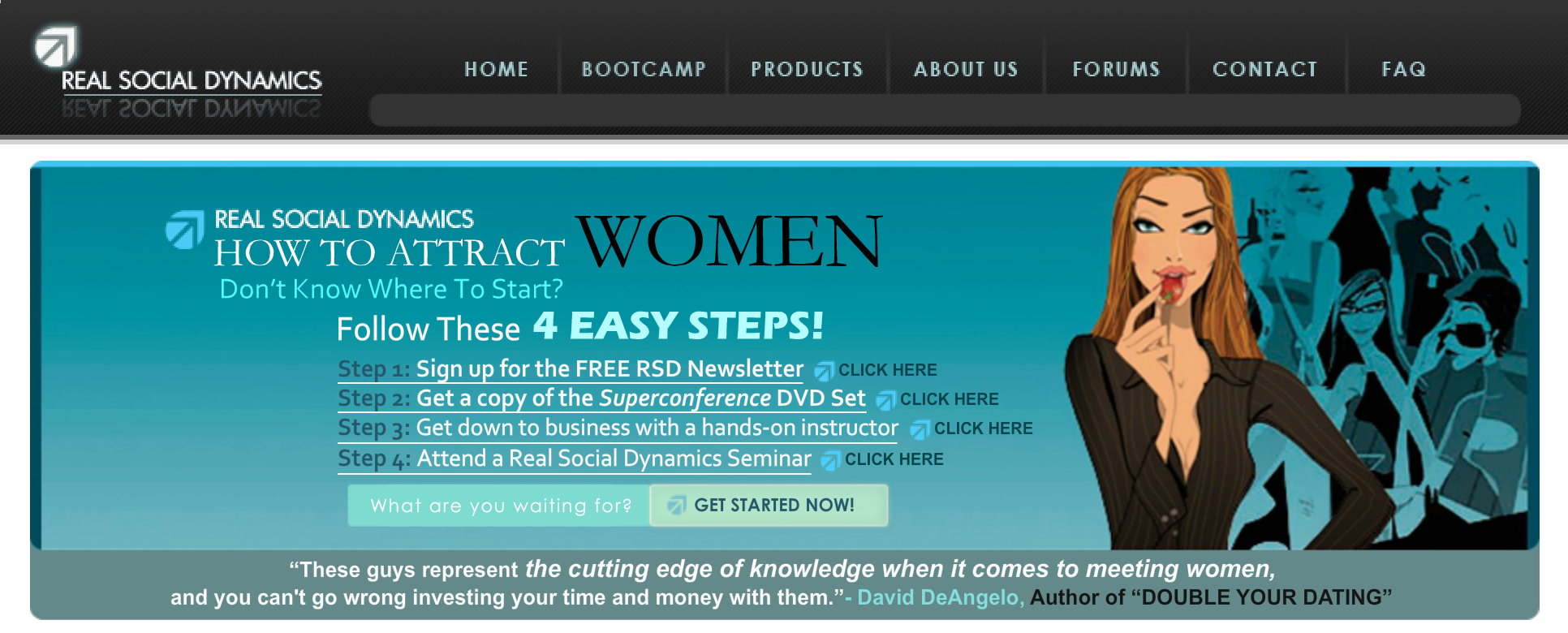 Resource: http://www.realsocialdynamics.com
Style Life
Created by Neil Strauss the author of "The Game." There is also a lot of theory involved but ultimately tries to teach a lifestyle. The entire mood of his website and the information he teaches has a James Bond like feel. The site looks a bit archaic because Neil Strauss has decided to focus more on his writing career. Though products and books are still on sale.
One hour coaching calls:$125 (ask the coaches any questions related to pickup)
DVD's: $140 (Instructional videos that teach students the foundations of pickup)
8 CD: $40 each (Audio lessons from various pickup artists that are friends of Neil Strauss)
Bootcamps: $2,000 (In person coaching, 3 days)
Online program: $1,850 (Most recent product after Simple Pickup introduced Simple 30)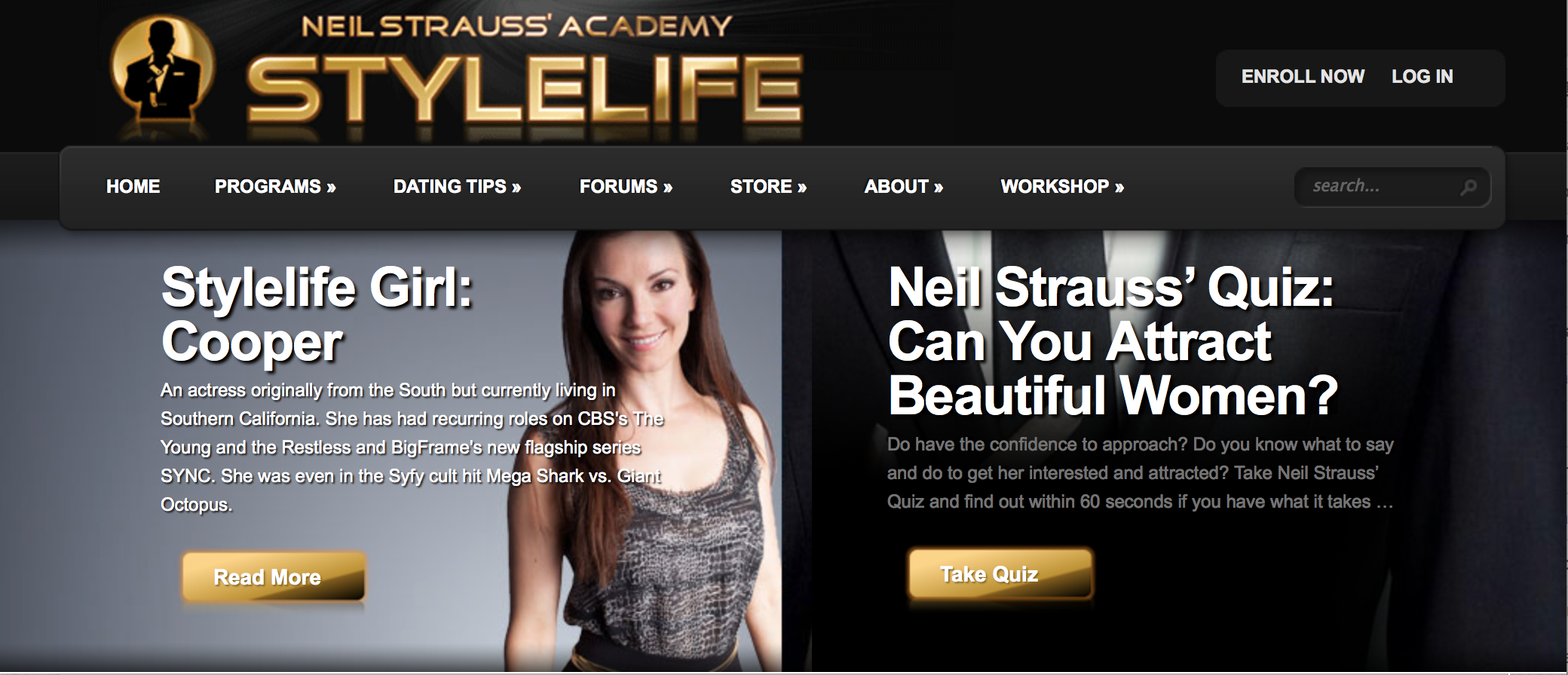 Resource: http://web.stylelife.com
Simple Pickup
Simple Pickup approaches the business from different angle. They focus more on a lifestyle than the technicalities of pickup. Their products are dramatically less expensive than RSD and Style Life because they hope to reach a broader audience that discovered them through YouTube.
Project GO: $30 a month (a monthly subscription produces new content weekly for subscribers consisting of video, podcasts, and Q&A's.)
Simple 30: $400 (an online bootcamp which Style Life models its online program after)
Simple Mixology: $20 (videos that teach you how to make 10 drinks for any situation)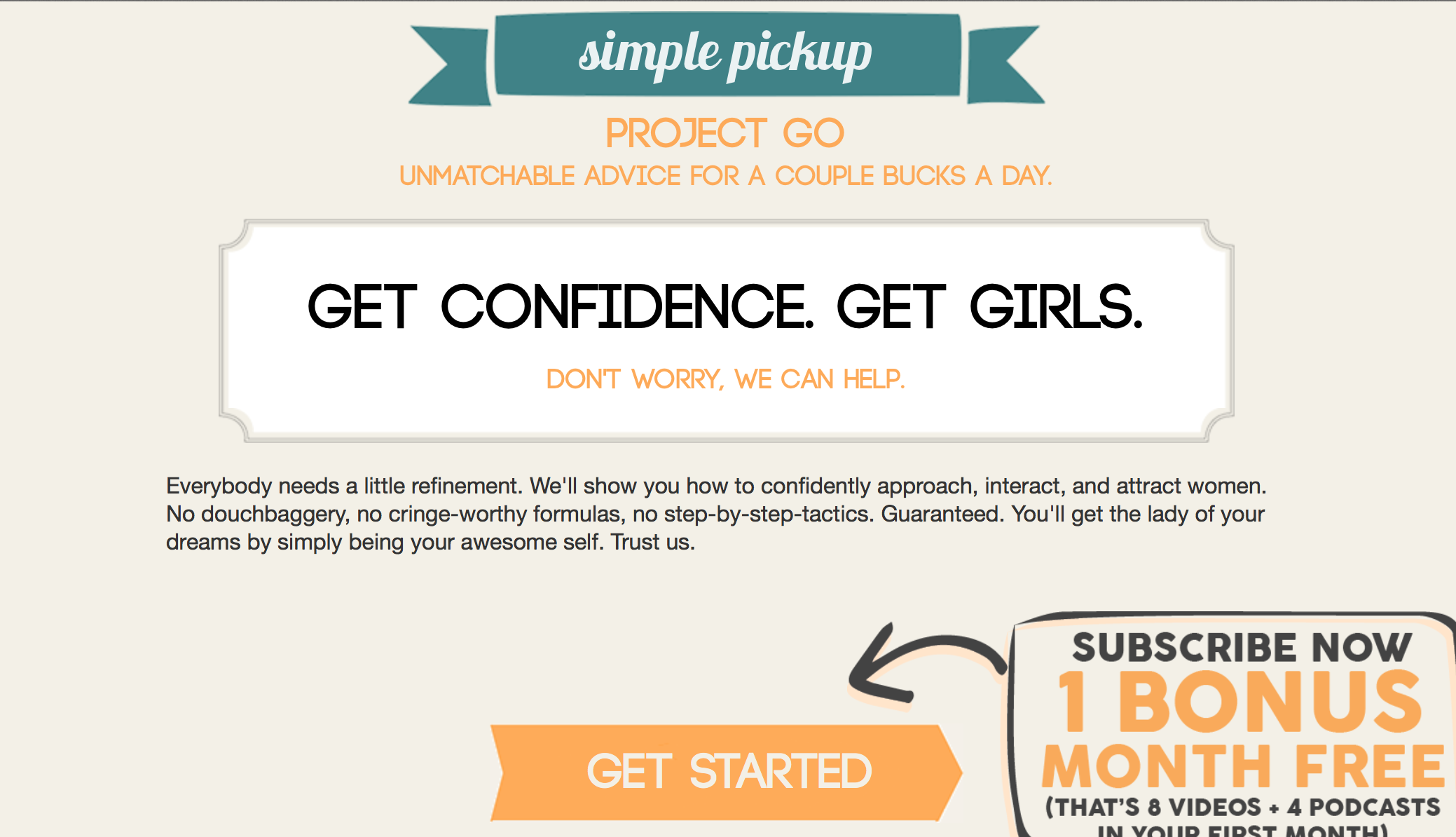 Resource: http://go.simplepickup.com/s4/?sess=3d13167a1f9f413e14aa23328274c69c
RSD and Style Life both teach theory heavy content that relies on formulas and rehearsed lines. Out of these three of these companies, Simple Pickup is by far the most successful and socially accepted company in the public. They have been featured on NBC news, Good Morning America, and several international stations, Simple Pickup has been able to establish themselves as a company that does more than simply teaching guys how to be successful with women. They strongly discourage the use rehearse lines because they feel that social interactions should have a natural flow and stem form a place of authenticity. Their ability to have fun and inject humor into any social situation they are in makes them unique. Kong the Chief Executive Officer explained to me in an interview that they "want to provide a unique experience of fun and valuable information at the same time, we like to call it info-tainment." They are masters at consistently crafting viral videos on YouTube, and backing project that have more social significance than simply just pickup.
Jesse Jhaj, Kong Pham, and Jason Roberts, three friends that met at Cal State Fullerton, created Simple Pickup 2011 and have since created three life style products for their subscribers, Project GO, Simple 30, and Simple Mixology. Unlike their predecessors, they have an extremely successful YouTube channel. Before even creating a product that they could sell, they understood the importance of establishing an audience first. The biggest issues surrounding previous pickup companies is the lack of trust consumers have with the product. $2,000 dollars is a lot to gamble away on an individual that claims to be an expert in their field without any proof. Jesse, Kong, and Jason decided to release videos of them picking up girls in a fat suit, talking in the voice of Batman, and dressing up in Game of Thrones costumes. All of this effort proves consumers that not only are they able to do this normally, but they are also able to do it in the more ridiculous circumstances. If they can dress up this ridiculously confidence is the most important factor, not appearance. After establishing that sense of trust with their consumers, they launched Project GO.
Project GO is a monthly subscription-based product that comes with a new instructional video, podcast, and Q&A video every Monday. The subscription costs $30 per month and has changed the business model for the pickup community dramatically. With the introduction of online content, consumers from all over the world can access the content. In the past, the high cost of shipping internationally deterred buyers from buying products from RSD and Style Life. What Simple Pickup does extremely well is 2-way communication that they learned from YouTube. Commenting on a video allows for a conversation not only with the other subscribers, but with the content creators as well. Simple Pickup can produce content that their audience actually wants to see. In comparison to the other pickup companies, Simple Pickup is projected to generate the most revenue over time because Project Go is a subscription-based product. Amazon makes a substantial amount of money through their Amazon Prime subscription; Costco's entire business model is centered on a yearly subscription membership. Costco does not make any money from selling items at bulk to customers but instead charges $55 for a yearly subscription. They have 50 million subscribers and generate two billion seven hundred fifty million dollars a year. Project GO stylistically looks a lot better than its competitors.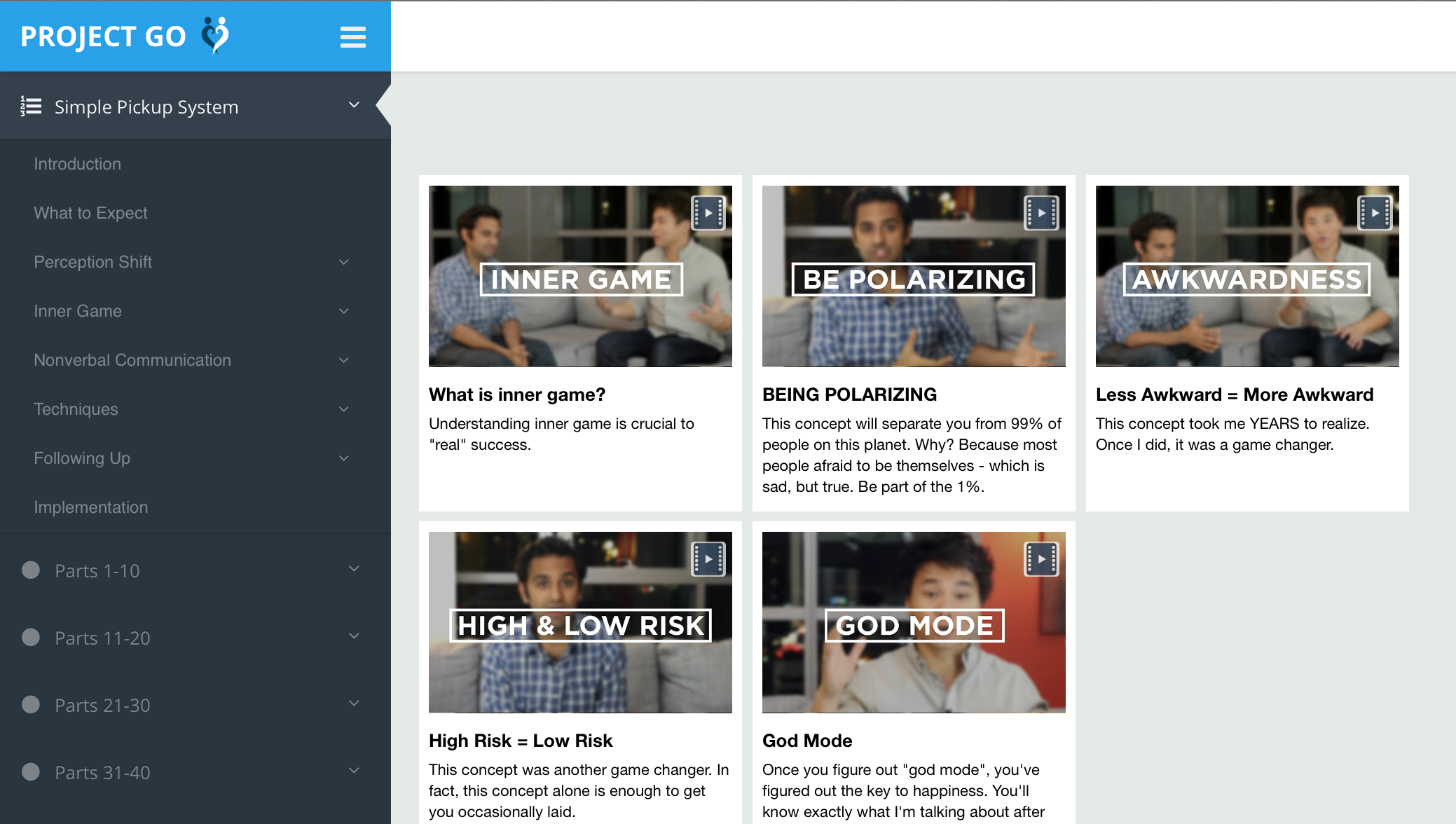 Resource: http://go.simplepickup.com/s4/?sess=3d13167a1f9f413e14aa23328274c69c
The two main sources of revenue come from Project GO and bootcamps. As the company developed, Jesse, Kong and Jason realized that they did not have enough time to host bootcamps for their subscribers while the demand for them exponentially increased. In order to satiate the hunger of the consumers for bootcamps, they created Simple 30.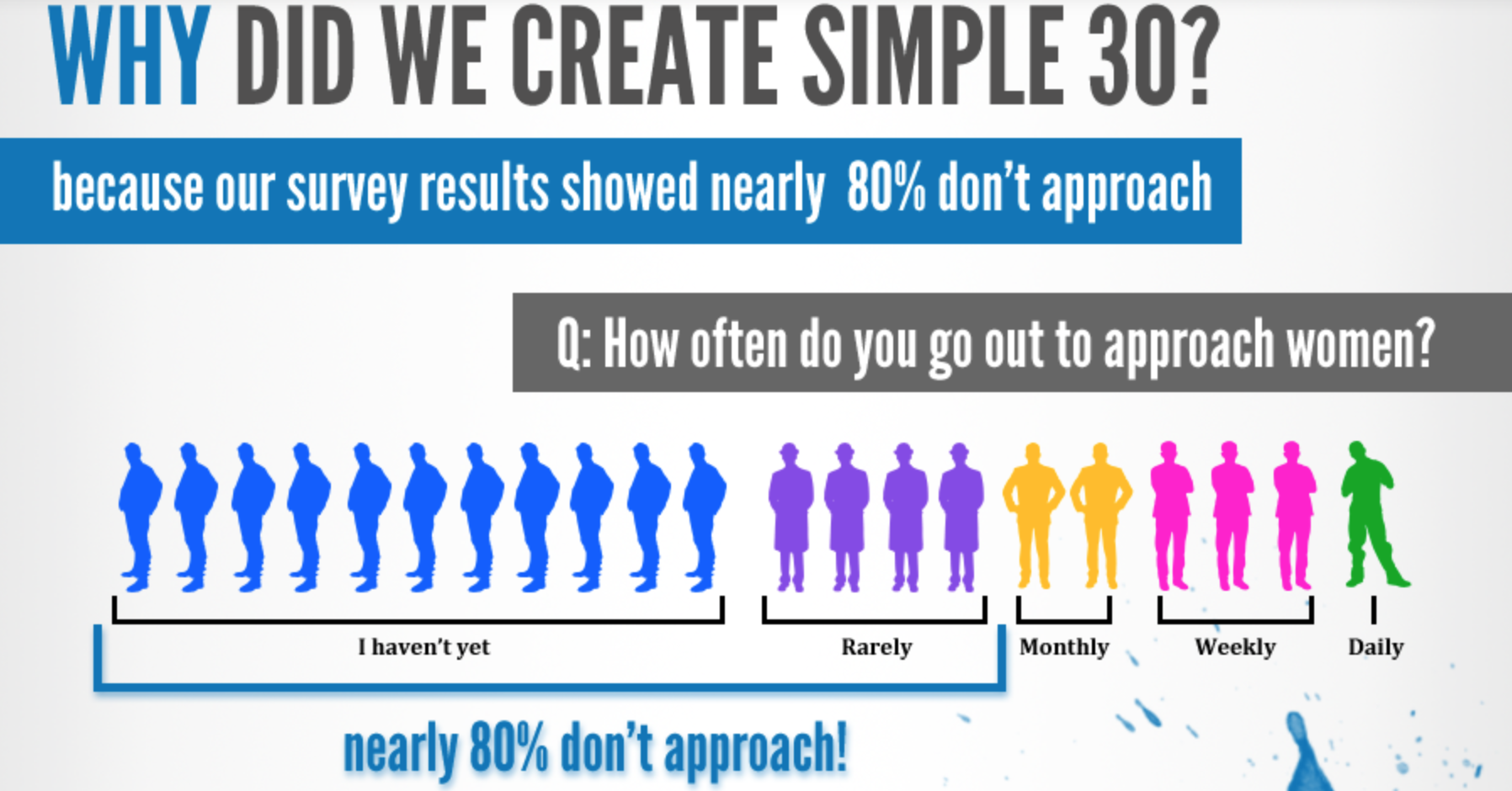 Resource: http://go.simplepickup.com/s4/?sess=3d13167a1f9f413e14aa23328274c69c
Simple 30 is an online bootcamp costing $400 that is a substitute for an in person bootcamp. The drop in cost and online distribution of the product provides a more efficient business model and allows more individuals to experience the bootcamp at a lower price point. For 30 days, you receive a daily challenge that is demonstrated by the guys, after completing the challenge; you will have a reflective exercise that gauges what you did well and what you can do better. The main focus of Project GO and Simple 30 is not to have sex with as many girls as possibly, but rather develop the confidence through social interactions to be the best version of you. Their most recent product, Simple Mixology, teaches how to make 10 drinks fit for any situation. Simple Pickup's goal is to become the #1 resource for men around the world. Since launching Simple 30, Style Life has introduced a master guide that includes video challenges and sheet that tracks your progress overtime. RSD is quickly trying to create a product that matches the content of Simple Pickup.
One of the biggest concerns between the three pickup companies is the leaking of content. They are selling how to's and this kind of product is hard to protect. The information because infinitely harder to protect when it is put on the Internet because of online piracy. Both Style Life and RSD's content have been leaked online but I could not find anything on Simple Pickup. When I asked them about it, office intern Matthew Tran answered, "we go through great lengths to try to defend against online piracy and honestly our stuff is priced so low that I believe people support us by actually buying the content. Our fan base is pretty loyal and loves to tune in every week to hear Jesse and Kong share their thoughts on the podcast. We also have posted two free project go videos on our YouTube channel as a free sample so people get to see what they are buying." Similar to Itunes and Amazon, Simple Pickup has lowered the price enough to make buying Simple Mixology and Project GO much more reasonable than products from RSD and Style Life. However since United States is one of the leaders in piracy not only in music but several other forms of entertainment, online distributors of content must take necessary measures to combat this.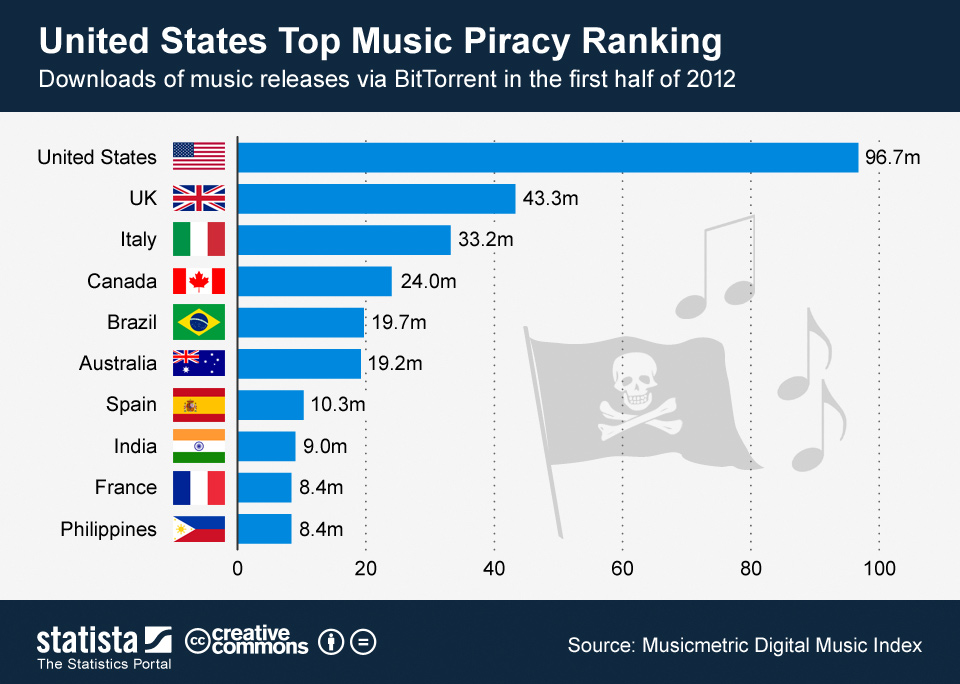 Because they have crated light hearted and fun videos they have also brought in a larger consumer base, many people who do not know what pickup is will stumble upon their videos. Kong, Chief Executive Officer, explained that "[Simple Pickup] is the light hearted foundation people need to have when they start pickup. Once they are done learning from us then I suggest they learn from RSD but do remember to take their advice with a grain of salt. While they do teach some valuable stuff, some of it is crosses the line like the most recent incident with Julien Blanc."
In the past three months, the scandal surrounding one of RSD's coaches, Julien Blanc has tarnished the name of every company involved in pickup. Blanc was recorded in a seminar teaching his students to choke girls as a conversation starter in Japan because he claimed, "If you are white, you can get away with anything [in Asia]." The world broke out in rage. The United Kingdoms denied a visa application from Blanc, Australia canceled Blanc's visa, and the Internet has petitioned to kick Blanc out of Brazil. The other pickup artists in this community have a tendency of objectifying and manipulating women. Simple Pickup teaches from day one that they frown upon any behavior that objectifies women. They have continually reinforced the idea their message of building confidence and leading a healthier social life, not objectifying and manipulating women. Most guys that are too afraid to approach women are typically nice guys that have amazing personalities but because of the lack of confidence, they are unable to share their personality with other people. Instead they cave under social pressure and are unable to live the social lives they would like to.
After interviewing the office intern from Simple Pickup, Matthew Tran revealed that there initially was a slight drop in subscribers on YouTube and Project GO after the Blanc incident. While not intentionally timed to combat the negative press, they released a Tinder experiment video with two of their friends dressed up in fat suits. Their friends Willy Beck and Sarah Smith set up dates with unknowing individuals on Tinder and showed up to the date in a fat suit. The video with Sarah created more buzz online than Willy's because of the difference in reaction across the sexes. Four out of five of Sarah's dates decided to leave after seeing Sarah in person simple because she was overweight. Only one girl left after seeing Willy's transformation. This Tinder experiment set Simple Pickup apart from the various other prank channels and pickup companies because they understand the double standard that is present in the dating world and wanted to bring the subject to the forefront of conversation with one of the most popular dating apps used today. Many individuals on Facebook, Twitter, and Instagram have commended Simple Pickup on the success of their video. After this video released, they experienced a spike in subscribers seen on this graph: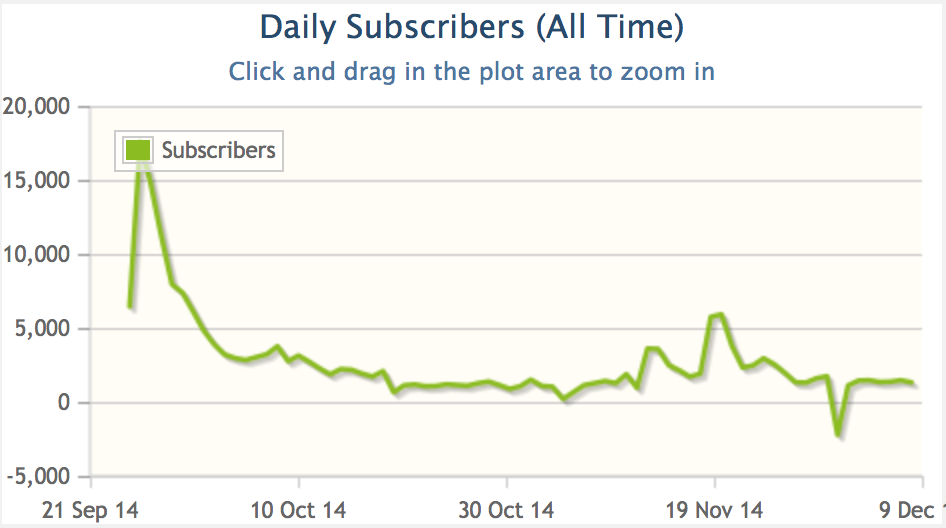 Resource: http://channelgraphs.com/channel/SimplePickup/graphs
Simple Pickup continues to evolve the taboo and socially sensitive topic of pickup through their website and YouTube channel. Simple Pickup launches a new project every three months, either a product, informational public service announcement, or hilarious public image campaign, all of which continually reinforces them as a unique pickup company that teaches a healthy life style. Almost every single man deals with approach anxiety and their product is lesson in social interactions that men have never been taught.
Check them out at
https://www.youtube.com/user/SimplePickup
Project GO