"Please don't send gifts to me anymore! Why not buy some snacks if you have extra money?" said Fu Yuanhui, a Chinese Olympic swimmer, after seeing the barrage of virtual gifts such as yachts and sports cars being sent to her via cyber space. Fu, who became famous for her lovely facial expressions and the buzz she generated from her "mysterious power" during the Rio Olympic Games, was live-streaming herself interacting with her fans on a platform called Sina Weibo, the Chinese version of Twitter. More than 10 million people watched this live show and many of them contributed in filling up Fu's mobile phone screen with virtual gifts.
Though seemingly useless, virtual gifts have more value than is initially apparent. The virtual yachts, sports cars and diamonds are not real ones, but they are paid for with real money by fans, which the live-streamer is then able to cash out proportionally. The prices of gifts range from several cents to thousands of dollars on Inke, a one-year-old live-streaming mobile app that has occupied the No. 1 spot on China's app store multiple times in the past few months.
Believe it or not, at any given hour, millions of Chinese are live-streaming on their smartphones. Not only celebrities, but netizens from all walks of life are joining the army of live-streamers to showcase themselves performing all kinds of activities. "You can live-stream whatever you want," said Ge Wang, a student live-streamer studying Communication Management at the University of Southern California. Her graduation capstone project is about how to be an Internet celebrity. Before she started live-streaming this summer, she had already several short videos online. "My friends told me that if I want to get famous, live-streaming would be a good way," Ge explained.
Welcome to China's new national reality show industry! Live-streaming is gaining huge popularity among youngsters who are willing to show their personal lives online for fun or fame. Accordingly, the past year witnessed hundreds of new live-streaming social accounts, especially on apps such as Inke and Huajiao, spring up in the country as millions of young internet users became engaged in this activity. No wonder 2016 has been called the national live-streaming year of China.
While China did not invent live video-streaming, it has taken these reality shows to a completely new level. "Dozens of Chinese live-streaming apps almost copy exactly the same format as Twitter's Periscope and Younow," Ge explained. Live-streaming is a growing mobile-video market that is hungry for content reflecting young people's tastes and lifestyles.
Platforms, Live-streamers and Content
Live-streaming has been around in the U.S. for years on social media platforms such as Facebook Live, Flipagram, Instagram Stories, Snapchat, Twitch, Periscope and YouNow, but it is not a mainstream activity in the States. However, China is turning it to a national fever.
Video game live-streaming is the most common type of content initially, which is the same case for both China and America. Live-streamed video-gaming targets hard-core gamers and the shows are usually hosted by professionals. For example, Douyu, a competitive live-streaming platform, which is operated by Wuhan Douyu Internet Technology with investments by Tencent Holdings and Sequoia Capital China, debuted as a live video website for gamers in 2014, but then moved to lifestyle live-streaming last year. It is now claiming 600,000 users who have streamed at least once and 120 million active monthly users.
Lifestyle live-streaming then prospered. A lifestyle live-streaming bellwether is Inke mentioned above, which says over 50 million users have downloaded its app since its establishment. Moreover, China's biggest social media platform Sina Weibo launched its live-streaming platform in May. Since then, Weibo celebrities and influencers have brought a number of live-streaming shows for fans, for fun and even for charity. Video streaming site iQIYI also launched its live-streaming app Qixiu in the following July.
"Everyone can be a live-streamer," said Ge, "no matter if you are a celebrity, an entrepreneur or ordinary person." That's the truth. Approximately 46 percent of China's internet population used a live-streaming app in June 2016, according to Hua Chuang Securities.
With popularity largely driven by celebrities and key opinion leaders, live-streaming can be especially useful when famous brand ambassadors serve as hosts to the online events. Alibaba's Tmall seizes this business opportunity as usual. A total of 49 percent of beauty brands have live streamed on Tmall between April and October 2016, The e-commerce giant, Taobao, follows with 35 percent of beauty brands having live-streamed on the site, according to Jing Daily. This September, prominent make-up brand Guerlain partnered with Yangyang, a Chinese celebrity via Tmall Live. The live-streaming show garnered 2.43 million views, 4.55 million likes and most importantly, more than 10,000 of lipsticks sales.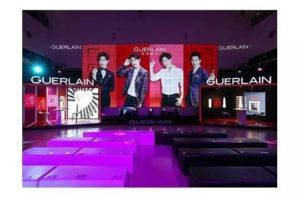 (Guerlain's partnership with Yangyang)
Papi Jiang, a Chinese cyber celebrity, drew 20 million viewers for her first live-streaming show in July 2016. During her 90-minute unscripted live-streaming show, which was available on eight leading live-streaming platforms in China, including Youku, Meipai and Douyu, Papi Jiang told jokes and shared with her fans details of her daily life and romances. According to the New York Times, there were more than 74 million views in one day, which exceeded what Taylor Swift's latest music video, "New Romantics," received on YouTube in four months.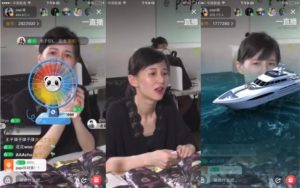 (Papi Jiang's first live-streaming show)
Renowned entrepreneurs also seek to take advantage of the platforms to boost their brands among young consumers. Wang Jianlin, the chairman of Dalian Wanda Group and China's richest man, once live broadcasted himself visiting a company theme park and playing cards on his private jet.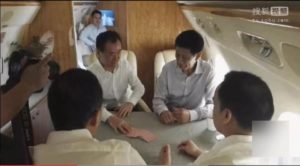 (Wang Jianlin's first live-streaming show)
"I don't think Chinese live-streaming has good content," Ge complained. Ge indicated that current live streaming fever is lacking qualified production. A lot of people are live-streaming their lives all day from squeezing in the metro to eating a bowl of ramen. Moreover, Chinese live streaming apps breed soft porn in a society where such content is tightly controlled. Understandably, Americans don't need Periscope to watch pretty young women, but Chinese need live streaming platforms to help satisfy their sexual cravings.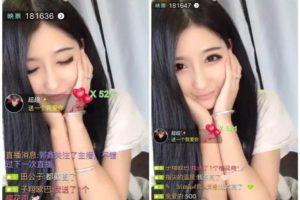 (A pretty young woman live streams herself.)
Where is the money going?
It is not uncommon to read such an eye-catching title as "China's Internet 'Stream Queens' Are Being Showered With Cash" if you search for live-streaming related content via Google. Is live-streaming that profitable?
"I made 20 yuan ($3) to 30 yuan ($6) every live-streaming show that lasted for an hour," said Ge. Ge admitted that she was new to live streaming but professional live streamers are able to earn as much as one million yuan ($0.2 million) in a month. Someone even quits his or her full-time job to pursue a live-streaming career because it pays so much more.
How does live-streaming monetize? Through the collaboration of the app, the live streamer and the viewer.
Admittedly, live-streaming is well known for its interaction. However, many Chinese live-streaming apps have integrated an original tipping feature that motivates people to stream more and generate profit for the apps. Other than leaving comments, viewers can also interact with the hosts by buying them virtual gifts, such as flowers, toys and cars through the streaming platforms. Not only the apps are making a profit, the streamers can also trade the token value of the presents for cash.
For example, one yuan (20 cents) on Inke can buy 10 tokens, which users can in turn use to purchase virtual presents, such as a bunch of cherry flowers (one token), a hug (five tokens), a fleet of virtual Ferraris (3,000 tokens each) or a yacht (13,140 tokens). In other words, if you want to tip your favorable host with a yacht, you have to spend 1314 yuan ($190) for Inke's tokens. Moreover, Live streamers and Inke split the income from token sales. Different companies set different rules for splitting the income. Inke gets 70 percent of the revenue while Douyu says it splits token income with streamers halfway.
Through digital tipping, live-streamers are incented to live stream more frequently. "If you want to build your loyal fans group, you have to post regularly say every Monday evening at 8 pm," Ge stressed.
Besides live-streamers and live-streaming apps, adding to the monetization of streams are also e-commerce and games sales. E-commerce platforms such as Alibaba also share a huge slice of the profit in this market as viewers might be tempted to buy the same clothes their hosts wear and gamers are more likely to play the games that the host recommends during live-streaming.
Live-streaming directly gives rise to new forms of advertising for different brands. Brands start to advertise on the apps and users pay to watch their favorite personal reality shows.
Investors are thinking highly of this flourishing live-streaming market as it is generating a huge amount of capital. Investment funds and tech giants, including Baidu, Alibaba and Tencent, have invested heavily in the fast-growing industry. According to Hua Chuang Securities, the live-streaming market reached 12 billion yuan ($1.8 billion) last year. It is estimated to grow to 106 billion yuan ($16 billion) by 2020. Credit Suisse stated in its September research report that it believes the Chinese personal live streaming market will be $5 billion next year — already just $2 billion less than China's movie box office total ($7 billion) and half the size of its mobile gaming market. In addition, 108 out of 116 live-streaming apps have successfully secured financing.
Furthermore, investors are swooping in. Inke, which now has more than 2 million users, raised 68 million yuan ($10.3 million) in January from Beijing-based web game developer Kunlun Tech. In March 2016, Douyu raised $100 million in a round led by Chinese web giant Tencent Holdings. Enlight Media, a Shenzhen-listed entertainment company chaired by billionaire Wang Changtian, invested 131 million yuan ($20 million) for a controlling stake in live-streaming platform Guagua this May.
Where is the future? Tighter government supervision and better content
Earlier this year, some of the most viral content on these live streaming apps reflected pornography such as topless women in front of the camera and suggested erotic behavior. Those streams were deleted quickly. However, the Ministry of Culture, the national anti-pornography office and other regulators have investigated 19 live-streaming platforms for potentially criminal, pornographic or violent content, according to state media reports. Almost all bigger Chinese streaming apps were named or fined, including Inke and Douyu.
In front of the grey areas that exist on the streaming apps, government is trying to tighten its supervision and the sites are also trying to rein in what users post. Nonetheless, pornographic content is more lucrative as users are more willing to pay the live streamers.
Another future challenge is a tension between the quantity of the production and the quality of the production. Although the streaming industry provides a steady supply of content, the market has a low entry barrier. During the interview with Ge, she mentioned that live-streaming is a good way to pass time as a lot of people can live-stream for a whole day. "Maybe it's ridiculous but I think people are live-streaming because they get bored," Ge answered with laughter. One of the most astounding statistics of the live-streaming trend in China is that the most active hours are between 10pm and 4am, with peak usage at midnight. Live-streaming may be an answer to loneliness. Moreover, to drive more short-term profit, live-streaming apps are likely to hire beautiful female hosts to attract users and drive sales of virtual gifts.
China's web has become increasingly mobile-driven, with more than 92 percent of the country's 710 million internet users now accessing the web via their mobile phones, according to a report published this month by the official China Internet Network Information Center. Undoubtedly, live streaming dramatically changes and broadens people's social life as everyone is under the spotlight. Everyone can watch each other.
When asked about her future plans to build her brand, Ge said she gave up starting with live-streaming to get fame. She plans to continue and prioritize making funny short videos regularly to increase her viewership and build her loyal fans group, just like how Papi Jiang accumulated her fans before. She highlighted that only short-form videos are considered good content now. Ge has already gained more than 30,000 views for one of her short videos uploaded to YouTube. "If you want to build your brand, live-streaming might not be a good way as no one will pay attention to you until you become someone," said Ge.
###
Sources:
http://www.wsj.com/articles/live-streaming-apps-flourish-in-china-1462995001
http://www.forbes.com/sites/ywang/2016/06/02/in-china-millions-are-broadcasting-their-personal-lives-online-including-the-countrys-richest-man/#63a0a0e57cb4
http://www.cnn.com/videos/world/2016/08/15/china-live-streaming-matt-rivers-pkg.cnn
16 Observations on Livestreaming in China
http://www.economist.com/news/china/21707070-authorities-wish-they-wouldnt-chinas-netizens-love-sharing-live-video-themselves
http://www.voanews.com/a/china-live-streaming-apps-surging-in-popularity/3356667.html
https://www.techinasia.com/weibo-live-streaming-china
https://www.bloomberg.com/news/articles/2016-11-01/chinese-live-streaming-apps-employing-censorship-against-rivals
http://www.bbc.com/news/world-asia-china-37127904
https://www.bloomberg.com/news/articles/2016-07-04/millions-of-chinese-stream-reality-shows-starring-themselves