Leading up to Thanksgiving, advertisements can be seen everywhere. Ads for shoes, ads for electronics, ads for department stores on virtually every outlet. This is due to the high quantities of sales that are made during the holiday season. This is also the case because of Black Friday, which has virtually become a nationwide event. However in recent years a new "holiday" of sorts has come about, Cyber Monday.
Cyber Monday is a marketing term that was created because of the deals that are offered online on the Monday following Thanksgiving. Cyber Monday has gained more and more popularity generating approximately $3 billion in 2015 and in one to the most profitable single days for online retailers.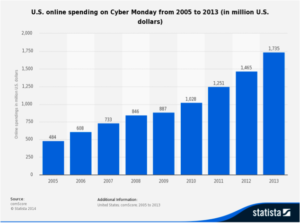 One of the reasons Cyber Monday may be gaining in popularity is the shift in the way consumers are shopping. Shoppers are more and more comfortable with shopping online. It has been eclipsing Black Friday in some ways because people are able shop in the comfort of their own homes. This means not having to deal with parking, sifting through products, waiting in lines, and the crowds of people. This is also beneficial because consumers do not have to feel the urgency of snatching up the best products before everyone else. They also do not have to worry about things being out of stock or the store running out of their size and trying to locate a store that still has their sizes. In fact Cyber Monday's success may have impacted sales on Black Friday. In recent years sales on Black Friday have decreased while sales on Cyber Monday continue to grow. With the two being so close together, shoppers may feel that participating in one is enough.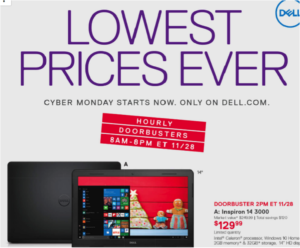 Other factors have contributed to the rise of Cyber Monday including the use of social media as an advertising medium as well as increased mobile shopping. While there are not many long-term effects on the stock market, it is important for major retailers to participate by advertising or giving promotions to stay competitive with other companies in their market segment. Cyber Monday has become such a phenomenon that by not being a part of it would serve as a disadvantage.