"Life in the palm of your hands"; the common expression that comes with our lives today. Yes, I am talking about phones. Smartphones have changed the way we live our lives each day in a way that many think is for the better. With that, smartphones have transformed the way businesses and consumers interact with one another through digital and strategic methods to make their lives easier. The airline, sport, and hospitality industries have taken notice of this change in consumer behavior and have revolutionized the idea of digital ticketing.
Mobile ticketing conveniently provides customers with ticket options by utilizing the power of their smartphone. In my opinion, easy, quick, and convenient are all values that consumers take into account when having the option of using their smartphones over hard copies. Let's begin with the actual convenience of having a mobile ticket on one's phone. As technology progresses and mobile devices become "smarter", this feature is going to take over the consumer dynamic. As per a study done by Juniper Research, "Mobile tickets are expected to account for more than one in two (>50%) ticket transactions on digital platforms by 2019".
One of the major advantages of having a ticket on your phone is that it cuts costs for ticket providers as well as the customers. No shipping, no paper, no ink; these factors alone make mobile ticket more appealing than the traditional style. Airlines have increasingly promoted the use of mobile tickets through their mobile apps. American Airlines, JetBlue, and Southwest list the st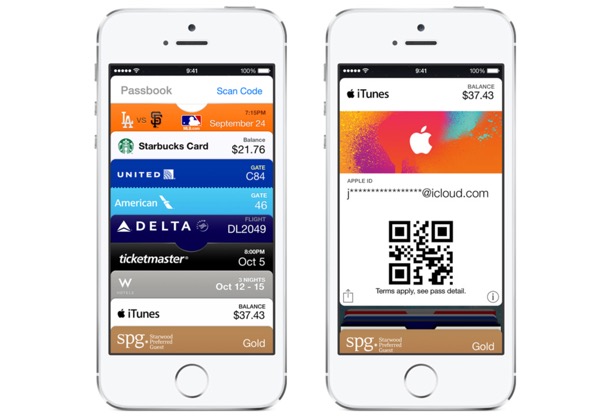 ep-by-step instructions on how to download and access boarding passes from your smartphone. Apple, Inc. has made the downloading process simpler through an application called "Passbook", which has now been simplified into "Wallet" (See right). Apple has formed partnerships with airlines, sports teams and credit card companies to create an all-in-one format for their clients in a development towards eliminating wallets. Additionally, industries of all kinds are adopting these mobile ticketing features as a way to increase customer experience in a variety of aspects.
Who is using the technology?
Sports stadiums and arenas have understood the niche when it comes to mobile ticketing and are constantly looking to find ways to enhance the consumer experience. According to the Ticketing Technology Forum, "with stadium owners looking to increasingly [utilize] the latest technology to improve their grounds and enhance the user experience, mobile ticketing looks set to take off". Owners around the National Football League see availability within their stadiums that can increase the overall fan experience, surpassing just the mobile ticket. Also mentioned in the article, "No longer will the mobile [phone] just be another object in your pocket, it will now be a gateway device to stadium garages, the grounds, food and drink services, a security pass and an interactive device throughout the day". There are endless possibilities for this technology and business leaders hope to acquire a rewarding service just like the airline industry does with its rewarding miles programs.
Inevitably, there is a promising future for the mobile ticket, and stadiums hope to use e-tickets as the entry point to many possibilities as previously mentioned. Making purchases within the stadium, finding seats more clearly by using an interactive map, ordering food directly to the seats so that fans will not miss any action, and locating the nearest toilets are all part of the expansion plans that have been spoken about.
Mobile ticketing goes much further than just being able to print your ticket and increase user experience. Through the capabilities of mobile ticketing, consumers amongst all industries are able to look at prices on a recurring basis and purchase a ticket up until the beginning of the event or trip. Pricing plays a tremendous role in ticket purchases, especially now that consumers can see these price changes instantly, all with a touch of a button. This technology enables customers to locate the best seats at the best value of any event they wish to attend.
The impacts of pricing strategies are detrimental. To start, there are two types of strategies: variable pricing and dynamic pricing.
Variable Pricing
Defined by the Houston Chronicle, variable pricing as a pricing strategy where a business offers varying price points at different locations or points-of-sale. For instance, let's consider sports. This whole dynamic is based upon the price of tickets set in advance of the season, but understanding that prices can change depending on the game. The value and match up of the game impacts the pricing of the ticket.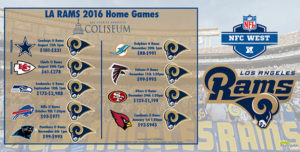 The graphic above shows the ticket prices for the 2017 Los Angeles Rams' home schedule. Putting the variable pricing strategy into action, the average cost to see the Rams play the Seattle Seahawks will cost you a lot more than when Miami Dolphins come to town. The ownership of the Rams anticipates that there will be much higher demand for a divisional matchup than an out-of-conference one.
Airline and hotel industries also play a role in using variable pricing methods. Airlines set their "Economy Plus" or "Economy Comfort" and standard economy seats at different prices due to the level of comfortability and on-board experience in the cabin. Consumers will additionally see a change in price based on the final destination city. As another example example, there will be a large difference in hotel price between booking in New York and Illinois. A post on Travelandleisure.com states a night in New York City will go for $244 on average as compared to $199 in Chicago.
Dynamic Pricing
On the other hand, is the concept of dynamic pricing. When it comes to this pricing strategy, there becomes a notion set as to the price of items determined by a customer's perceived ability to pay. Again, let's use sports to create a better understanding. If the forecast is projecting rain for next Sunday at an outdoor stadium, less fans will be expected to show up; therefore, teams must lower prices to draw a larger crowd for support. Rutgers' NCAA Football Senior Associate Athletic Director and Chief Marketing Officer, Geoff Brown went into further explanation about his team and how the organization uses dynamic pricing. Mr. Brown states, "there's a need to maximize ticket revenue and at the same time not penalize longtime, true Rutgers fans". Schools that have college football teams adjust single-game prices upward or downward based on the marketing conditions of fan demand and ticket scarcity.
Aside from college football, consumers a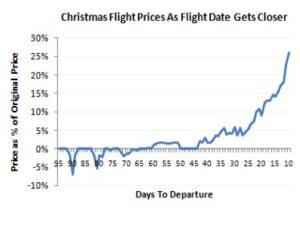 re aware that airlines also use this pricing strategy and have made note that they may be spending more when it comes to flying back home during the holidays. The graph below shows the change in prices of airline tickets as the date becomes closer to December 25th. According to the graph, it is recommended to book flights 90 days, or three months, before Christmas rather than dealing with a 27% increase of the original price ten days out (See left). Customers should understand this pricing inflation and make the necessary arrangements.
This idea also comes into play when booking a hotel in Houston during the Superbowl. Because of a national event like Super Bowl LI, consumers will have no choice but to agree to paying a higher price for their stay. The public is able to see all of the price changes, by exploring dates and locations through the power of their mobile devices. Mobile ticketing has allowed consumers to compare rates, track pricing changes, and locate the best deals available. The mobile ticketing platform operates through the use of dynamic pricing strategies. At any moment, applications like Google Flights can survey demand and change the prices of tickets accordingly by monitoring your search history.
Having the ability to track your favorite sports teams, or see if you will
be able to stay at your dream hotel all goes back to pricing and the power of technology. These pricing strategies impact the way customers interact on a mobile platform. Believe it or not, mobile device
s are transforming the way consumers travel. According to eMarketer, customer purchases on a desktop have continued to decline. In 2017, 59.2% of airline travelers are projected to book their travel itineraries through their small screens (see chart below).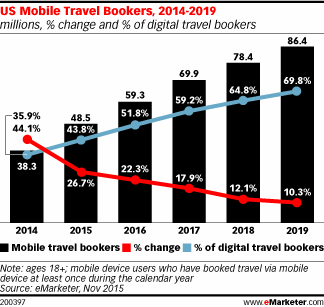 Though technology is great in many aspects, it is crucial to look at the other end of the spectrum and discuss the downsides of the growing world of mobile advancement. Smartphones do not have unlimited battery. Questions arise as to "What happens if my phone runs out of battery?" and "Will my ticket still be retrievable?" This is major concern for users as they are hesitant to rely solely on mobile technology. While security and boarding lines are intended to decrease through the use of mobile boarding, the issue of pulling up your ticket and not being able to locate it becomes a problem that can hold up a line and infuriate others.
Fans Disagree with Mobile Ticketing
Jeff Gilbert, a San Francisco 49ers fan, expressed his concerns over abandoning physical tickets and introducing mobile ticketing. In the past, Mr. Gilbert could mail his friend one of his season tickets or exchange it in person. The only option now is to hope that Gilbert's friend also has a smartphone and accept the ticket transfer. However, through the adoption of this new digital platform, the 49ers have implemented a 72-hour transfer process before the start of the game. This has resulted in widespread confusion amongst season ticket holders and has caused them to become fed up with the overall dynamic as per the article. This allows fans to print their tickets only when there are 72 hours or less before kickoff. The 72-hour window has proven to be an issue when fans want to donate their tickets to charity and other situations involving giving them away to random people.
Controlling Supply, Taking Advantage of Demand
In another case, the advancement of technology has caused an issue between supply and demand, leading to lives being lost. Industries across the board have unfortunately taken advantage of this concept. Martin Shkreli, an entrepreneur and pharmaceutical executive, acquired the manufacturing license for a pharmaceutical drug which allowed him to control the power of supply for society's demand. Mr. Shkreli understood the need in the market and the people's dependency on this drug in order to live. According to Dan Mangan's article on CNBC, demand was extremely high and supply could not keep up with the market demand allowing Shkreli to have the authority to raise prices by 5,455%. A drug that once costed $13.50 at the time, soon became $750 per pill and consumers were forced to pay because they had no other options.
Technology Advancement and the Future
In retrospect, technology has taken our society to a whole new level. Its effects on supply and demand becomes more prevalent every day. While security and privacy issues arise from the growing use of mobile technology globally, consumers are able to look at mobile ticketing as a way to help understand the market and undergo an enhanced consumer experience.
The introduction of mobile ticketing has helped advance developing industries like hotels, airlines, and sports and their relevancy amongst the consumer demographics today. Through the innovation of technology, users will change the way they interact on a daily basis. We must sacrifice person-to-person contact in our transition toward a technological society. As a result, many people will lose jobs and payments will happen through fingerprint recognition. We have already seen this today through a variety of mobile applications, but really, we all know people are glued to their phones more and more each year. The advancements have both positive and negative effects on our lives, while it may not all be safe, consumers are drawn to the endless possibilities of technology, an industry controlled through the power of their mobile devices.
Sources:
http://www.cnbc.com/2016/06/03/martin-shkreli-hit-with-additional-charge-in-fraud-case.html
https://www.emarketer.com/Article/By-2016-Most-Digital-Travel-Bookers-Will-Use-Mobile-Devices/1013248
http://www.mercurynews.com/2016/01/15/super-bowl-ticket-prices-on-record-smashing-pace/
https://www.cleverism.com/complete-guide-dynamic-pricing/
http://www.strategicbusinessinsights.com/about/featured/2015/2015-03-variable-pricing-models.shtml#.WEnsV3eZMXp
http://www.ticketingtechnologyforum.com/mobile-ticketing-set-to-revolutionise-user-experience-at-sporting-fixtures/
https://www.juniperresearch.com/press/press-releases/1-in-5-mobile-wearable-ticketing-users-to-shift
http://smallbusiness.chron.com/definition-smoothing-variable-pricing-67031.html
http://www.travelandleisure.com/blogs/update-average-hotel-rates-across-the-us