San Diego is known for its robust craft beer scene, but it's the history and economics behind this industry that makes this city shine in a nation filled with craft beer cities. According to the Brewer's Association, in 2014, small and craft breweries contributed $55.7 billion to the U.S. economy and supported over 424,000 jobs with 115,000 directly at breweries or brewpubs. In San Diego, for every brewery job that is added within county, 5.7 jobs in supporting industries are created. The rich history, educational practices and connectivity between brewers and has allowed more breweries to open led to success of San Diego craft beer.
Craft beer may reign in San Diego, but it didn't start there. The story of beer actually started in Mesopotamia in 5 BC with the Sumerians who participated in the brewing and drinking of beer that was passed down from generations through a poem. Oxford scholars found this poem from1800 BC that involves Ninkasi, the goddess of brewing, and the production of beer from barley. Thousands of years later in North America, Spanish missionaries came to spread Catholicism and brought fermentation practices that produced sacramental wine, which would eventually be used in the beer making process. When the Mexican government gained independence from Spain and in 1848, the United States took the region of San Diego from Mexico.
Beer making in San Diego can be traced back to 1868 when Conrad Doblier began brewing European-style beer as an emigrant from Austria as a brewer. In 1868, two breweries were created in San Diego named the San Diego Brewing Company and Mission Brewery. During Prohibition from 1920-1933, many San Diegans moved south to Tijuana, Mexico in order to produce and drink beer legally. While there, they opened Aztec Brewing Company and Mexicali Brewery, which soared in popularity due to the low supply and high demand of alcohol in the U.S. At the end of Prohibition in 1933, the San Diego Brewing Company and Aztec Brewery were responsible for 25 percent of California's beer production. Once beer powerhouses like Anheuser-Busch, Coors Brewing and Miller Brewing started their production of beer in the 50s, they caused commercial beer production halt in San Diego breweries until 1987.
San Diego's craft brewery scene started again in the 80s when California legislation was passed that legalized the brewpub throughout California. It also made commercial production ands sale of beer in restaurants and home brewing legal, giving beer enthusiasts the chance to capitalize on their hobby. Home brewers started swapping recipes, experimenting and eventually, built the connection between brewers in San Diego that exists today. However, during the 80s, one brewery stood out as the founder of this new era of beer. It is the story of two best friends who formed the Karl Strauss Brewing Company. Chris Cramer and Matt Rattner opened The Karl Strauss Brewing Company in Downtown San Diego and kick-started the craft brew revolution on February 2, 1989. It was the first brewery in operation since the 50s and the first-ever brewpub in San Diego. The 1980s marked a period of brewing pioneers innovators and craft brewers in the U.S. had gone from eight in 1980 to 537 by 1994, with Karl Strauss as one of them. Today, there are 518 craft breweries opened in California alone, the most out of any state, with over 120 located in San Diego.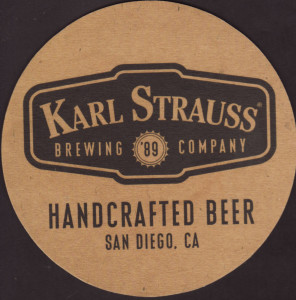 www.beercoasters.eu
Karl Strauss started their business by only brewing a golden ale, an amber lager and a dark brown ale. Because of their innovative flavors that challenged the typical light beers that were on the market, there was a high demand for Karl Strauss beer and in 1991, Karl Strauss opened a distribution center in order to ramp up their production. Today, Karl Strauss has eight brew pub locations and has plans to open a second distribution center because of the demand for their beer. Even though they only distribute their beer in California, Karl Strauss is ranked the 45th– for the largest volume of craft beer distribution in America out of 3,000 breweries. According Karl Strauss, "craft beer is not just a job, it's who [they] are." This can be seen through their extensive network they created with employees that were mentored at their brewery and branched out on their own.
Karl Strauss started the careers on many brewers in San Diego who added the to culture of education and family. According to the founder of Karl Strauss, Chris Kramer, "One of the reasons why San Diego has become such a mecca for craft beer is we started off with a group of individuals who were friends and collaborative rivals." This is still true today and is the reason why San Diego's craft brewery scene is so interconnected. Many employees who had their start at Karl Strauss opened their own breweries, adding to the ever-growing family of craft brewers in San Diego. Karl Strauss' original bartender, Scott Stamp, opened the San Diego Brewing Company and their first-ever waitress; Gina Marsaglia opened the ever-popular Pizza Port in 1992 with her brother Vince. In addition, Karl Strauss' original tour guide, Jack White, opened the renowned brewery Ballast Point in San Diego in 1996, which is now the 11th brewery in America for its wide distribution, innovative flavors and unique offerings. The small craft brew circle that started at Karl Strauss has promoted the art of beer making is one of the reasons why San Diego craft brewing is successful today.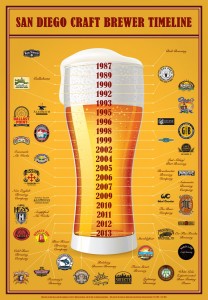 sandiegohistory.org
The interconnected nature of the San Diego craft industry started with Cramer and Rattner in 1989, but the San Diego Brewer's Guild allowed the craft brew industry to continue to grow in San Diego. Founded in 1997, the guild was created with two goals: to promote San Diego's brews and to create an open line of communication between brewers. This type of communication has allowed San Diego to continue to grow the industry while also keeping the competitive market friendly with the sole goal of promoting the craft as whole rather than individual businesses. The guild advances their mission to, "promote… locally brewed beer through education and participation in community events." Craft powerhouses like AleSmith Pizza Port, Stone Brewery, Green Flash and Karl Strauss are all members of this coalition, making it easier for brewers to unite within San Diego. Although there are guilds throughout the U.S. that promotes craft beer, the SDBG is different because their breweries continue to innovate together within San Diego. As a team in 2014, San Diego breweries dominated the World Beer Cup where they won 11 of the 14 medals awarded. During the World Beer Cup in 2016, the SDBG won more medals than the entire United Kingdom and even beat-out Germany in the category for Kölsch, which is a German style beer. Just this October, the SDBG took home another 18 medals at the Great American Beer Festival in Denver, Colorado, cementing San Diego as a destination for craft beer innovation. Denver is often thought of as a craft-brewing center as the home of the Great American Beer Festival, but only won eight medals.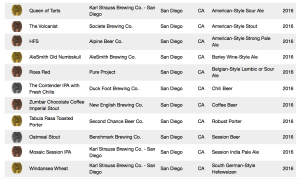 Great American Beer Festival
The strong dynamic to promote the craft within the industry and become a world competitor as a city has been promoted by the San Diego Brewer's Guild but has remained a part of the craft culture with San Diego as well. . Because most brewers had their start at other breweries, they formed a sense of respect and trust for the craft culture in San Diego. When Vinnie Cilurzo created the Double India Pale Ale in 1994 in San Diego County, nearly every brewer has embraced this style of beer in San Diego. In fact, San Diego is now internationally known for their Double IPAs, which is often referred as the San Diego Pale Ale. Stone Brewery, Karl Strauss and AleSmith, all a part of the SDBG, are famous breweries that carry the torch of the Double IPA today. The creativity and education that solidified the bonds between brewers allowed many brewers to leave the breweries they worked at to form their own and create a craft beer boom in San Diego.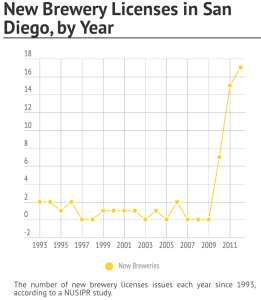 voiceofsandiego.org
Between 2009 and 2011, nearly 40 breweries opened in San Diego causing a surge in the craft beer market. In 2011 alone, the county's brew pubs generated $300 million to the county, generated over $600 million in sales and created more than 2,800 jobs in San Diego. The expansion of breweries in San Diego translates to a boom of jobs and contributions to the local economy through these jobs, revenue and taxes to the City of San Diego. During this time, more brewers came to San Diego than competing cities because of the respect the city has garnered for itself and wages provided. In 2012, San Diego had the highest average wage for brewery workers in the U.S. compared to Portland and Denver, which are often regarded in the same category. Today, the wage gap has closed where the average salary is around $36,000 a year. Although wages slowed in 2014, the craft brew sector grew overall and had a direct economic value of $600 million, which is twice the amount three years prior. This figure is generated based on San Diego's 120 local breweries and their revenue, profits, wages and jobs the industry produces. Wages may have helped grow the craft industry, but it is education portion that diversifies San Diego from other brewing regions.
NUSIN Institute
According to the NUSIN Institute, San Diego provides more education programs for industry professionals entering the craft beer market than their competitors. These types of programs further the industry and allow brew masters to pass on their knowledge within the industry. There are two major education programs in San Diego: the San Diego State University College of Extended Studies Business of Craft Beer Professional Certificate and the University of California– San Diego Extension Brewing Certificate. Both were founded in 2013 and follow the mission of the SDBG to promote local beer through education. In addition, many brewers encourage their employees to participate in the Cicerone Certificate Program, which was created in 2008 to educate people and create craft beer leaders. Similar to sommelier training in the wine industry, the Cicerone program trains professionals in the knowledge of beer in sales and services. In the NUSIN Institute study, 57 percent of craft breweries indicated that their employees participated in the Cicerone Certificate Program. Karl Strauss is one brew company that prides themselves on having multiple employees that are certified Cicerones and beer servers because, "everything from beer and food pairings to style education is part of the Karl Strauss experience that goes above and beyond what you'll find anywhere else." It is experiences like this that adds an extra layer of knowledge to employees and education to customers on their journey of beer in San Diego further expanding art of beer making into other industries in San Diego.
Jobs are being created within the craft brew industry and in supporting fields. Throughout the county, NUSIN has identified that one third of local industry jobs are directly relate to brewing while two thirds focus on brewpub operations. Brewpubs are dependent on food service and hospitality sectors that are composed or hosts, servers and cooks. Because of this specialized nature of brewing, supporting fields have popped up within San Diego such as: brewing equipment design and manufacturing, packaging, sales and marketing, brewing labs, home brewing supply stores and hops and farming. All of these industries that have an impact on the brewing process generates an average $56.6 million in sales annually.

NUSIN Institute
San Diego is a hub for the innovative beer market because of the rich history of beer making and the connections between brewers that has allowed the city to work together to educate people and produce beer as one unit. These factors are the reason that San Diego has its own IPA category of beer and produces more than 2,000 unique beers annually. If Karl Strauss had not started the craft sector in the 80s, the industry would not be the same. It is the need for creative flavors, friendly and collaborative rivals and the growth of an industry that Karl Strauss created that keeps the San Diego craft beer industry alive today. It is also the reason why they won mid-size brewing company and brewer of the year at the 2016 Great American Beer Festival. If the San Diego craft beer industry stays true to their message that craft beer is a family network that succeeds based on innovation, education and interconnectivity, there is a chance that the beer bubble won't bust for a while longer and small batch brewers will continue to succeed.