On November 30, 2014, Yang Gu, a Chinese student in California State University, Northridge, received a phone call from her cousin in China asking Gu to buy coach bags from the coach outlet store for her. When Gu headed to the retail store of Coach Factory in Citadel Outlet, Los Angeles, she found that the store was flooded with Chinese customers. Among them, except visitors coming to the U.S. for shopping, many are purchasers buying for others like Gu.
According to 2013 China eCommerce Market Analysis Report published by China Research Center, 40 percent shoppers purchasing overseas via purchasing agent is motived by cheaper than local pricing of luxury brands.
Coach outlet online store, coach factory.com, opens to the public for several days per month with much lower price than regular market price. Realized that the price of luxury goods is much cheaper abroad, sites like Coachfactory.com has been a popular online store for Chinese customers including Gu's cuisine, Ming Zhu. This year the website closed Zhu's account, because of her over purchasing history, according to Coach's customer service.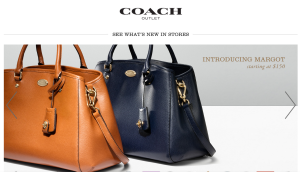 To sustain ability to control the distribution and pricing of products, brands tend to manage the amount of products to be sold online. This year, some Chinese buyers with China's IP or Chinese credit card payment methods were also blocked in the online store. To solve the problem, in Zhu's case, a relative studying in the U.S. enables her to buy bags without extra expense, while more often, customers like Zhu seek for overseas purchasing agents as alternative with extra service fee. Gradualy, a hidden market of purchasing agents (called "Daigou" in Chinese pinyin) is emerging.
Purchasing agents shop for "commissions." Most of time, this "commission" means price difference between original price and offering price. In a overseas purchasing site under Tmall (Alibaba),  an Armani shoulder bag with original price at 250 Euro is charged for 3,300 RMB. With exchange rate of 1:9.3, each bag comes with 973RMB profit.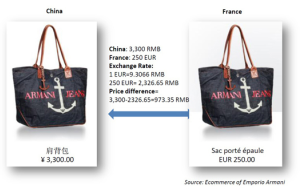 The scale overseas purchasing agency market is getting biger year to year, according to the 2013 Chinese E-Commerce Market Monitoring Report. In 2013 total transaction via overseas purchasing agent market is $12.30 billion, a 59 percent up from 2012. Analysts estimated that the scale would be doubled in 2014 to $24.84 billion. Popular goods are clothing, bags, cosmetics and beauty products, milk powder, and electronics.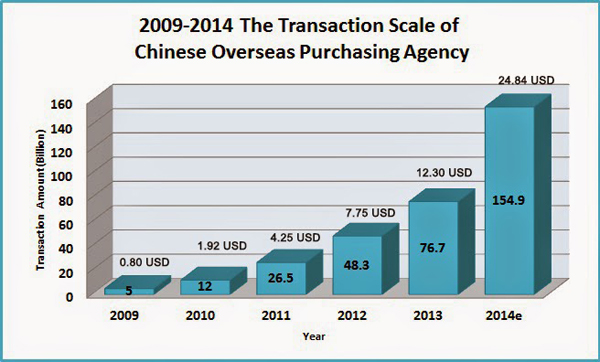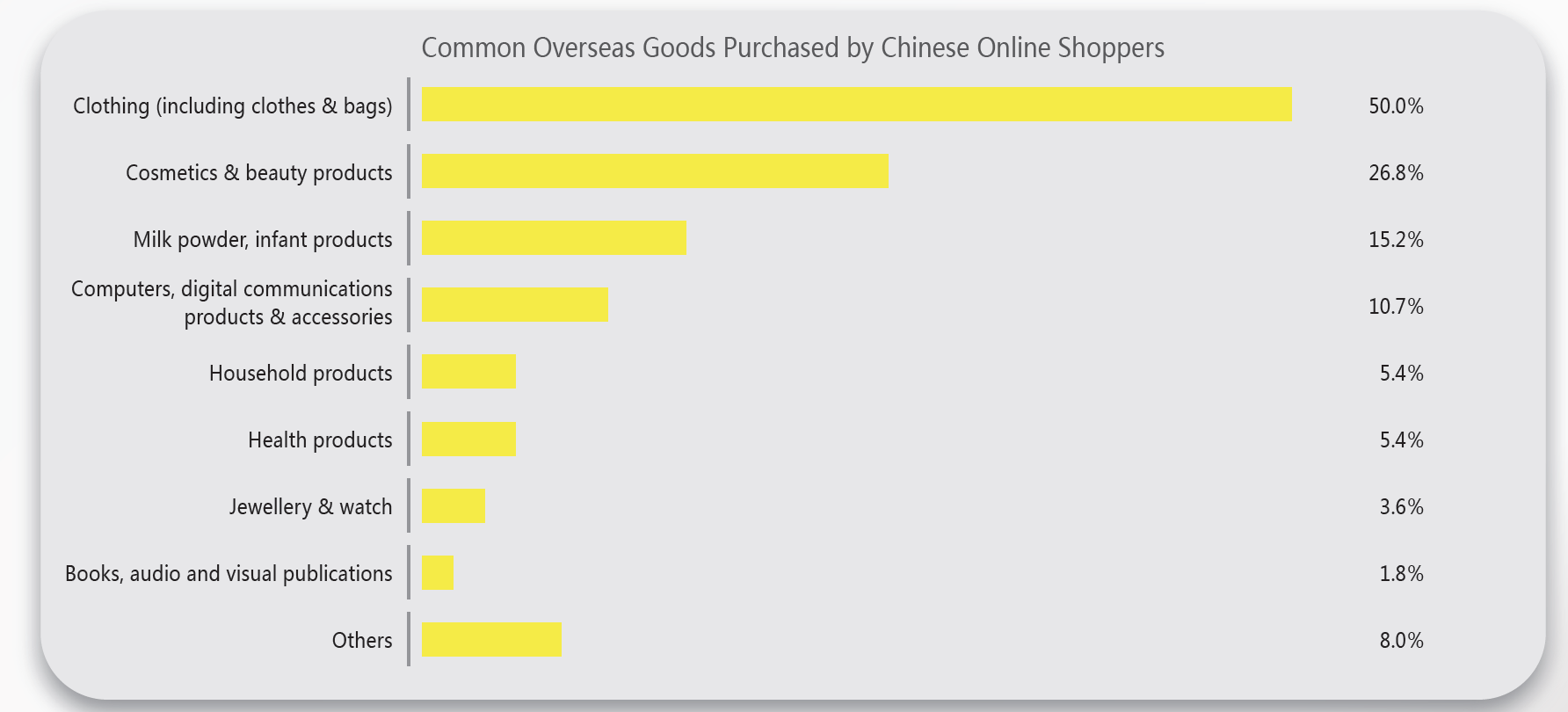 Based on scale and motivation, purchasing agents can be divided into amateurs, specialists and masters. Masters and Specialists are the main focus of online discussion, for the mature purchasing model and a wider variety of brands and products. The common feature of masters and specialists is the fact that they purchase for profits. On the contrary, Amateurs are usually individuals who purchase more occasionally for friends out of goodwill. Students like Yang Gu are usually amateur purchasing agents, though, but these years saw a trend for students to be specialist or master buyers.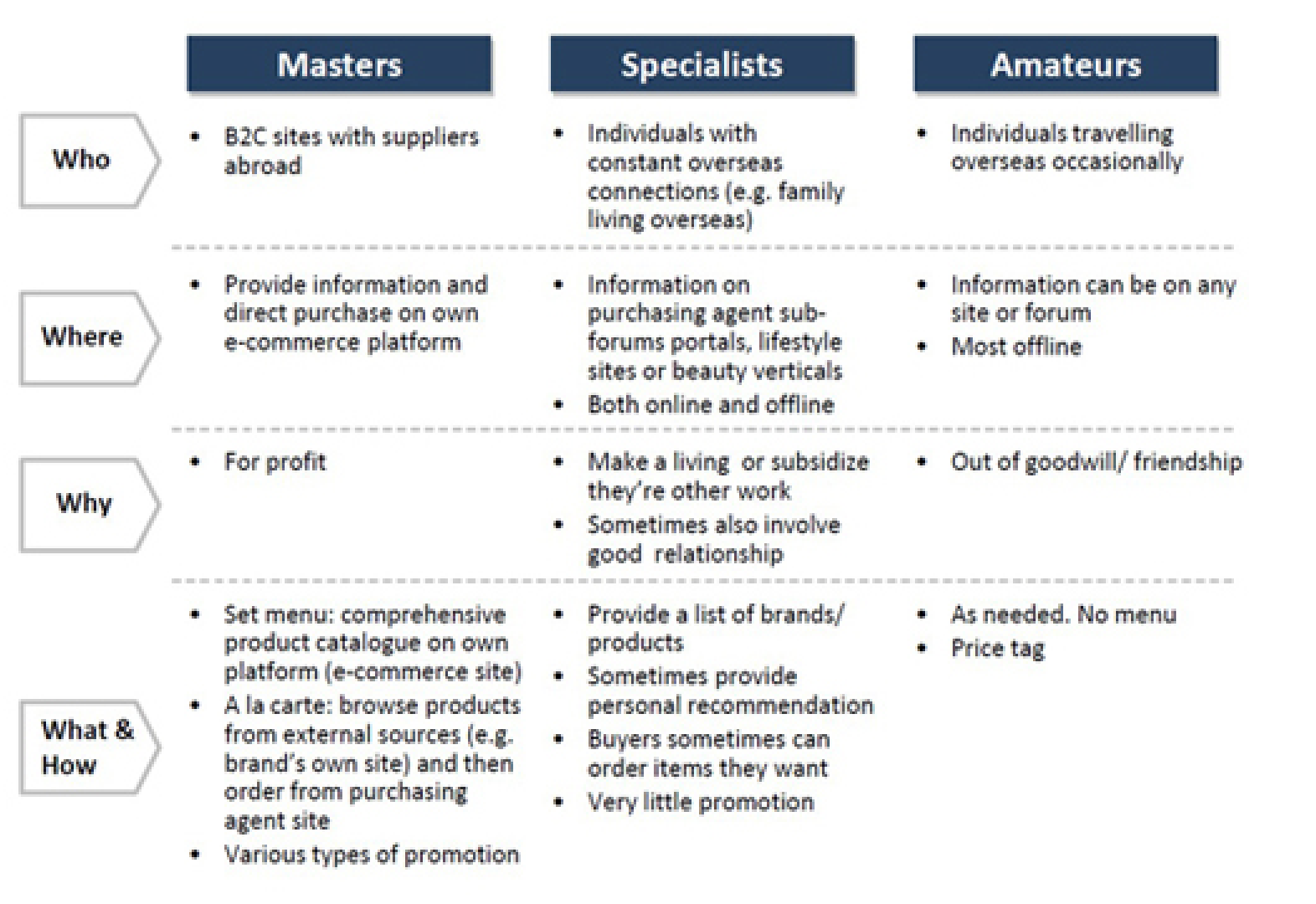 Yolanda Zhong, studying public relations in the University of Southern California, earns $3,000 to $7,000 per month as an overseas purchasing agent.
She earns 8 to 15 percent of the original price, depending on the products. Usually, Zhong lists available products on Weibo, and waits for orders from Chinese customers.
Since calculating shipping fee is tricky, her offering price is often shipping fee included. In her words, "both size and weight count for shipping cost, thus it might be different to ship the same product if you use different boxes." Therefore she has calculated an average shipping cost and adds it to the price.
Zhong's parents don't have a problem with her purchasing agency business. "As long as it doesn't impact my study, they are very supportive." Zhong said. "Indeed, it feels good to apply public relations knowledge to the real world." Zhong said. "I constantly need to communicate with customer service of stores like Bloomingdales, Neiman Marcus, Nordstrom, Fifth Saks, and retailers like Juicy, Coach, Michael Kors. I learned how to ship, return, and negotiate with customer service." She explained.
If packages are inspected through customs, "customers themselves need to take care of the tariffs." Zhong said. For buyers like Zhong who only randomly accept order in spare time, customs inspection or package lost bring heavy losses, so tariffs and insurance are mostly at buyer's expense.
Unlike part-time student buyers, Shanshan Hou has been a full-time purchasing agent after graduated from Cal State Northridge. To Hou, a tariff to be charged on one out of 20 packages is not a big deal to a big purchaser like her. Unlike Zhong, Hou has her own B2B sites on Taobao and Tmall (Alibaba), and has hired her own specialist buyers from all over the world to enlarge her overseas purchasing business. Right now, she receives more than 10 orders from taobao per day, and doesn't charge for tariffs if inspected through customs. To her, enlarging customer base is more important, " it is still profitable, as long as I have enough orders," Hou said.