Catalina Sea Ranch, a six-mile offshore shellfish farm near San Pedro, CA, is planning to feed Californians with local raised mussels which has been mostly imported from Canada and New Zealand.
As the aquaculture industry has thrived in the past decade, the seafood imports – including mussels – by the United States has grown dramatically. About 91 percent of the value of the seafood consumed annually originates abroad, which represents an $11.2 billion trade deficit, according to National Oceanic and Atmospheric Administration (NOAA). To narrow the deficit and compete with foreign seafood, Catalina Sea Ranch aims to cultivate in a 100-acre ocean and produce high-quality mussels in a sustainable and scientific manner.
The farm, that has received the permit from the U.S. Army Corp Engineers and a unanimous approval from the California Coastal Commission, is the country's first offshore aquaculture farm in federal waters. Since the increasing population needs more variable food sources and most the coastal places in the U.S. are too crowded for large-scale aquaculture farm, going offshore is critical to aquaculture industry.
"It's hard to find places for new development. There are conflicting coastal use issues." Michael Rubino said to Clare Leschin-Hoar, a reporter with Takepart.
According to Phil Cruver, CEO of Catalina Sea Ranch, the mussels are "completely sold out for the first three years to seafood distributors," even though they won't be ready for harvest until June or July 2015.  He predicted that the ranch will harvest 200,000 pounds per month with a year-round supply of mussel seeds.
"It's a huge market," he said, smiling and enthusiastically emphasizing the word "huge." "First of all, let's talk about New Zealand. They are the mussel capital of the world, but they have only got five million people. We have 27 million people just in Southern California."
The U.S. is the largest export market for Canadian aquaculture production. According to Canadian Aquaculture Industry Alliance, the northeastern US and the Canadian market consumed 97 percent of the Canadian mussel harvested in Prince Edward Island, a major mussel producing province.
Also, the world production of seafood – nearly half of which is farm-raised – has increased to meet the rising demand. According to NOAA's data in 2006, the U.S., along with Canada, China, Japan, and Australia consumed more than 20 pounds per capita per year. In 2010, the U.S. consumption of fish and shellfish raised to 48 pounds per capita per year.
Driven by the rising demand, aquaculture has grown worldwide, especially in Asia. But in the U.S., it has been steadily and slowly growing at a rate of 8 percent per year from 2007 to 2012. And Pacific coast states, including California, has produced most shellfish.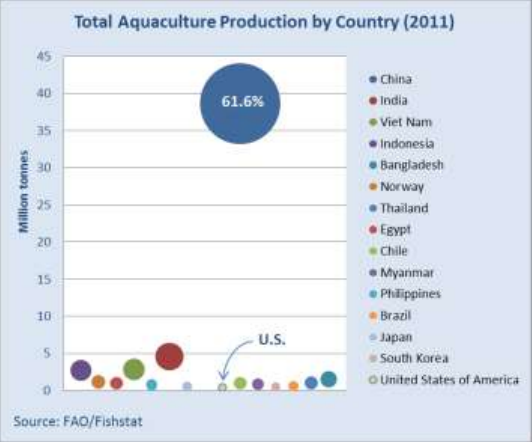 The U.S. had one of the highest consumption rates in the world but little share in the global market: it ranked 15th in total aquaculture production behind Vietnam and Indonesia. According to Food and Agriculture Organization, in 2011, China produced 61 percent of all aquaculture, while the U.S. only produced 0.8 percent.
When asked about the factors that make California a good place to start mussel farm, Cruver got excited and said "we have got a first mover with a huge economic advantage." He explained that, instead of growing and selling mussels in California, shipping live mussels from Prince Edward Island to the state accounts to 3,500 air-polluting miles and large transportation cost.
Also, the weather in Southern California is more suitable for continuous mussel farming. Since the water temperature in Canada is much lower than it in Southern California, the mussel harvest period is also much longer and less capable to supply throughout the year.
"We can get a crop (harvest a batch of full-size mussels) here between six and nine months," Cruver said. "Up there, because of the cold water, they are talking about two years."
Besides, the offshore ocean has a special geographical feature – the ocean currents that provide rich nutrients for shellfish – is another advantage of Catalina Sea Ranch.
"A lot of people are growing shellfish in lagoons. However, those places are kind of filling up now in the area that are good for shellfish," said Kelly Stromberg, a hatchery manager of Catalina Sea Ranch. "Population is increasing, and you may get more runoff from pesticides and pretty much anything you can think about that what you can put on your lawn."
To avoid pollution that most coastal farms are afraid of, Catalina Sea Ranch will be located at the San Pedro Shelf, which is 10 miles offshore of Long Beach, and six miles offshore of Huntington Beach.
This area provides deep waters and extended space into federal waters, the exclusive economic zone, where a state has special rights to explore and use marine resources, the farm needs to be really cautious about the regulations. Congressional Research Service in the article it published 2010 addressed issues regarding offshore aquaculture: the lack of aquaculture experience and science-based regulation in offshore areas.
In order to balance the development of aquaculture and the safety of using federal waters and marine resources, Catalina Sea Ranch has collaborated with scientists specialized in marine biology to examine the ranch and make sure there isn't negative impact on ocean environment. It has also set up Verizon Cloud for sharing real-time research data, in the future, with researchers and politicians to help them make better decisions of offshore aquaculture's future.
"I think the regulations are great, but there should be science-based evidence showing that there is any negative impact (if we build an offshore farm in federal waters)," Cruver said. When California Coastal Commission granted the permit to him, it also asked him to comply with 13 special conditions, including submitting annual report on environmental evaluation. "My attitude was 'Oh yeah, and we would go beyond that. Bring them on!'"
Cruver successfully received the permit for building offshore farm in federal waters in July 2012, one year after he applied. While everyone was shocked by the fact that he could actually get the permit, the changing political environment was the real incentive for him to look at the potential of aquaculture and make it real in federal waters. In the summer of 2011, the State of California enacted a new law that allow the California Coastal Commission to lease state water bottoms or the water column to any person for aquaculture.  At the same time, NOAA and the Department of Commerce unveiled a national aquaculture policies and established the National Shellfish Initiative.
A few years before, most American companies started aquaculture in Gulf of Mexico, because they couldn't get permits in the U.S., according to Cruver.
Catalina Sea Ranch will be seeding mussels into the ocean in January 2015. So far, it has nabbed three private investors and raised a total of $750,000 for the first-time cultivation. Its fundraising goal has increased from $3 million to $5 million, according to Undercurrent News.
"We increased our monitoring expense which will be key to expansion, an eight percent fee for commissions and the rest is a pad,"Cruver told Undercurrent.
Right now, Catalina Sea Ranch is still hatching mussels in a nursery tent at the back yard of the Southern California Marine Institute. Stromberg said that, one month later, she would attach these mussels to new ropes in the ranch, and six months from there, they would be ready to harvest.