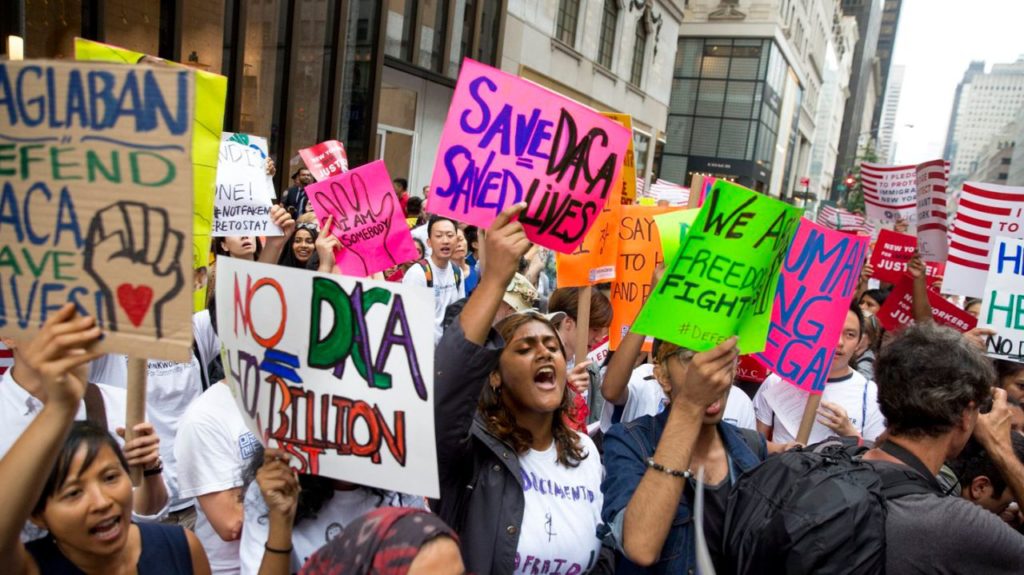 The health of the United States' economy is largely determined by the actions of the President and those appointed by him. Ever since Donald Trump's presidency began, the country has held its breath watching the decisions he has made on behalf the U.S. people, hoping for the best.
Most recently, one of President Trump's decisions is putting the country at risk of a huge economic decline. A few weeks ago, Trump chose to end the Deferred Action for Child Arrivals (DACA) program, which was put in place by Barack Obama to protect the children of immigrants who came illegally, from being deported. This decision would affect about 800,000 "dreamers" in the U.S.
While the DACA program's future is still not officially decided, if no supplemental program is put into effect, the loss of all those jobs plus the government expenses could be detrimental to the economy. A study conducted by the CATO Institute concluded that the cost the federal government alone would suffer from deportation efforts over the next 10 years would total at least $60 billion. The overall economic impact would be over $200 billion.
In addition to the governmental costs that the end of DACA would bring, the U.S. GDP would also take a hit. The Center for American Progress conducted a study finding that without the DACA workers, the GDP would decline by $433 billion over the next 10 years.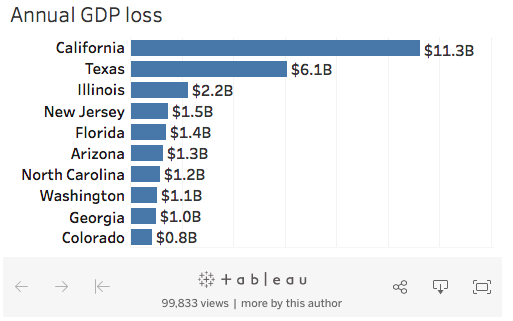 This decline would be felt in certain parts of the country more than others. California, for example, employs about 188,000 DACA workers. If the program was terminated, the GDP in California alone would suffer a loss of $11.3 billion a year. Texas would lose $6.1 billion per year, and North Carolina would lose $1.9 billion a year.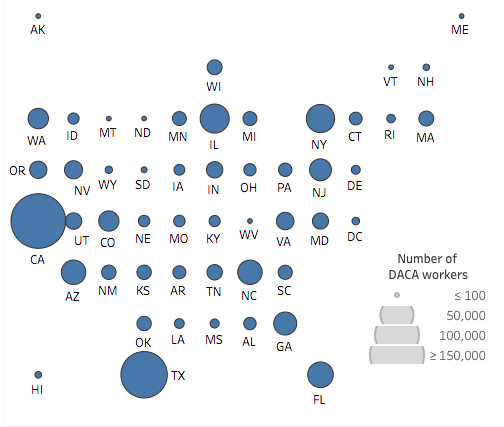 FWD, a pro-immigration reform group, conducted a study finding that 91% of DACA recipients are employed. Many employers of Fortune 500 companies have been stepping forward defending the DACA program and advocating for Congress to put a stop to Trump's movement. As Microsoft President, Brad Smith stated via a blog post, "These employees, along with other DREAMers, should continue to have the opportunity to make meaningful contributions to our country's strength and prosperity." He admitted that Microsoft knows of at least 27 employees who are DACA beneficiaries, including engineers, finance professionals and sales associates.
The White House has enacted a six-month delay to the end of the program to give Congress time to act and hopefully come up with another solution. Until then, dreamers will continue to protest, advocate and fight to keep their rights and avoid the eventual economic decline that would come from the end of DACA.