Climate change is not a concept accepted by everyone and certainly, not by President Donald Trump. But according to a recent study from a team of researchers for The Lancet, years of inaction battling climate issues negatively affected the economy and will continue to do so.
Data points to a massive sum of money spent due to the devastation caused by major weather events, like hurricanes and wildfires. An increase in natural disasters has been directly associated with the deteriorating climate.
"Between 2000-2016, there has been a 46 percent increase in the number of weather-related disasters," the report stated."Economic losses linked to climate-related extreme weather events were estimated at $129 billion in 2016."
Those numbers represent 2016, not the even wilder hurricane season in 2017, which saw the damage of Hurricane Harvey and Hurricane Irma, both record-breaking storms, likely costing more than $200 billion all together.
That price tag seems high, but it might be lower than it is officially tallied at, considering the cost of damage can continue to rise months following an event.  Below is a graph detailing the change in unemployment when Hurricane Katrina hit in 2005. Even by June 2006, while the New Orleans employment sum had regained some of its losses, it was not near its previous stable condition.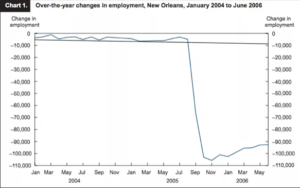 Therefore, if you assume that costly hurricanes will be prevalent over the next decade or so due to climate change worsened by fossil fuels, then the economy will continue to have problems. Extreme weather has cost the U.S. economy an average of $240 billion per year, and now that total seems to be on the low end for what the future holds.
Sir Robert Watson, coauthor and director at the U.K's Tyndall Center for Climate Change Research, told National Geographic that natural disasters are not created by climate change, but noted the "intensity and frequency" of such occurrences have been made worse by hotter temperatures.
Obviously, fighting climate change to handle extreme weather starts with the knowledge that clean energy is necessary to adapt as soon and as quickly as possible.
But President Trump and EPA head Scott Pruitt don't see a need for reducing risk, as the administration hopes to roll back Barack Obama's standards on curbing carbon emissions in favor of coal production.
The coal industry, however, doesn't seem like its making a comeback, which means it's time to favor the environment by focusing on jobs created by renewable energy. These jobs are being created twice as fast as any other industry, via Quartz Media, and mainly include solar and wind installers. The solar industry itself generated roughly 260,000 jobs for Americans in 2016.
Eight of the 10 states where solar jobs grew the fastest voted for Trump in the 2016 presidential election, per CBS, and in Oklahoma, Alaska and Nebraska, solar energy workers grew by 100 percent from 2015 to 2016.
So it seems in four years, Trump won't be able to single handedly destroy the environment. More people have come to understand the value of renewable energy, which is needed to slow climate change and protect our planet from volatile weather incidents.