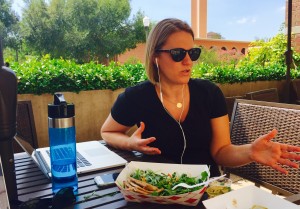 Erin Germain, 34, is a media innovator who gets clients from other innovators. The changing economic landscape has made old media companies fall apart while newer and smaller entrepreneurs profit from each other.
Tuija Pallaste
One o'clock Wednesday afternoon Erin Germain, 34, sits on a sunny patio at the campus of University of Southern California. On the table in front of her she has her laptop and a plate of falafel.
Germain is having a meeting. Another two participants are her business partner and a client with whom she plans a video shoot. All three are on their phones miles away from each other wearing earphones.
Germain has one hour to manage her business and have lunch before her lecture at journalism school starts at 2 pm. She is a journalism graduate student who knows for sure that there are job opportunities in her field of study. She is creating those opportunities herself.
Media environment is in turmoil and economic situation has long been uncertain and that is exactly why Germain has for two years now ran her own production company called For Example.
"I would not have my business if the current landscape would not be what it is."
For Example is specializing in producing documentary-style videos for companies and non-profit organizations. "Branded content" it is called. Her videos are beautiful stories of ordinary people sharing their life experiences or attending events.
"For us it works best if there is a good and authentic story that includes the brand," Germain explains.
Sometimes there is just a story and the brand is integrated into it.
Companies and non-profits use the videos for their PR and marketing. For Example creates ideas, finds the right people and uses its' distinctive visual style to match clients needs. They have worked for small non-profit campaigns and huge brands like Neutrogena, Lenovo and LEGO.
The idea of documentary-style branded content is Germain's own. When she started two years ago there were not many companies doing that kind of videos.
Now branded content has became a big trend in the media business along with "native advertisement". No wonder it has. After many profitable decades the advertisement revenues of traditional media companies dropped in 2010s to the level of 1950s, Brown Institute of Media Innovation counts. Print adds nearly disappeared, and banner advertising turned out to be a poor replica of traditional advertising in the internet.
Germain finished her undergraduate studies in media arts 13 years ago when the dot.com bubble had recently burst and many old media companies were losing their wealth. Social media was getting a stronger hold of the media ecosystem.
Germain did not have specific career expectations. "I had no idea what I wanted to do."
Her uncle had an empty apartment in Chicago. As she was promised a free place to stay she applied for an internship at Oprah Winfrey's Chicago-based Harpo.
She got in. Harpo is a success story and Germain loved her job at research department, but she missed her family in California. With her work experience at Harpo it wasn't difficult to get into Los Angeles' TV industry. She ended up producing reality TV shows, medical shows, travel shows and documentaries, as a freelancer in LA.
"Every three to six months I had a different job."
She even went to teach English and video production in Ecuador.
"When I was in between jobs, I started to do some thing for non-profits."
All these works proved to be significant when she finally set up her own company. She had learned to cope the uncertainty and to connect with a lot of different people. Most importantly: she had what good storytelling required.
"I learned how to tell a great story from some of the best people in the industry.
First assignments For Example got through a pitching site called Tongal – which itself was a sign of changing media economics. Companies worked on tight marketing budgets and this new internet service helped them to find freelancers and productions companies in a new money-saving way.
Tongal explains its' idea like this:
"1. Businesses like LEGO post projects to Tongal. 2.Tongal community goes to work generating ideas. 3. Winning ideas are chosen."
"Tongal community" means professionals interested in sending their work proposals via Tongal to realize a project.
For Example immediately gained success on Tongal. They were chosen to be The Tongaler of the Month in November 2014.
The site ranks the "Tongal community members", and For Example is currently nr 21 in production (having earned $259,725)
"Tongal allowed me to start" says Germain.
Budgets can still be tight. Germain needs a crew of 2-15 people for the videos.
"On our biggest shoots we have a cameraman, a sound person, a make-up person and a technical person and more."
"It is always balancing with the budgets. I was working on documentaries where budgets were never big so I know how to do it. We are not relying on special effects but on a good story. A million dollar idea does not work out well with 10,000 dollar budget.
Thanks to her numerous freelance jobs she knew a lot of freelancers.
"I knew good ones that I trusted. If they can not do it they always recommend someone else."
Germain has finished her phone meeting and falafel lunch on the patio.
For Example is a limited liability company and a partnership. One thing Germain did not know when she started: how to ran a business.
"I still have no idea about that side sometimes. I am always learning as I go."
She asked her college friend to be a co-founder as she had experience of marketing. They both work where their laptops are. Laptops, software and internet connection are all they need. Other technical gear comes from the people they hire.
Germain is often at campus. She got a fellowship to do post-graduate studies and decided to go for it. As an entrepreneur she can arrange her timetables and eventually she would like teach branded content.
"Now everybody is doing it," she says.